Favor?
Member
Join Date: Mar 2011
Posts: 103
Favor?
---
I got this email from RAH last night after he told me I wasted his time and then stormed out of the house. Can you read it and tell me your thoughts on it? I sign my lease tonight and I am quickly losing the guts to do it after this combined with an email from my MIL essentially saying "trust is a choice."

How could I possibly say "you wasted my time?"
*
It was my intent to give you ample space to decompress, but since you are showing a lot of hurt from that statement, and that is not what I want, I will explain my thought process behind it.
*
*
*
I am the same person I was when we met, up until February. You started dating that person, re-dated that person, agreed to marry that person, but now don't desire a legitimately*improved version of that person.
*
Perhaps oversimplified, but this makes no sense to me. You have previously outlined your needs that we not being met. They have all materialized, if not well on their way to be. You are getting what you want. What boggles my mind is that your needs are in constant motion. These are self described core make-or-break needs. It seems like new ones always pop up with out warning and replacing the old. Anyways, you have been delivered your wishes*with increasing consistency; albeit not perfectly consistent. I just don't get why this isn't good enough.*
*
You knew*who you were marrying and your getting a better version of what you signed up for, yet you still want to go? I feel like I'm doing my part and you've wasted my time. You said "I do" and are nearing taking it back. What the hell did you marry*me for then?
*
You don't have to agreee with*it or like it, but that is what was going through my mind.**
*
You rebutted with the fact that I wasted*your time. I do not disagree. I was nowhere near the model boyfriend/fiance/husband, put mildly, but I'm not wasting any time now. I'm getting/got my **** together. You once spoke of regret that you forced me into rehab whereas you should have left and returned if/when I "got my **** together." Where here it is as requested, but still you leave.
*
Does my frustration and/or confusion make any sense whatsoever? Am I crazy for having this point of view?
Putme...

I think you need to close your ears, get your two feet back on the ground and make your decisions from a place of facts. Not feelings - not yours, not your MILs, not your RAHs.

You had made a decision to move out and get your own place based on facts that you knew at the time. Has more been revealed? Is there something new you know that could lead you to a different choice now?

I don't know. And I can't give you the answer. None of us can.

What I will say is that you can always change your mind. Nothing is forever (well, except death)... so you could still move out, and decide later after sustain recovery from him to move back in. Or you could decide to not move out and wait to see the sustained recovery, and if it doesn't show... then you could decide to move out later.

Either way, the decision you make today has got to be based on reality - not what you hope it will or won't make him do. He's going to do what he's going to do... and so are you.

There are NO guarantees in life. No guarantees your marriage is going to last forever. No guarantees he's going to get and stay sober. No guarantees that you'll recover from co-dependency and stay that way. All we have is right here, right now. Deal with that, and let the chips fall where they may.
Pearls of wisdom from gettingby!!

When dealing with my exah...trying to decide what the right thing to do was...
so many of my thoughts and decisions were based on what HE was 'going to do'...what HE said he needed...

I made almost all of my decisions out of a sense of guilt and obligation.

Sounds like guilt and obligation are tugging at you too.

the one question I never seemed to ask myself was what did I want?
And what did I need?

Your needs count too.
Your AH may not understand your needs...
he may or may not be able to fulfull them.
Only you know if this is the case.

I can only encourage you not to lose YOU in the process.
You count.
Your feelings are valid whether he understands them or not.

Hugs...I know its tough...

Mary
| | |
| --- | --- |
| The Following User Says Thank You to outonalimb For This Useful Post: | |
I wanted to add....

I think you want to stay, you want to give him a chance. He could really change (hell, we have ALL thought that!), and the "new" him could be so perfect and you would all be so happy.

He is an alcoholic though, and so if you stay... you stay accepting that relapses are part of the deal. You'll both need recovery (him AA, and you Al-anon) to really give the marriage a fighting chance.

And at this point, neither of you have enough recovery to be making decisions about a marriage. Two broken parts do not make a healthy whole. He wants an answer about your marriage... and in my humble opinion, that's like putting the cart before the horse.

First things first... whatever that first thing is - is for you to decide.

P.S and to actually answer your question... Hell yeah, your confusion makes sense! There isn't a single person here who hasn't been in the middle of that spin out! It sucks. it's scary, and confusing... and you want so badly to have someone just give you the right answer. But there is no RIGHT answer. So sometimes, the only best answer is to sit with it for a bit and let more be revealed.
I understand where you both are coming from. You seem to want reassurances he cannot possibly give you--hence, you are both frustrated and upset.

You thought through the idea of leaving, you didn't do it on a whim.

It sounds to me as if you are not ready to divorce him, but that you need some space to sort through your own feelings and do your own recovery work. That's perfectly legitimate. It is also something that he legitimately won't like.

The only thing that will make him happy is for you to cancel your plans to move out and stay with him. Is that what YOU want? Seems like the answer is no, since you have been making plans to leave.

Only you can decide, but it seems to me that you made your decision, and the fact that he doesn't like it should not be the controlling factor. You could tell him, honestly, that you are feeling some of the same confusion he is, and that the only way for you to figure it out is to take some time away from him. Separation can bring a lot of clarity to a situation.

Good luck, pray on it.
Member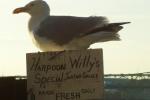 Join Date: Nov 2009
Location: carolina girl
Posts: 578
I'm not going to read it, and you shouldn't either, if reading his emails causes you this much stress. I don't need any more triggers, and neither do you, am I right?

Here's what I can guess, without reading it:

It's all designed to make you feel bad

It blames the failure of the marriage on you

It's all about you, and your problems, and your defects, and how you are a bad person.

So in other words, it's all quacking crap.

how did I do?

Sometimes I just hate email, and wish it was never invented. It's an easy way to get into someone's head when they won't engage with you otherwise.

Now I'm tempted to read it to see how I did... dammit
| | |
| --- | --- |
| The Following User Says Thank You to dollydo For This Useful Post: | |
putmeontheair, I read his email and since I don't know him it was easy to read without the emotional attachment. One part really jumped out at me:
You rebutted with the fact that I wasted*your time. I do not disagree. I was nowhere near the model boyfriend/fiance/husband, put mildly, but I'm not wasting any time now. I'm getting/got my **** together. You once spoke of regret that you forced me into rehab whereas you should have left and returned if/when I "got my **** together." Where here it is as requested, but still you leave.
He has his **** together? I really don't think so. That doesn't sound like someone in recovery to me. From my experience my recovery is the most important thing in the world to me and I will move mountains to maintain the gains I have made and keep moving forward, yet he has already achieved it.
Recovery isn't a destination, it is a way of life.
Also based on my experience, I feel so much better and centered since I have moved out, even though its only been a month. I actually catch myself being happy for no reason at all.
Take what you want and leave the rest.
| | |
| --- | --- |
| The Following 3 Users Say Thank You to m1k3 For This Useful Post: | |
Member
Join Date: May 2010
Posts: 629
As it has been said already, I agree completely. Separation will give you clarity in a way you cannot get while together.

His email is manipulative, he wants what he wants and he will say anything to get it. Give yourself a breather from it, so you can focus more clearly on what YOU want.
| | |
| --- | --- |
| The Following User Says Thank You to seekingcalm For This Useful Post: | |
During fights, My RAH would indirectly say that he was sober because of me and or for me. (not true, he put himself in rehab) But what this has caused is when he is struggling with his sobriety he will "evaluate me" so to speak to see if im worth being sober for. Of course he can find much flaws in me and justifies a relapse. This of course is not recovery. He has to own his recovery with/without me and not for me.
Member

Join Date: Jan 2011
Location: Anchorage, Alaska
Posts: 4,719
I really like what Lexie said...separation brings clarity when living together is a chaotic confusing mind f**k.

One thing both me and the RAH have agreed on is how confusing it has been. Especially for him... as he takes this journey through recovery for the first time. He likes to tell me "I am all over the place" with my emotions. I just laugh, pat him on the arm and say "at least we have that in common!".

I didn't want to leave my husband. I had to leave to save myself and find my self respect. Had to. Not want to. And I had to step out of his life for him to be able to fully embrace AA and the 1st step. I had to remove myself from his chaos so he could see that chaos was created and maintained by him, not me. I had to separate to stop reacting to it all.

This decision you are making isn't about him as much as it is about you. Only you can take care of you. Do what is best for you, right now. Whatever that may be.
Currently Active Users Viewing this Thread: 1
(0 members and 1 guests)

Posting Rules
You may not post new threads
You may not post replies
You may not post attachments
You may not edit your posts
---
HTML code is Off
---