Newlywed in denial?
Member
Join Date: Feb 2011
Posts: 1
Newlywed in denial?
---
Hi, I'm new here.

I met my husband 4 years ago when I was in my mid-20's. He is 10 years older than me, has been married before and was a bachelor for 10+ years. We got engaged after 1 year of dating, and then married a year after that.

We have had a passionate relationship from day 1. The highs are so high, the lows are so low. He's had battles with drugs (cocaine) that he's kicked. His drinking behavior, however, has not. When he goes out, he rarely has one drink. And about 80% of the time, he ends up drunk when he's in the presence of alcohol.

During the weekday when we're home, he doesn't drink at all. Only when those around him are drinking, he'll drink to excess.

He rarely gets hung over and he never throws up. This sometimes allows him to drink more the next day. He goes through phases where things are ok and he is controlled with his drinking behavior, but then there are times when it is out of control for several weeks in a row.

Often when he goes in this downward spiral, its due to, he says, circumstance. When he turned 40 he spent 5 days drinking every night until he was wasted. When things at work are stressful, he'll drink heavily after work for happy hour and go until the bars close at 3am.

His work is never affected. He is successful at work and while he may push off meetings in the morning because he's slow out of bed, overall he maintains his composure in the work place.

Here is my first question to those statements: does this make him an alcoholic? Or is it circumstance that drives him to drink? Or is it both?

I've become controlling, scared and frightened of what the weekends can bring. I feel like I am constantly trying to plan social events with people we can trust so that he isn't prone to drinking too much. I don't allow us to do the fun things we used to do before I got scared of his behavior (e.g. concerts, music festivals), in fear that he'll start drinking out of control.

In turn I believe he has started calling me "controlling". He grew up with an extremely controlling father, and he tells me that I can't do that to him. I can't tell him what to do or he'll lash out against me.

So now sometimes I just try to go to bed early and pretend like nothing is wrong. I wait for the storm to pass and then everything is great again.

He is my best friend. I am scared of losing him. I am also extremely confused about what issues I'm dealing with. I don't want to be dramatic about my situation...but maybe it's just me in denial.

Reading this blog has been so helpful so far. I'm wondering if people can share similar stories or provide some insight here to help me get some perspective.

Thank you so much.
Hi, and welcome.

Whether he's an alcoholic or not (and he very well may be), his drinking behavior is affecting you for the worse.

I suggest you read the "stickies" at the top of the forum, and get yourself to some Al-Anon meetings. Al-Anon is for people who are affected by someone else's drinking. It doesn't matter whether they are alcoholic or not.

I totally "get" trying to control the drinking behavior. The deal about this is that we didn't CAUSE the drinking, we can't CONTROL it, and we can't CURE it. All we can do is to change our own responses, which makes our lives saner and calmer, so we can ultimately make good decisions for ourselves. Sometimes that means staying and sometimes that means going. Nobody will force you to do anything you aren't ready to do.

Glad you found us here.
Member
Join Date: Aug 2010
Posts: 344
I think the hardest lesson for all of us on this planet in this life is that we can't control the behaviors of others.
It doesn't matter if they are our spouse, or our crying 2 day old baby. We still fail at controlling others.
In the spousal relationship this truth is particularly difficult because it is a partner relationship, and their choices affect our lives, and vise versa.

That said, there's only, imho, one approach to these types of difficulties. That is to have a conversation in which you explain how YOU FEEL.
For example: I feel like avoiding festivals and other social events because I am afraid that you will get too drunk. I would like for you to take into consideration that I feel that way. It is up to you to decide if you're drinking is out of control on these occasions, but this is how it makes ME FEEL. How do you feel about me feeling this way? I understand that you don't always drink too much, but do you agree that you sometimes do? Let's talk about it and see if we can find a compromise.
The approach above I think is trying to not be accusatory without avoiding the facts. It is important that any issue in a marriage not be a battle of wills.

He can choose to care how you feel, and if so, then have a conversation without a battle. It doesn't matter if it is alcohol or socks on the floor.
He can choose to immediately reject and dismiss your feelings. If he does, then you have to keep trying to get through to him. People avoid hearing what they don't want to acknowledge.
The trick to any conflict with any person is to avoid it being a situation in which one person is "right" and the other person is "wrong" or it becoming a battle of wills in which one person is going to "win" and the other person "lose". Any conflict needs to be approached in a gentle non-threatening or controlling manner, and then hopefully! the other person will LISTEN to what you are saying.
From there you can figure out how well the two of you handle conflict resolution, and discuss working on conflict resolution TOGETHER, without a battle.
If a person is approached in a non-controlling manner, they usually listen. Usually being the operative word, because an active alcoholic often won't listen to the reasoning of a sober spouse, but we don't know if he is alcoholic or not at this point.
If communication is unproductive, on any issue after numerous attempts, then marital counseling is in order to have a mediator to help the communication along.
If he does have a problem with alcohol, then it is up to him to realize and acknowledge that, you can't do it for him. He will simply dig his stubborn heels in and you will have more conflict without resolution.
Welcome to the SR family!
You will find support, information and wisdom here. We understand what it feels like to live with a loved one and alcohol.
Please make yourself at home by reading and posting as much as needed. At the top of the forum pages are permanent (sticky) posts that contain some of our stories. Here is one of my favorite:
http://www.soberrecovery.com/forums/...l-problem.html
I can only share my experience.

I married a woman older than myself, much like your spouse. We drank while dating. I never saw an issue. I don't have an alcohol problem. However, I started to see the signs within a few months after we married. And so I started "working" on it. Trying to reason with her, asking nicely, fretting about. Probably sounds familiar. She didn't have a drinking problem I was told. The problem was with me. Ok, maybe she's right. Maybe I'm just being too controlling, I thought. No. Actually I never thought that. I was "told" that by a manipulative alcoholic. They are good at creating self doubt in us. Have you noticed?

Oh, her drinking wasn't "bad". But it really was. What it wasn't was "terrible". But she drank too much, acted badly, drank too often, acted badly, didn't drink for a day, and acted badly. Generally speaking, she acted badly. Certainly there was passion, and certainly I fell in love with this woman. And in the end she gave me the 2 most wonderful gifts in the world.

As I was "working" on my exit strategy she became pregnant with our first child and I decided to stay. I now had a commitment to this baby. So I just tried to deal with it.

20+ years later I can tell you I should have left her 2 months into the marriage. I was sold a bill of goods. I'd like a refund, please.

20 years later and she's spent a nice retirement on alcohol. We have no money in savings, our kids are effected by her drinking which only got worse. It worsened every year. Year after year. Just recently it was up to 15 bottles of wine a week. But she still didn't think it was a problem. Nope. The problem is all ME.

If I knew back then the emotional and financial cost of staying married to an alcoholic was going to be so high, I would have run away. FAST.

So, take a good long look at what you are doing. You have a small window right now to effect a change. That change can be 100% you (leave) or 100% him (get well). One of those options has a 100% success rate. The other about 1%. But it is not going to get better on it's own. That is for certain.
I AM CANADIAN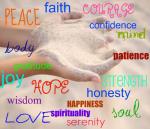 Join Date: Jun 2010
Location: Niagara Region, Canada
Posts: 2,578
the 3 C's
you did not cause this
you can not control this
and there is no cure for this
its that simple...if you have a problem with his drinking, i suggest AL ANON...its a great place to be...find a group that works for you, please try at least 6 meetings, if that group dont work for you, please find another...slogans, a sponsor and tools will help...and please, DO NOT make any hestie plans for at least a year....no pressure,
JUST KEEP IT SIMPLE
| | |
| --- | --- |
| The Following User Says Thank You to fourmaggie For This Useful Post: | |
Member
Join Date: Jan 2011
Posts: 25
I always used to go to bed early and avoid live music with AH! In the evening after work he'd have his couple beers, and I could just sense that change in him. I couldn't stand him like that, so I'd just end up going off to bed to avoid it, knowing he'd be normal and nice again in the morning. I also stopped going to see live music with him, because he would drink and just turn into a jerk. Those nights usually ended with us leaving early, and me crying. No fun!

About a year ago I realized this was really becoming a problem. It was changing ME too much- how I knew when to avoid him, to avoid saying anything that might tick him off. Basically I was just tiptoeing all the time, and basing my mood entirely on HIS mood.

He has ALWAYS blamed work as his source of stress. No matter how much, or how little work there is. It's always work.

Have you confronted him? Whenever I did, my husband would storm out, deny everything. He didn't have to take this, he'd say. Then finally this month he broke down and admitted to it all. He'd even sought help before. But he was still an active alcoholic.

We separated 2 weeks ago. What I'd never realized was how much of MYSELF I lost along the way, because it was always about HIM. Now, it's about me. We've talked about all this, and he understands.

I'm sad to end the relationship, but I also feel a lot of relief. I'm really excited about my life. I should also mention that a year ago, I have him an ultimatum. He was good for a few weeks and went right back to drinking. I didn't follow through, because I wasn't ready at that point to leave. I wrote the exact same thing to a friend- "I'm scared of losing him." It took a year. And then I wasn't scared anymore.

Don't rush any decisions. Read about alcoholism. That helped me a lot in not placing the blame on my husband, but understanding what he was dealing with. If the time is right to make a change, you will know it. I had a voice inside just telling me, it was time. Clear as day.

Best to you- be strong, and trust yourself!
Welcome to SR.
You've found a great resource here. As suggested, read some of those stickies up top. Read other posts. You'll find that they're generally the same story.

Concentrate on a few key ideas that should help get your thoughts straight. Those would be the 3 cs.
You didn't cause it.
You can't control it.
You can't cure it.

You'll also find a varying degree of advice/suggestions. It's important to understand that while we're all in the same boat, some of us have paddled more than others. I'm only saying this because I've seen "new to the forum" people come in here and get thrown off by some of the heavy stuff that can be said. So take what you want, leave the rest but you've found an excellent source of support here.

Oh and yes. I've been called a Dictator/Hitler because I'm sooooooo controlling.
| | |
| --- | --- |
| The Following User Says Thank You to Shellcrusher For This Useful Post: | |
Member

Join Date: Jan 2011
Location: Anchorage, Alaska
Posts: 4,719
Hi and welcome to SR!

Funny to read the posts to the new members and see the common threads in all of our stories. We've all walked the same path. As Shellcrusher says above - some have been on it much longer than others. Some have been successful in their journey through alcoholism and recovery, some are still trying, some got off the path completely. It's a very personal decision to make that only you can do, and trust us when we all say you will make it when you are ready, regardless of what your alcoholic is doing at the time.

We've all been blamed, cursed, abused, accused of horrible atrocities, manipulated, defeated, lied to, cheated on, etc...in our varying degrees on this journey. We've sat in the seat you sit in today. You are not alone in your struggles.

If you know the road you are looking down and what it potentially holds, you will feel more empowered to make better decisions. Go to an Al-Anon meeting (or several, or like me 4+ a week) read everything you can find about alcoholism, listen to the stories you'll find here, educate yourself to what this means for you. It doesn't mean you have to do anything at the moment. That's the beauty of having choices. You can choose to take this one step at a time, on your own timeframe.

Take good care!
~T
Currently Active Users Viewing this Thread: 1
(0 members and 1 guests)

Posting Rules
You may not post new threads
You may not post replies
You may not post attachments
You may not edit your posts
---
HTML code is Off
---