I'm codependent and I have hit rock bottom!
I'm codependent and I have hit rock bottom!
---
I have been on this site on and off for the last 2 years. I have read about codependency and I thought I had a good idea of what it was, but today I had an epiphany, an ah ha moment if you will!

My AH is MY rock bottom!!! Oh I said to myself a little shocked hhmm I get it . . MY AH IS MY ROCK BOTTOM!!!! OMG how did I not see this!! I've been reading on here and "Codependent no more" and all this time I didn't see it!

The last time my AH relapsed (2 months ago) I have really had a wake up call and started to really dig into what has been going on with him and I. I keep asking myself how did I not see this in the beginning with him. How did I not know that he had a drug problem? How did I not see the red flags?

Now looking back there were red flags. I was wearing my rose colored codie glasses and decided not to look at it for what it was. I saw the red flags and wrote it off like "Oh it's not a problem he just uses every once in awhile". When he told me he didn't believe in God I said to myself "Oh he doesn't really mean that". When he made racist jokes I said " Oh he's just kidding around".

I made this almost fake husband up in my mind so that he would fit in every way I wanted him too. I wanted a husband that believed in God and that was NOT racist. I def didn't want a husband that used drugs, but instead of feeling uncomfortable and "rocking the boat" I wrote it off and ignored what I didn't like. When he would make remarks that I didn't like I would just think to myself "Oh he's so stupid sometimes no one feels like that . . he's just jerking my chain!"

HEELLOOOO wake up!!! Take off the codie glasses!! He means what he says . . after all he is the one SAYING IT!! What is wrong with me. I am just as dense and sick as my AH. Much like the addict is in a fog I was in a fog. The evidence was being told to me to my face and I still didn't believe it. I still acted as if everything was OK! WTH

Wow I am so floored by this!

Now I feel so responsible for all of these bad decisions. I married a man that is nothing like what I "made up". He has been the same person all of this time and I to a certain extent ignored it. I married him and then brought a child into this world with him. I feel so horrible about this. We are going to marriage counseling to see if there is anything to work on, but IDK. It is so bad and I am so shocked at the man I see him as now.

I am obviously a basket case with major codie issues and need just as much work as him. This all seems so out of control.

I feel so bad and guilty for all of my mistakes and for being so blind. How did this happen? How did I get so out of control? I thought I had it all together! I thought I was the one with all the answers and all of the RIGHT answers! I was always wondering what is wrong with everyone else lol

I feel so stupid and that now I have this huge mess to try and clean up. I mean how do you tell your husband that you think you married him because you were high on codependency LOL! He would think I was taking drugs!

Oh my! I'm not sure how to handle all of this. I guess now that I have this info and I can see a little more clearly I will go back to the stickies and now read them with a little more understanding!

I would love some feedback on this . . . . I'm feeling pretty stupid about now!
You saw the red flags, you just chose to ignore them. I did, I have been there.

Now that you have reached your bottom, you will no longer ignore the addiction that has so impacted your and your sons life. Instead of being inactive, you will become proactive, you will make a plan and you will follow through, for your well-being and that of the innocent victim who is your son.

Don't beat yourself over the head, don't make your mistakes a hitching post, make them a guidepost, learn from them, don't do the peat and repeat thing.

Keep posting, share and learn, everyday is a new day,one to gain knowledge and also one filled with positive opportunities.

The ball is in your court, grab it and run.

Sending support and hugs your way...Dolly
We wake up when we wake up and hindsight is 20/20, so no beating yourself up, just embrace the epiphany.

When I look back at the stupid/dangerous/enabling/what was I thinking stuff of the past, I just shake my head today. But at the time I was living in the insanity of addiction/codependency and there was nothing "logical" about my world at all.

How grateful I am to be living in a better world of recovery today.

Hugs
I wore those rose-colored glasses for over 30 years, developed my own addiction to "deal with it". Hit bottom on both addictions (crack AND the belief that I could change people) at the same time.

I agree with the above...don't beat yourself up, most of us have been there, done that. Someone very wise here has said "when we know better, we do better". We weren't stupid, or idiots, we just didn't know any better. Now you've got your eyes wide open.

Honestly, the codie recovery part has been harder for me than the addiction, but the great people here have helped me, tremendously.

Hugs and prayers,

Amy
| | |
| --- | --- |
| The Following 4 Users Say Thank You to hello-kitty For This Useful Post: | |
Member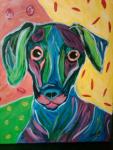 Join Date: May 2005
Posts: 1,688
Girlfriend is not alone.....so not alone! I remember how I felt when I realized the exact same thing. I was EMOTIONALLY drunk when I chose my now ex husband. I made my pretend husband up in my head and super imposed him on this crazy, addicted, controlling, racist, self-centered man. Dang! I was really good at pretending - everyone else saw it but me.

I quickly discovered that as sick as my husband was I actually feel sicker....I'm the one that chose a man addicted to crack and wild sex. What was I thinking? Actually, I wasn't.

I can't tell you the best way to handle your situation. I know that what has helped me was working the program that I wished that he would work. I went to counseling. I prayed. And I kept doing the next right thing. And now today we've been apart for a little more than 5 months. I'm re-creating my life. Not easy stuff but I've grown a whole lot through all of this.

Try not to be hard on yourself....it takes what it takes and you can only do better when you know better.
| | |
| --- | --- |
| The Following 2 Users Say Thank You to lightseeker For This Useful Post: | |
I love the way you framed this.
Regardless of addiction, this is common stuff, especially for women.
We need to make our own mistakes and realize the consequenses in order to learn and grow. No beating yourself up for the past cause it holds you hostage to the past.
The rest of your life begins, right now.
| | |
| --- | --- |
| The Following 2 Users Say Thank You to outtolunch For This Useful Post: | |
Member
Join Date: Jun 2011
Location: Right here, right now!
Posts: 3,373
I spent my entire counseling session on this today. I just wanted you to know that you are not alone.

I think I have been a codie way before my hubby came around.

I have two decorative tool boxes that I got from Hobby Lobby. One is my tool box pre-recovery, one is my recovery tool box. In them I have placed the plastic tools kids get. The ones pre-recovery are broken and beat up and have titles like "denial," "fantasy," and "stuffing" on them. The ones in the recovery box have "reality," "self-care," etc on them.

I would not have the recovery tool box without the pre-recovery box. I had to learn those lessons, and a lot of the tools were learned because of my relationship with my ex-husband. I just spiral downward when I start thinking that I "should have" used tools from my recovery box before I even knew it existed.

I think you are doing great and this post inspired me.
| | |
| --- | --- |
| The Following 2 Users Say Thank You to LifeRecovery For This Useful Post: | |
It's so nice to have a place to come to such as SR! You all are an inspiration and now I can appreciate all that you say even more. Thank you for taking the time and responding to my posts each time. It means the world!

This has been a real eye opener and makes me feel very reckless, but at the same time it is a relief of sorts! Now I know how I got here. Now I have some insight! Now I know what direction I really need to focus on! Having a direction to move in is wonderful!

This seems like a silver lining to this disaster of a life I have currently. If it wasn't for my AH I may never of hit my rock bottom. His ciaos caused me to look at myself and bring me to MY rock bottom! That is a great gift!!

It is a hard road, but the road I needed to be on to get me to where I am now. So I actually feel grateful for that. Hhhhmmmm who ever would of thought I would be saying I'm glad I am in the position I am in right now LOL Wow that is crazy!

There is still so much work to do and so many emotions to work through. I feel that I have taken a big step though. It feels good to be moving forward a little bit : ) The road still seems dark, but I may have found a small flashlight!
| | |
| --- | --- |
| The Following User Says Thank You to learningtofly For This Useful Post: | |
Member

Join Date: Sep 2011
Posts: 164
Karrie,

Don't feel bad, been there done that. I was even in the program (Al-anon, Nar-anon) two years ago and nothing that was said made any difference to me. It took me hitting a bottom before I decided maybe I had a problem. I have been co-dependent my whole adult life, I never realized it till I married an addict. I even told my AH that if I had of been aware of these issues in me and had worked on it years ago, I would have never dated and married him. There is a lot of emotions to work through! I cried a lot when I frist realized some things about myself. You have taken a big step, keep moving forward and never look back!
| | |
| --- | --- |
| The Following 2 Users Say Thank You to Justlizzyd For This Useful Post: | |
Member
Join Date: Sep 2011
Location: massachusetts
Posts: 121
| | |
| --- | --- |
| The Following User Says Thank You to hopeful0323 For This Useful Post: | |
Currently Active Users Viewing this Thread: 1
(0 members and 1 guests)

Posting Rules
You may not post new threads
You may not post replies
You may not post attachments
You may not edit your posts
---
HTML code is Off
---