I sure hope you veterans are right...
Member
Join Date: Jan 2006
Posts: 33
I sure hope you veterans are right...
---
I have been battling with trying to limit for a long time. I would say 20 years of very heavy drinking. Over the last six years or so I have really lost control when drinking / bingeing... I can go weeks and months at a time without drinking without too much problem. However, I don't really seem to be much happier during those times. I always go back at a slow pace and everything is ok. It all spirals downhill from there though i.e. eventual bingeing, embarrassment, injured relationships, and more self hate... I haven't had any legal trouble at this point, but I certainly spend way more money on it than I really can stand.

For the last year and a half or so it has been really bad. I have been through a lot. Divorce, chronic back injury including surgeries, the collapse of the industry and a new city with very few friends. I have turned to the booze to battle the pain and loneliness. However, it isn't helping anymore. I am deeply depressed. I am seeing a counselor for that and on meds as well. They also don't seem to be helping.

I haven't had a drink since Monday. However, the weekend was a pretty ugly 4 day bender. Mostly alone in the house not wanting to see anyone.

I am hoping you guys are right about the clouds lifting. I am tired of hating myself and I am tired of feeling lousy...

I have researched some meetings, but I have to say I am a bit turned off by all of the spiritual reliability in the 12 step programs. I would like to believe that I do have the power to stop, though I agree I may not be able to do it alone. How "preachy" do the meetings get? Is it a lot of praying and meditating or is there more self empowerment?

Thanks!
| | |
| --- | --- |
| The Following 3 Users Say Thank You to Meat For This Useful Post: | |
Hi and Welcome,

I used alcohol to self-medicate depression and anxiety too and to help with the insomnia that came along with the depression. In no time at all, it made things so much worse and my life spiralled downwards.

You talked about trying to limit and control your drinking. If you're an alcoholic, it's not possible to control your drinking. Most of us here, me included, have tried time and time again to make it work. But, you can stop drinking and live a sober life.

I'm glad you are getting treated for your depression. I also had to get my depression properly treated before I could stop drinking. It takes time for antidepressants to kick in, so be patient. And, if the one you are using isn't working. go back to the dr and tell him. I had to try a few different meds to get one that worked for me.

I am not an AA person, but I definitely needed to reconnect with my spiritual side. Recovery for me involves balance and that means physically, mentally and spiritually.
bona fido dog-lover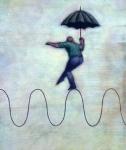 Join Date: Mar 2008
Location: SF Bay area, CA
Posts: 96,439
I have found that my antidepressants work a lot better now that I'm not drinking. To drink just negates the effect of the anti-d's as alcohol is a depressant itself.
As to meetings being too "preachy". Try different ones. Every meeting is different, depends on their regular people. AA is a spiritual program, but some of the members are religious.
I am tired of hating myself and I am tired of feeling lousy...
I got tired of it too, but since I've been sober my self hatred is getting less and I rarely feel 'lousy' like I used to do.

As to all the bad things that can happen if you keep drinking... if you stop now you won't have to worry about the possibilities of something awful happening. Not to mention the money saved...

There are so many positives to quitting drinking and so many negatives to drinking. I hope you can keep living a sober life, one day at a time. Yes, the coulds will lift, but it takes time and effort, so don't give up on yourself!
PS, I'm not a veteran by any means, having close to four months sober now, but I sure feel one hell of a lot better.

| | |
| --- | --- |
| The Following User Says Thank You to least For This Useful Post: | |
Hi Meat -

Welcome. The key is to start a program of recovery. AA is one option, but there are others. To get started, you need to have an open mind. Something is working for others and keeping them sober. Learn from them.

For me, I was not able to solve this problem myself. Keep reading and posting.

Welcome again.
| | |
| --- | --- |
| The Following User Says Thank You to NewMe11109 For This Useful Post: | |
Meat, I hope you find something on these boards that will help you.

I've found that there are many different ways to approach AA. AA is comprised of Christians, Atheists, Agnostics, Muslims, Hindus...you name it. It is all-encompassing. So that leads me to believe that there are as many ways to view the spiritual side of AA as there are AA members.

Completing the 12 Steps in AA does require belief in a Higher Power. That Higher Power can be a God of your choosing, the Universe, the AA group...1 guy I know said his Higher Power was Jerry Garcia.

As far as I can tell, completing the 12 steps will result in a spiritual transformation. But I don't have to translate that as a religious transformation, or anything involving the supernatural. I take it to mean that my actual spirit will be transformed; that I will think differently and behave differently and learn how to handle certain situations differently.

I'm sure you can get very many different viewpoints from the people on this board. I've personally found AA to be very helpful. I've met people who have been through exactly the same things as me, and their words have helped me see some things about myself I had previously ignored. It's nice to be able to talk to other people who understand you. For me, I need to be around other alcoholics. They're the only people I know as crazy as I am.

Good luck to you!
| | |
| --- | --- |
| The Following 2 Users Say Thank You to Snarf For This Useful Post: | |
Hey there, Meat. Welcome to SR.

I've been where you're at with drinking no longer working its 'magic' and feeling more and more depressed and hopeless after each bender.

I got the feeling from reading your post that those weeks and months of not drinking were simply that - not drinking, as opposed to living in recovery and there's a huge difference between the two.

AA is not for everybody. When I got seriously sober (when I got it), AA helped me just by being with people who understood what I was going through. Support is really, really important.

I also saw a counselor too and I credit him for saving my life. He was a man in recovery himself for many many years and also professionally trained in alcoholism treatment (known as a LADAC - licensed alcohol and drug abuse counselor). He helped me to build a foundation for living a life in recovery, as opposed to just puttin' a plug in the jug so to speak.

My depression was linked to my alcoholism - don't know if yours is or not - but alcohol being a depressant itself, when I eliminated that, things really got better.

Glad you're here. There's lots of support here to help in your journey. Look forward to hearing from you! There most definitely is life after alcohol and it can be amazing!
Not preachy. It is a "God as I understand Him" program. I may share some of how I have come to understand Him at a meeting, but only as in my own experience... I will not preach to you, ever. You are given the dignity to come to your own understanding of God, or higher power, just as you are given the dignity to find your own truth.
Try a few different meetings until you find one that fits... try to make sure, though, that you are hearing people share the solution, not wallowing in the problem...
Jerry Garcia, LOL, he is definitely a higher power alright, a true musical genius... I was getting in touch with his power last night, but damn, no matter how hard I try, I just can't play the same way he did

Mark
| | |
| --- | --- |
| The Following User Says Thank You to Mark75 For This Useful Post: | |
Forward we go...side by side-Rest In Peace

Join Date: Jun 2002
Location: Serene In Dixie
Posts: 36,740
Welcome back to SR.....

When drinking threw me into situational depression
I began AA at my doctors suggestion.
I also let go of my social circle of drinkers
so AA meetings helped me feel less alone.
I found new friends who shared my new goals
and we did all sorts of things outside of meetings

Please do check AA out...what do you have to lose?
You have been battleing your drinking a long time.....

| | |
| --- | --- |
| The Following User Says Thank You to CarolD For This Useful Post: | |

---
Welcome Meat.. Why Not Hit Your Local A.A. Club And See For Yourself Just How "Preachy" You Think They Are? (what Have You Got To Lose?) i Struggled For Years in And Out Of A.A. Now i'm Back in.. it Really Does Work if You Want it To!
ツ Over The Hill Member ☮✌♏❤🇺🇲🎨 🌠♒
Join Date: Dec 2006
Location: Oxnard (The Nard), CA, USA.
Posts: 8,963
Hi Meat.
I use a secular approach to recovery and it has been a very good experience. I see my addiction treatment as acquiring a set of recovery tools that helps me live life as it is alcohol free. Posting and responding to posts here at SoberRecovery gives me a recovery community experience that helps me remain sober. I hope you'll continue to post and participate here too.
I also get 'having the power to stop', as its up to me if I drink or not. Sure not everybody in recovery feels that way but I see that just is a difference in recovery modalities. What works for one may not work for another or at least that has been my experience in recovery. Fortunately there is more than one way to recover from a seemly hopeless state. I use
SMART Recovery
primarily now...its the best fit for me.
| | |
| --- | --- |
| The Following 2 Users Say Thank You to Zencat For This Useful Post: | |
| | |
| --- | --- |
| The Following User Says Thank You to coffeenut For This Useful Post: | |
Member
Join Date: Jan 2006
Posts: 33
Thanks All, I will look into several resources and try to keep an open mind.

Made it through last night without much problem. The weekend, final four, holiday lonliness, etc...will be the true test though.

Happy Day,
Eric
| | |
| --- | --- |
| The Following User Says Thank You to Meat For This Useful Post: | |
Currently Active Users Viewing this Thread: 1
(0 members and 1 guests)

Posting Rules
You may not post new threads
You may not post replies
You may not post attachments
You may not edit your posts
---
HTML code is Off
---