Things Destroyed
Administrator
Join Date: Apr 2007
Location: Australia
Posts: 204,006
I don't know if I really care anymore. The insomnia is just another reminder of what I really am. Which is the hard part I have to deal with now. I have been sober for a couple of days, but what is the point? If "detoxing Michael" is no different than " usual drunk Michael" why should I even try? *sigh* I just don't care. Let the beast run.
Yeah I used to feel like that Michael. I wasted 10 years feeling like that. The thing is, what I didn't know then was that I was a far better person than I was giving myself credit for.
I just needed to step out of the swamp and stand on some dry land a while to get some perspective.
You're trying to change your life - it's not easy and it's not quick - most days you have to run on faith that what you're doing is the right thing.
That's why I used SR a lot in the early days - my own judgement and perceptions constantly needed to be challenged and checked against sane peoples LOL...just for a while, until I found my dry land

Don't give up

D
| | |
| --- | --- |
| The Following User Says Thank You to Dee74 For This Useful Post: | |
bona fido dog-lover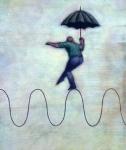 Join Date: Mar 2008
Location: SF Bay area, CA
Posts: 96,365
I've been trying to quit drinking for a couple years now and have had a lot of 'setbacks' where I jumped off the wagon. But I always got back on and tried again. The people here helped a lot, encouraged me to start over and not beat myself up.
I hope you can get the help you need to stop drinking soon. Your doctor may be able to help you get thru withdrawals safely and more comfortably. And once you get past the w/d, stay sober one day at a time.
We're here to help you any way we can.

| | |
| --- | --- |
| The Following User Says Thank You to least For This Useful Post: | |
Michael for some SR alone is the ticket to sobriety, for some it is a rehab & SR alone, for many folks here it is rehab/detox, AA & SR as a supplememnt.

It sounds to me as though if you are serious about staying sober that you may want to add something else to your path to sobriety.

When I broke down & went to see a Dr. about my drinking I told him the entire truth about my drinking. I thought I could just stop with the aide of Revia, Camparal, or Antabuse, he told me that the only chance I had was to be medically detoxed.... perhaps this is the case with you, what can it hurt to see a Dr.?

In detox they told us if we wanted a CHANCE at long term sobriety to go to at least 90 AA meetings in 90 days & get a sponsor, I did just that.

What do you have to lose by going to AA? A drinking problem?

What do you have to gain by going? A solution that has worked for millions that does not cost a dime!
Member
Join Date: Mar 2010
Location: NH.
Posts: 1
you sound like me......
---
first post, 2days sober no sleep and wishing I was dead yesterday. I've had antabuse from the doctor and other drugs for months but my beast didn't want me to take them. my hands were shaking so bad yesterday i couldn't type and it took me about 20 mins to register today.
my dad left before I even new him, which probably was best but my stepfather we called by his first name.(he was also an *******..) i have step grandchildren and i want them to call me by name because they aren't my bilogical kids they have a grandfather weather he's good or bad so don't feel bad about that.

i'm 54 and have had problems all my life. wife kicked me out at 25 and I went to a good lawyer friend and he said his father was in a.a. and i should go. I was scared but new I had to go, the lady at the desk almost fell off her chair when I said i was volutarly going. After 3 meetingss I thought i knew it all and the mrs. took me back.

On and off for years, drinking trouble and a.a. I kept well hidden too. I really didn't going to a.a. so i also looked on the internet for solutions. I found a book rational reccovery and order it. I loved the ideas even though he bad mouthed a.a. and I think a.a. is a good program to goto also.

I stayed sober for 5 years fightin off my beast. Basicly we all have a beast thats telling us to drink. that beast is nasty and never leaves us and after 5 years of beautifull sobriety I lost it big time and partied three months straight with anything i could find. That did not go over to big and i lost my marriage and 3 beautifull sons who won't talk to me 7 years later.

I think 98% of us our closet drunks and if your
not you will be. I went to my doctor about a year ago and told him i thought i was going to die. He checked me out and my liver was a little high, blood pressure thru the roof and my hip needed to be replaced all because of booze. I still didnt do much to cut back. One weekend I drank from fridday to sundday i think and my girlfriend called the doctor and they sent me 7 day rehab. stopped for a while and got back on.

got a counselor and she kicked me out because i would not do what she said.


had my hip surgury 5 days sober and no butts in hospital got out and the first thing i wanted was butt and not to long after that booze.

about 4 months later while she was gone most of the day guess which closet i opened. she got be a pro at finding and dumping it. she came home with the grandkids and needed help with groceries, i ran downstairs and on my up near the top i fell all the way back down and it hurt like hell.lucky i didnt break my neck. of course wait till next day so i can drink the pain away.

My whole left side was killing me from head to toe and used cruthces to get in hospital. 4 fractured ribs sprainded foot and oh the pain. pain killers did not help, i couldn't lay down and if i did i couldnt get up, walking was painfull talk about not sleeping... Its been about 4 weeks since then and it's still painfull
and couldnt sleep. I dont think I ever leaarned how to sleep without my booze.

Me and the beast had a great idea to sleep most of the weekend again and we went to town. I woke up monday with the worst hangover i ever had. I could barely move or breath.. I went to the bathroom and walked ten feet back to the coach and was out of breath...

That did it for me and now that my hands arent shaking so much at least this site is about helping. I wonder do you want a sober competion? John
running out of room feel free to write..
Currently Active Users Viewing this Thread: 1
(0 members and 1 guests)

Posting Rules
You may not post new threads
You may not post replies
You may not post attachments
You may not edit your posts
---
HTML code is Off
---