Yay me! Another successful day using Recovery Skills
Member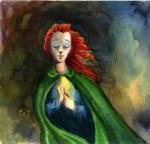 Join Date: Mar 2014
Location: My mind wanders a lot, but I try to stay in the present.
Posts: 1,009
Yay me! Another successful day using Recovery Skills
---
I would have said that this was OT, but I truly believe that our recovery has to do with every aspect of our lives, so I'm putting it out there as a continuation of me trying to become a better me.

I've been working hard at bettering my communication skills with my 17year old daughter, specifically when it comes to arguments.

The arguments are stupid. Usually they start off with her being rude (to me, only to me), me calling her on it, and her getting angry at me calling her on it. Simple, and I think fairly common amongst mothers and daughters her age. At least I hope so.

What she does that drives me crazy is a clever legalistic slight of hand where she quickly tries to change the focus of the subject from me to her. A typical argument goes something like this:

Me: "Lil' Karmalita, I don't like the way you were just being rude to me."
Her: "Whaaaaaaaaaaaaaaaaaaaaaa!!!! But, YOU STARTED IT! You're NOT LISTENING TO ME." "WHAT DID I JUST SAY?" "WHAT DID I JUST SAY?' "SEE?" "YOU'RE NOT LISTENING TO ME?"

Clearly she doesn't think I'm listening to her.

The thing is she hadn't been saying anything. I was the one who brought the subject up of her being rude to me, because of something she had done. Usually a nasty, off-handed little comment. The whole idea of me not "listening" to her is smoke and mirrors. I'm the one who brought the subject up, I'm the one not being heard.

Anyway...

In the past I would have gotten all caught up trying to argue her bass-ackward logic, and then quickly descended to pointing out that my sensitive ears were quite incapable of hearing when spoken to in such a horrid pitch. I would then demonstrate with my own horrid pitch, to show her just how horrid pitches can be. This competition of horrid pitches would go on for a while. I'm sure the neighbors loved us.

Needless to say, no one ever won.

So I'm determined to change this dynamic, and I've had some success. Here's what I've been doing:

1) I start by swallowing my pride, and breathing slowly.

2) I'm very careful not to raise my voice. (Actually, my calmness kind of freaks her out, but that's her problem. She'll get over it.)

3) I stick to, and clearly state the topic. i.e. "I don't like it when you're rude to me." When she tries to get off topic, I calmly bring it back. If she tries to bring other things in I suggest she bring them up later. She most certainly has valid points, but now isn't the time for them.

4) I then let her choose whether or not the day's going to progress normally or go into the toilet. We're running about 25/75 here. There was one night when she decided to stake a claim on being upset and didn't speak to me until morning, but for the most part she doesn't want to be upset.

5) I allow it to end.

Number 5 has been much harder than it seems, and one that I struggle with. Although it's obviously good to let things go, I also sometimes want to bring them up again later in order to "teach her a thing or two". This is where all of the recovery talk jells with the parenting talk.

She's 17. She's virtually an adult. She's a good girl. She knows when she's being a little sh*t. I don't need to write it out in neon, or have it tattooed on her forehead. All the "teaching" on this matter has been taught. Now I need to practice what I preach, and she needs to choose whether or not she wants to practice it.

So that's what I'm trying to do. Speak clearly with intention. Protect my own dignity, while respecting hers. And not let every negative moment become a negative day.

Today.... it worked like a charm. Absolutely, 100%, nominate-us-for-mother-and-daughter-of-the-year, perfect!
The Following 23 Users Say Thank You to SeriousKarma For This Useful Post:

AnvilheadII

(02-23-2015),

Chino

(02-23-2015),

firebolt

(02-23-2015),

FireSprite

(02-24-2015),

guava

(02-23-2015),

happybeingme

(02-23-2015),

honeypig

(02-23-2015),

kudzujean

(02-24-2015),

ladyscribbler

(02-23-2015),

lillamy

(02-23-2015),

Lovenjoy

(02-24-2015),

Mango blast

(02-23-2015),

Mattla

(02-23-2015),

POAndrea

(02-23-2015),

Rosiepetal

(02-24-2015),

SabrinaQ

(02-23-2015),

sadsister62

(02-23-2015),

Sikofit

(02-23-2015),

SparkleKitty

(02-23-2015),

Stung

(02-23-2015),

theuncertainty

(02-23-2015),

Thumper

(02-23-2015),

transformyself

(02-24-2015)
with no offense meant to either dogs OR teenagers, any "punitive" action is best handled at the time of the undesired event. if you didn't CATCH the dog in the act of peeing in the carpet, hauling him out four hours later does no good as the dog can't make that connection.

if you don't put up the hand WHEN the teenager is being: mouthy, sassy, rude, bitchy, mean or sullen....trying to ressucitate the convo later gives WAY too much of a time gap for them to rewrite history! and they have moved on to a least 4025 different thoughts, moods and texts!

i think your plan is sound and hopefully it helps. she's 17, so if you two are at least HAVING conversations that don't end in screaming matches and doors being slammed, you're ahead of the curve.
Good for you, Karma!!!
Changing the way you disagree is the hardest thing, I swear. While your recovery in practice has taken you from yelling at each other, mine has gone the other direction. My MO was always to walk away and let her yell her fool head off. As if avoiding the conflict was a better solution.
I'm having to learn to actually take the conflict when it arises and deal with it then and there -- or I'm teaching my teen girl treat me the same way her father did: Scream until I walk away. That's not good conflict solution either.
This learning-how-to-break-unproductive patterns thing is one of the greatest gifts of recovery, I think. From whichever way you're breaking them. One thing we have in common with our girls is this, though:
She's a good girl. She knows when she's being a little sh*t.
And the amazing thing when I've started taking on the conflicts instead of walking away is that she's actually starting to
acknowledge
when she's being a little sh*t.
We don't have many of those 100% days, so I tip my hat to you, friend. You're doing great!!!
Member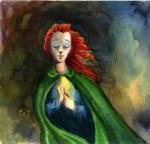 Join Date: Mar 2014
Location: My mind wanders a lot, but I try to stay in the present.
Posts: 1,009
Yes, the dog/child thing. I see it now! No offense taken. I'm ignorant. Just a stupid cat person. God knows we should never be allowed to raise children.
One time, when my daughter was potty training, she left a poop in the floor in an out of the way spot in the house.
I didn't find it until the next morning.
It was too late to do anything. The moment had passed.
[email protected]
! Could that be where this all started? Me not properly addressing the rogue poop of 1999?
| | |
| --- | --- |
| The Following 3 Users Say Thank You to SeriousKarma For This Useful Post: | |
| | |
| --- | --- |
| The Following 3 Users Say Thank You to LemonGirl For This Useful Post: | |

And honestly, Karma -- if you are a cat person, clearly, you have more patience than those of us who are dog people. Dogs, at least, can be trained... Cats? Yeah. Cats are more like husbands... they have their personality and their habits and try as you may, they are who they are...
| | |
| --- | --- |
| The Following User Says Thank You to lillamy For This Useful Post: | |
I Love Who I Am

Join Date: Sep 2009
Location: Midwest
Posts: 3,210
I found the perfect solution to dealing with my teenagers, and I offer this without judging you in any way.

I stopped fighting with them. Stopped reacting. Stopped making sure they know that I know that they are the ones who started it. Stopped letting them get under my skin at the very first sign. Stopped talking about it to them, to my friends, and stopped chewing on it forever in my head like a squirrell with a nut a few yards away that you can still here just going to town on that thing.

I just started letting it go. It's a process, practicing releasing resistance. Once I got instant rewards for doing so (increased peace of mind, increased cooperation from teenage child, increased time to focus on things I want and love, which make me feel better right away) I trusted enough to try it again and again and that built up the habit more easily than I would have ever imagined. It just take practice.

We literally have no issues now, because I refused to get drawn into the power struggles. And now a days if I do get mad and yell, its such a rare occurance that they straighten up right away and do the commanded thing and are sorry right away. Then I'm sorry. Then we get back to our regularly scheduled lives.

I know my power. I know my worth. I know theirs as well. I know dozens of mothers who have lost their kids to accidental OD. I'm grateful grateful my kids are still with me.

Gratitude changes everything. Good luck with the kiddos. You're a great mom, don't worry.
That's fantastic Karma.
My 2 daughters fight amongst themselves all the time & drives me nuts.
In the weekend I calmy sat them down & suggested that rather than be negative towards each other that may perhaps trying saying 1 thing they "like" each day.
I am pleased to report that several days later they are interacting & taking a positive interest in each other & are still using the "I like it when...." sentence.
Just the fact that we mothers are trying different methods deserves a pat on the back.
Keep on keeping on

Good thread. I'm struggling so much with parenting. Two of my kids are so hard to talk with and they fight with and antagonize each other constantly - no matter what we are doing. They dominate every activity with their constant fighting and the other kids dread family meals, games, outings. I'm so exhausted with it and feel so inadequate. I've had them in individual counseling, we've done family counseling, I've rewarded, given consequences, interviewed and ignored. It is never ending. I try to figure out recovery skills but I just don't know anymore.
Currently Active Users Viewing this Thread: 1
(0 members and 1 guests)

Posting Rules
You may not post new threads
You may not post replies
You may not post attachments
You may not edit your posts
---
HTML code is Off
---