The Battle Isn't Yours To Fight
Drug Addiction Has No Mercy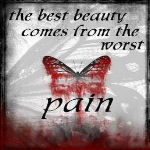 Join Date: Mar 2005
Location: Milwaukie Oregon
Posts: 875
The Battle Isn't Yours To Fight
---
You can't make me clean though I know it is what you want for me to be, but until I want it. I won't be. You can't love me clean because until I learn to love myself. I won't be. I know you must wonder how can I learn to love myself when I am caught up in a lifestyle of self-hatred and self destruction.

I can learn from my own experience. I can learn from the things that happen to me along the path of my own mistakes. I can learn by being allowed to suffer the consequences of my own choices. Life has a funny way of teaching us the lessons we need learn.

I know it devastates you to watch me hurting myself. I know you want to jump in and save me. This helps ease your pain, but I don't think you understand just how damaging it is to me.

You see although I look and sound like your loved one. Me, the person is locked away deep down inside my being. What you see before you is a addict ruled and reigned by my addiction.

The main focus of a addict is to feed the addiction. Every effort you put forth in the name of "helping" me, the person ... falls prey to the addict giving more power to the addiction to shackel down the person in me a little more each time.

I feed my addiction enough ... please don't help me.

The only way for the person in me to get free is to be free. Free to fall in order to find the strength to get back up and fight back to break free.

How can or will I ever be able to get clean.

The same way I gave myself over to my addiction is the same way I can give myself over to my recovery. BY MYSELF

By allowing me to reach rock bottom you move over and allow me to find the my own way back. It is in the fight to break free that I will find myself. It is in the fight that I learn to love myself. The more I learn to love myself the more I will do to better myself.

I am aware that when I use I am playing russian roulette with my life. I know this, but that is a chance we take when we use. The addict in me is willing to take that chance in the name of getting high.

Rock bottom is but a circumstance away. I can't get in if you are blocking the entrance ...

Please for the sake of the person in me, move out of the way and let me fall as far down as I have to in order to reach the bottom. Pray for me that when I do hit that is not with the impact that leaves me for dead (I know that is your greatest fear), but if it comes to that, be sure to tell my story so that others might learn and live.

Nytepassion
Recovering Addict
Member
Join Date: Feb 2015
Posts: 118
nytepassion,

Thank you so much for posting this. I see my son (and myself) in the words you have written. I stepped back so much lately, and as his mom, it feels cold and unloving. But I believe what you have written. I believe that it is only through my refusing to interfere that he will do business with God and deal with his addiction.

God be with you.
| | |
| --- | --- |
| The Following 2 Users Say Thank You to BellaBlue For This Useful Post: | |
Speaking from the other side of the fence, that is ABSOLUTELY true.

Getting sober is, by it's nature, extremely selfish. Loved ones are not involved in the process, nor much thought of during it if its successful.

The only real way to support an addict is to give them a ton of space to fall down and smash themselves and possibly get back up....which also requires some space.
| | |
| --- | --- |
| The Following 2 Users Say Thank You to MindfulMan For This Useful Post: | |
Member
Join Date: May 2010
Posts: 629
Thank you Thank you so very much for this post.
You have described my son...I am looking at him, and I see him, and I hear what he says, but I have no idea who this person is. I am speaking to his addiction...you put it so very well.
We have almost no contact. When it feels right to me, I reach out. Invited him for Christmas Eve with the family, he didn't respond, didn't show up, sent along some gifts I mentioned a long time ago I'd like. Taking his love anyway I can get it, but holding him accountable at the same time for his bad behavior. He doesn't live with me, so I don't know what I don't see, and that's fine with me. When I do see or speak to him, it's been a while, I never know what to expect, and my expectations are pretty low now, so I am not really disappointed. I have cried at times, but every day I am basically happy and living my life joyfully. When I do reach out, I feel like I am shining a little light into the rabbit hole he is in, just to remind some part of him that I am here. Makes me feel better. I pray for his soft and swift bottom.
I really appreciate your post. I am hopeful he will one day decide to find recovery.
Thank you.
Member
Join Date: Feb 2018
Posts: 124
This is me and my son also. I have learned to step back, to preserve my sanity. Most of the time, I live my life happily , but it is tinged with a sadness about my son. When that sadness creeps in, I swiftly kick it to the kerb. I don't want to spend my life wondering and worrying about him. Life is too precious, and I want to make happy memories for the rest of it.
i have no control over my sons actions, and what will be will be. I continue to remind myself of that every day.
Much Love
Bute x
| | |
| --- | --- |
| The Following 2 Users Say Thank You to Bute For This Useful Post: | |
Member
Join Date: Nov 2017
Posts: 2,469
Thanks for posting this. I am in recovery myself but my brother is in the insanity at the moment and I just want to save him! Your post could have been written by me and yet I was struggling to see it in terms of my brother. I needed my rock bottom so I was desperate enough to get help. He needs the same. Thank you. It was very moving too.
| | |
| --- | --- |
| The Following 3 Users Say Thank You to snitch For This Useful Post: | |
| | |
| --- | --- |
| The Following 2 Users Say Thank You to samlynn For This Useful Post: | |
Member
Join Date: May 2010
Posts: 1,149
This is what our family did NOT do. This also means no enabling no matter how much consternation it may cause family relationships.

Our immediate & extended family tolerated the drinking of 2 family members for decades knowing they had a few drug or alcohol related issues to say the least. They assumed allowing them to drink in the controlled setting of a family gathering would do no harm. But it did by validating their alcohol use/abuse and added /contributed to their daily consumption. And by allowing them to drink it allowed them not to make that choice of sobriety or family gatherings. Now have a couple of half century old adults with very little to nothing to show for their life which for them is a salvage operation before time runs out.

It will sound contradictory in one sense but do not enable or facilitate. Don't give money or aide no matter how inconsequential it seems. Set boundaries and clear cut rules when in your home or presence no matter how uncomfortable they may seem. Even if it forces an alcoholic or addict to make the personal choice not come/see you. This is where a contradiction lies because hitting a bottom should include getting their priorities straight, it forces a choice of sobriety, family, friends etc or their current life & substance.

No matter how uncomfortable NOT enabling seems that is actually part of the alcoholic/addict hitting the bottom. Can't control something that's already out of control.
| | |
| --- | --- |
| The Following User Says Thank You to thequest For This Useful Post: | |
Member
Join Date: May 2010
Posts: 629
I just re-read what you wrote, thequest, and I thank you.
I just got through a terrible month of family celebrations and holidays with my son ignoring invitations and not showing up for close family members that have been such a big part of his life.
He chose to spend Easter with family members who are afraid/unable/unwilling to make waves by calling him out on his bad behavior. Everyone just walks on eggs and hopes for the best.
It is so hard to be where I am right now, but reading what you wrote reinforces what I know to be true.
My boundaries around his drinking and rude behavior are not only good for me, they may also lead him to sobriety sooner than later.
Thank you for the reminder.
| | |
| --- | --- |
| The Following User Says Thank You to seekingcalm For This Useful Post: | |
Member
Join Date: Dec 2020
Posts: 7
I needed to hear this. as a girlfriend who constantly wants to fix her loved one's problems, i know that I am not the answer. any hand-holding I do at this point is damaging and enabling. i'm contemplating walking away from this relationship. I love him but like you said, the only way for him to be free from his addiction is for him to free himself. and the only way I can help him is to let him find his own way. thank you for these words.
| | |
| --- | --- |
| The Following User Says Thank You to kdperry4 For This Useful Post: | |
Member
Join Date: Feb 2015
Posts: 118
Thank you for re-posting this. I haven't been on as things have been ok. But here we are again at a crisis. I open this post up and see the first response was from me almost 2 years ago. How very sad. I've been off balance for the last 36 hours, but vow to gain it back, no matter what he does. He's very far away now, homeless, broke and knows no one where he is. When asked for help this time, I said no more, go to a shelter. How hard it is for a mother to say these things, feel these things.
| | |
| --- | --- |
| The Following User Says Thank You to BellaBlue For This Useful Post: | |
Currently Active Users Viewing this Thread: 1
(0 members and 1 guests)

Posting Rules
You may not post new threads
You may not post replies
You may not post attachments
You may not edit your posts
---
HTML code is Off
---