What do you do when your own worst enemy is...you?
Member
Join Date: Feb 2011
Posts: 223
What do you do when your own worst enemy is...you?
---
just caught this on the radio and loved it (from Radiolab)
copied & pasted details from their web page below, there are 3 different stories, you can listen to the podcast
What do you do when your own worst enemy is...you?
This hour, Radiolab looks for ways to gain the upper hand over those forces inside us--from unhealthy urges, to creative insights--that seem to have a mind of their own.
you can listen to a podcast here
Help! - Radiolab
You v. You
Zelda Gamson tried for decades to stop smoking. But while one part of her wanted to quit, another part just didn't want to let go. So, how do you win a tug-of-war with yourself? We decided to ask one of the greatest negotiators of our time for some advice. Adam ...
Me, Myself, and Muse
Imagine you're a writer, but the words won't come. Could you bargain with creativity to get past your writer's block? Oliver Sacks found himself in that very situation back in 1968: he was struggling to finish his first book, and got stuck. He imposed a deadline on himself that, while ...
The Fear in Me?
Can fear change you for the better? Gregory Warner from Marketplace takes us to a clinic in Russia that aims to scare patients sober--with a pill called "the torpedo." Vyacheslav Davidov, the doctor who runs the clinic, describes the treatment and makes a case for the therapeutic powers ...
Azureseas, this was probably the coolest radio program I've ever heard. WOW. Thanks. (Well, I didn't like the Liz Gilbert part, but otherwise I was enthralled the whole time.

)
I loved some of the ideas here and it only occurred to me at the very end that this is actually how my recovery started.
My counselor told me that there were two parts of me -- a part that genuinely cared for myself, and a (semi-sadistic) part that got a reward/thrill out of punishing myself (because "she" had been trained to do so and doing so was the "right" thing to do). The key was to learn to tell the evil half to f*** off (as the segment puts it, at that last part four minutes from the end). This was a major key to me because it made me understand how I persisted in drinking for so long even though I knew I shouldn't (because of the concept of two selves). Totally what this program is about. Thanks so much for sharing it. Every time I write about that part of my recovery here, I'm not sure it makes sense, but this program helps explain how it makes sense.

Member
Join Date: Nov 2006
Posts: 1,237
Hi AG, I can relate to your post!!!!
I lived my life as my own worst enemy for sure.....when I was pulled over and charged with dui, the next day the fear in me of what I had done, how far alcohol had driven me in the gutter...compelled me into sobriety.... fear like I have never felt before....like I was waaaay off course and that things would only get worse and worse if I continued down this path of destruction..... fear can be a huge motivator.....also the fear of change...the unknown....to just jump into it without knowing the outcome..but you live it anyway!!! fear can be our biggest teacher!!!
| | |
| --- | --- |
| The Following 2 Users Say Thank You to loveon2legs For This Useful Post: | |
Trudging that road.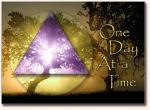 Join Date: Nov 2010
Location: Seattle Wa
Posts: 6,840
Thanks AG for the topic & the link as I want to quit smoking and when I went on there they were talking about that.

I have been my own worse enemy throughtout my sobriety. I have a friend who says if anyone treated me 1/2 as bad or said the nasty things I say to me I would drop them as a friend or freak out on them but yet I do it to myself a lot.

Learning to love ones self is a full time job sometimes for me.

So again thanks and like they say in AA to thine own self be true
| | |
| --- | --- |
| The Following User Says Thank You to newby1961 For This Useful Post: | |
I would love to take credit for the link but that belongs to Azureseas!
Yes, I know that feeling . . . you would totally confront someone who talked to yourself that way, so it's also good to confront yourself for the same thing.

| | |
| --- | --- |
| The Following User Says Thank You to AmericanGirl For This Useful Post: | |
Currently Active Users Viewing this Thread: 1
(0 members and 1 guests)

Posting Rules
You may not post new threads
You may not post replies
You may not post attachments
You may not edit your posts
---
HTML code is Off
---