false accusations
Member
Join Date: Jun 2012
Location: Spanaway,wa
Posts: 111
Why cant I get it?! WHY can't I take all of my energy and focus on myself? Im seriously so concerned about trying to save my marriage that the stress, aggrivation with myself and feeling of desperation is completley consuming me. I feel alone, and somehow think that if he would jump on board with me...it would make this struggle a bit easier.
I have a counseling appointment at my church today. I'm praying that gives me some form of relief. They also have a "celebrate recovery" group that meets every monday night and plan to look into that when I'm there.
Maybe if I thow my entire being into ME... the rest of my life will start to fall back into place. And I'll stop obsessing over things that I can not change.
I just feel alone, have noone to talk to and feel like noone around me understands. Thanks for letting me rant.
| | |
| --- | --- |
| The Following 2 Users Say Thank You to hrich1122 For This Useful Post: | |
Member
Join Date: May 2013
Location: Acton
Posts: 13
Five days clean from my own addiction, and watching my boy-friend struggle with the same addiction to pot I understand that pot is as much of a problem as any other drug.
People say it's "just pot" but it's not. At least not for some of us. I understand how hard it is to try and remain sober when someone else is using. It never helps. And all I really have to offer is empathy and support as five days clean doesn't make me able to offer a lot of advice except keep coming back. I almost didn't but am sure glad I did. Be proud of yourself. It's absolutely awesome and you can do it. False accusations hurt a lot. Unfortunately my hurt and anger has made me that person and my addiction has also made me the accused so I feel where you're coming from. the important thing really is that you were sober at the time. You'll find lots of support here. Thanx for the posts.
RealdealKAxx
| | |
| --- | --- |
| The Following User Says Thank You to realdealKA For This Useful Post: | |
I'm really sorry that you are feeling so stressed and so alone. But, you have many people here telling you that you are not alone and that we do care. Allow those good feelings into your mind.
Of course, you want to work on your marriage. I had to do that too. But, above all, you must care for yourself. That's one thing I learned on the way to my bottom. Caring more for others than yourself leads you to the bottom. You must care about yourself, especially now in early recovery.

Member
Join Date: Jun 2012
Location: Spanaway,wa
Posts: 111
Thank you anna. Youre very correct. I am most important right now. My coundeling session today made me feel hope. I guess I really did just need to get it all out. And I feel refreshed in a way

Member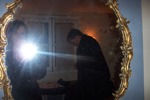 Join Date: Apr 2011
Location: Portland
Posts: 1,628
I am sorry you have to go through that. But on the other hand, there's something about others telling us what to do. My husband is supportive, and I need his help, but any time he tries to make a recommendation I flip out. I think the solution does have to come from me, but I just can't listen to it from him. Any of that going on?
Currently Active Users Viewing this Thread: 1
(0 members and 1 guests)

Posting Rules
You may not post new threads
You may not post replies
You may not post attachments
You may not edit your posts
---
HTML code is Off
---