I left him!
Member
Join Date: Feb 2015
Posts: 2
I left him!
---
Hey guys, I've been lurking around here for years. I've posted under different usernames quite a while back but only a few times, but got a new email and can't remember my old user ID and password so I have to create another account. Anyways, I have been with my alcoholic/drug addict husband for 4 years, married for 2 1/2 and filed for divorce on the 30th! It's been a long journey but I just wanted to say thank you for everyone for posting and always sharing their ES&H here. This has been a real tool for me. Thanks so much and I just wanted to share the good news!

MCH
The Following 12 Users Say Thank You to mch1115 For This Useful Post:

airwick

(02-06-2015),

allmirages

(03-02-2015),

Fate2012

(02-10-2015),

Hope7726

(03-02-2015),

hopeful4

(02-09-2015),

irisgardens

(02-08-2015),

JOIE12

(02-08-2015),

Jsbodhi

(02-09-2015),

katie44

(03-02-2015),

ladyscribbler

(02-06-2015),

Saffy86

(02-09-2015),

Yogagurl

(02-07-2015)
Member

Join Date: Apr 2014
Posts: 1,544
Good news for you is good news

I was with my AH for over 13 years, got out about 1.5 years ago. Started talking here, and have been sober myself for about 11 months.
I guess I needed encouragement. That was given to me without judgment!
This keeps me on the right track.
Glad to hear you are doing well

Engineer, Guitarist, Golfer

Join Date: Jan 2012
Location: Where the mighty arms of Atlas hold the heavens from the Earth
Posts: 3,381
I never like to see anyone go through a divorce. It's a difficult thing to do emotionally. That being said, it sounds like you made the best decision for you, and you're to be commended for that.

In the days and weeks to come, be prepared for a flood of emotions. You may have difficult days ahead. But when you do have those difficult days, remind yourself why you've had to take this step, and work your way through it.

Keep us posted, and good luck.
●▬๑۩۩๑▬●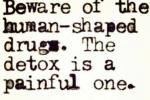 Join Date: Apr 2013
Posts: 1,405
Member
Join Date: Apr 2013
Posts: 120
I too have filed, not yet divorced, but it should be over soon.. Regardless, the relationship was over emotionally long ago. Being in a healthy relationship with an addict /alcoholic was impossible for me and am so glad that I have stepped off that train going nowhere.... Take good care of yourself and tell yourself you did what was best for you and that is wonderful.... It does get easier. I never wanted to be divorced or a single mother, but I am doing just fine....
Most times, by the time it gets to divorce, it's like closing a door on an already empty room.

May you find peace, regain your balance and then look forward to new beginnings and a happier life.

Hugs
Member
Join Date: Feb 2015
Posts: 2
Struggling
---
So, it's been almost a month and I am struggling. I completely cut off contact due to the manipulation that he was throwing at me. I cut off the contract on Feb. 20 and I feel like I am going through withdrawal. Since he is still on a lot of my financial and phone bill I am checking those constantly (he has entered "recovery" and is calling people whose numbers I know, men specifically) and he has not contacted me except to say that he was going to our old home group, which is my current home group. I skipped out on that meeting and my friends that barely would recognize him said that they did not see him there. Now I don't know what to do. Did he not go because I did not reply to his emails? Is he going to show up? I don't want to not go just because of him and let this fear rule my life. But I don't want to get sucked back in either if I see him there and my old ways of thinking take over and I think he's doing fine, changing, blah blah. But I love this home group so much. I just wish I had some kind of confirmation that he was doing bad, hadn't changed, etc. That I had made the right decision. But when I talk to mutual recovery friends it's like they've been put under his spell too and are like he's really trying and calling and doing good. But then I saw a bar charge on a card. But it was just one. So IDK. I really want to call him, but I've changed my number and really, really don't want him to have my number or the satisfaction that I can't not talk to him so I am not calling. I don't want to get sucked back in again. But this is like the worst drug withdrawal I've ever been through. And I was addicted to everything at one point or another. I've been praying for the obsession to cease but it keeps coming back. I just want to know and it kills me that I can't. Any advice?

| | |
| --- | --- |
| The Following User Says Thank You to mch1115 For This Useful Post: | |
Member
Join Date: Oct 2014
Posts: 205
MCH, please stop torturing yourself with these phone and bank records. I know it's hard but you are making this so much worse by looking at those things. You absolutely did the right thing by cutting contact and changing your number and I commend you for those things. But cutting someone off also means not following their actions through bank and phone records. I know you're still legally married but it's really not necessary for you two to share these things. Can't you have your divorce attorney contact him or his attorney and let him know he will need to get his own accounts by a certain date? Also, let your family and friends know that you do not want or need any information about him.

I think that's really effed up he is going to your home group but unfortunately you can't control that. That is just so rude and inconsiderate. I hope you will find another.

The only measure for whether or not you made the right decision is how YOUR life is. Your AH can get sober and turn into the next Ghandi (that part won't happen) and it makes no difference at this point. It doesn't change the past.
| | |
| --- | --- |
| The Following 2 Users Say Thank You to Hope7726 For This Useful Post: | |
Community Greeter

Join Date: May 2010
Location: USA
Posts: 13,566
I have to agree, you must stop this self torture. You filed for divorce for a reason, so remind yourself of those reasons. You can be addicted to a person just like a drug. And just like a drug, it takes time to shake the habit. You are going to have to come to the self realization that this is not healthy. Separate finances ASAP.

Hugs. I know it's hard. You can do it.
| | |
| --- | --- |
| The Following 3 Users Say Thank You to hopeful4 For This Useful Post: | |
Member
Join Date: Feb 2015
Location: Midwest
Posts: 65
Please do not second guess yourself because of his actions. You made your decision to separate, for a reason. And it took a lot of courage to do so. I know first hand, that checking up on them sets you back. You are either going to see something that will be damaging and could potentially put you over the edge, or you could see what you did see...or hear...a glimpse of hope. Either way, it affects your ability to heal and get on with your life. Checking up, in my opinion, can easily put you back to square one like what you are going through...and it is torture.

I know that it is extremely hard because I feel and have read, we do get addicted to our addicted loved ones. It will take time to get it out of your system. I feel for you, I really, really do. But you are a strong person. Look at the progress you've made by taking the steps that you did!! I commend you for saying "enough" and deciding that YOUR life and happiness are important. You can do this!!! We are here to support you!
| | |
| --- | --- |
| The Following User Says Thank You to allmirages For This Useful Post: | |
Currently Active Users Viewing this Thread: 1
(0 members and 1 guests)

Posting Rules
You may not post new threads
You may not post replies
You may not post attachments
You may not edit your posts
---
HTML code is Off
---