more emotional abuse
Member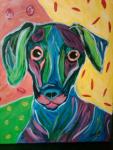 Join Date: May 2005
Posts: 1,688
I agree with all of those before me. I know that the crazier things have been the more I put up with them....it's almost like I create a new normal. From the way that it sounds, it doesn't matter if he is using drugs or not, the way that you are being treated is unacceptable. I'm worried about your kids. I know if someone was waking me up early and yelling at me I would be no good for my kids, my work, or my life.

I am the poster child of having to learn to take care of myself first. It's hard to do but it's the only way out of the insanity. Until you are safe there is really no way to help him.

I agree with Anvil - he sounds like a ticking time bomb and that is scary. Prayers for your safety and the strength to do what needs to be done to create that.

Love, Donna
(((DW)))) You still reading, kiddo?


Worried about ya - and the folks here have given you every thing you've asked for. They have an objective view of where you are - and many here have lived through it themselves.



Is there anything else you need...? Are there questions you have unanswered?



Please post again.
Currently Active Users Viewing this Thread: 1
(0 members and 1 guests)

Posting Rules
You may not post new threads
You may not post replies
You may not post attachments
You may not edit your posts
---
HTML code is Off
---