Power of writing your way out of depression.
Power of writing your way out of depression.
---
The Following 13 Users Say Thank You to NYCDoglvr For This Useful Post:

BeachPlease

(09-09-2016),

Bekindalways

(09-08-2016),

CodeJob

(09-10-2016),

firebolt

(09-08-2016),

FireSprite

(09-12-2016),

honeypig

(09-11-2016),

Lilro

(09-11-2016),

Lobrien

(09-08-2016),

mylifeismine

(09-10-2016),

Soberpotamus

(09-11-2016),

SparkleKitty

(09-08-2016),

theuncertainty

(09-09-2016),

timetohealguy

(09-21-2016)
For some reason I fight writing. Actually, I know the reason. It is because by stopping and writing I am forced to take the time to work through my thoughts. As the article tells, I feel immensely better afterward. It helps tremendously to have your thoughts laid on paper - organized or not - and not running around inside your head anymore. It is necessary for progress, I think.

Thanks for the article!
I keep a log/diary that I write to daily with the main purpose of detailing AW's antics, which I'll use at the appropriate time. But it does help me to do this daily. It also helps when those weak moments come around - I can always refer to the log and refresh my memory on why things need to change at home.
Member
Join Date: Sep 2016
Location: PA
Posts: 13
Journaling is very powerful.

But along the same note, most of this is about processing. The reason the thoughts gets stuck and become obsessions is for lack of process. But there are actually many ways, similar to writing.

One of my favorite stories was Alanis Morissette. She was angry for valid reasons, but admitted that over time lost the ability to write music for a while because she wasn't angry anymore. She literally sang the anger right out of herself.

But I have heard that dance, yoga, drumming, playing piano, singing, walking, and running all have similar benefits.

There are very specific techniques that people have developed over the years involving writing that are pretty cool One such method is the 12 steps, doing character defects, and wrongs against others, etc. Even if you don't show them to other people, just writing them down has a great benefit.

But using the body in a physical way to process mental issue has a very powerful affect. Like typing, writing with your pen, writing in the sand, or carving it in a tree or park table top (never done that.)

The important part is using the body in a physical way while working out your problems. Just thinking about them often just turns into obsession without resolution.
Member
Join Date: Oct 2006
Posts: 60
I started a private blog right here on SR about a year ago (

LOL) because I couldn't keep my thoughts and feelings straight from one day to the next. Writing it down in a private way allows me to look back at what has happened, how depressed I was at the time, what helped, what didn't.
It's not a cure-all but it has helped me immensely. I was able to finally confront my AH about his addiction, and all the words came out - no stuttering, crying, getting confused when he came back at me. I think blogging helped me figure out what I needed to say. Still can't believe I did it!
I probably wouldn't have kept up with it had it been in any other format. I really needed it to be private cuz I am/was very paranoid, about what I'm not sure - AH getting mad? Anyway, the informal nature of the blog also allowed me to not be perfect. It is just for me.
| | |
| --- | --- |
| The Following 2 Users Say Thank You to hope778 For This Useful Post: | |
Member
Join Date: Sep 2016
Location: PA
Posts: 13


Like, it is hard to sense the wind when you are being beaten with 2x4s. But once you get past the 2x4s, there is a lot of good information in the wind. In fact, you might say, those that can listen to the wind feel some of the deepest joy.

But having an array of techniques to process your feelings is ultimately the cure.
Member
Join Date: Oct 2006
Posts: 60


If you click on that option, a little key shows up next to your posts, indicating that it can only be seen by you and Mods (I have no contacts on SR).

I feel safe here so I am confident it really is private.
| | |
| --- | --- |
| The Following 3 Users Say Thank You to BeachPlease For This Useful Post: | |
Member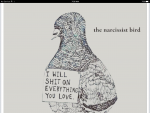 Join Date: Dec 2015
Location: Blue Ridge Mountains
Posts: 752
NYCdoglvr and carolineno....

Thank you, thank you ,THANK YOU!
I finally have a place to write freely and without restriction
fearing someone will find it. I've just started my private blog.
Can't thank you both enough.
Writing is key for me. It helps me work through my feelings. It helps me identify pain points and negative feelings that I often suppress.

I am a life-long diarist, and it has been my friend for decades. I don't think there's any right way or wrong way to do it. Before computers, I hand-wrote in those black and white composition books. Then I switched to keeping a private diary in a Word document.

Now I use the app Day One. (dayoneapp.com) It's private--you set a password in order to open it, and I like it because there are NO bells and whistles. Plus, if you are trying to establish a daily habit you get a little pop-up every day with a mini-screen for just jotting down a few words.

I prefer not to blog about my feelings publicly because I'm afraid my internal editor will massage the truth for the "audience." I prefer to be ruthlessly honest (as much as I can be) to myself.

When I need ES&H and advice, I come here.

Good luck with your private blog!!
I've been doing a daily program called "A Year to Clear" online. Each day there is an exercise/thought/question to work with, write about or meditate on. While it doesn't focus specifically on addiction/codependency issues, I'm finding that it's doing work for me in places I didn't imagine it would.

I like to write/hate to write, same as many of you here, and I find that way more often than not I start out my "Year to Clear" session resentful of "stupid" questions or "obvious" statements posed in that day's reading. "I don't have time for this crap", I tell myself. "What a dumb thing to even ask, and I HATE those stupid words she uses, like 'squirminess' when referring to uncomfortable feelings."

One of the things I've learned is to write down stuff like that, if it's what comes into my head. If I need to start by being angry, resentful, or snide, then I can do so. No one else is watching, no one else is monitoring my responses, there is nothing I am trying to achieve other than to write down what is "in there", whatever it might be! And that idea alone is a hard one for me to stay with...

And if I do that, if I just make myself write whatever is there, on the surface, however resistant or snotty it is, quite often it'll start spinning into something way different and deeper. It may have something to do w/the day's "lesson" or it may seem, or even be, completely unrelated to that. But generally it contains something that has not been expressed before and maybe not even consciously thought about before.

Some days I truly do just write a sentence and leave it at that. But I do try to do at least that, to see if that will be enough to "pull the cork" and get things flowing. Sometimes it does. Sometimes not. And again, part of recovery, for me, is being OK w/whatever comes out or doesn't.

So weird to go back and read what you wrote sometimes, isn't it?
When I read some of my old journal entries so full of pain, fear and despair it helps to see I'm going in the right direction. And I feel terrible for the person who suffered so much over an unworthy person. Hopefully she make better choices in the future!
| | |
| --- | --- |
| The Following 2 Users Say Thank You to NYCDoglvr For This Useful Post: | |
Currently Active Users Viewing this Thread: 1
(0 members and 1 guests)

Posting Rules
You may not post new threads
You may not post replies
You may not post attachments
You may not edit your posts
---
HTML code is Off
---