Newbie - confused wife and mum
Member
Join Date: May 2015
Location: London
Posts: 1
Newbie - confused wife and mum
---
Hi - don't know the protocol for newbies, whether I can just post on here, but I've read lots of your posts and this is clearly the right place... finally...
Split up with my husband last year. He was a highly functional alcoholic for all of the time I knew him (married 22 years) - by highly functional I mean he did well at his job and seemed fine, but at home would drink until he passed out most nights. Whiskey, then wine when I banned the whiskey...
Last year was awful. His mum died and the toll of his job finally broke him - he was diagnosed with PTSD and for 2 weeks we were on track for a new life, then denial hit again. Found bottles of vodka hidden around the room. He spoke very little. Lost weight. Refused to see anyone for help or counselling.
We split in December. I moved into a new house in January with my youngest daughter (aged 14). We are finding it tricky financially but are truly, peacefully happy.
Initially she would see my husband for an hour or so once a week but became more reluctant over time. When he brought her back one time it was clear he had been drinking and she has refused to see him since then. He keeps asking but she is adamant. She saw far too much last year and, although she was very close to him before, says that the Dad she loved has gone and she doesn't like the man that is left behind. She's had counselling at school but has amazed me with her strength. She has lovely friends and is a beautiful person.
My eldest daughter, who has had her own major health issues and is now disabled, is at uni and refuses to have anything to do with him. She is going abroad for a year and was gong to try to meet with him before she goes, but is too scared as it took a lot of therapy for her to come to terms with the fact that she was such a low priority for her Dad.
Sorry to have written so much. I have fantastic friends and a few who are the recovering family of alcoholics, but have always found it easier to be strong and move on from problems than to let my feelings out!!!!
My post was really to ask advice about my youngest daughter. I have said that I will support her in whatever she chooses with regards to seeing her Dad - explain to him if she wants me to why she needs a break, take her to meet him and wait nearby, meet him with her.... whatever will make it easier for her. Part of me thinks that she knows her own mind at 14, but part of me worries that she will regret closing the door completely. And, if I'm honest, part of me probably worries that he will blame me for her not seeing him...
Anyway, if you managed to trawl through all of this, then thank you. It is amazing to feel that I am not alone.
And if anyone has thoughts or advice regarding my situation, then it would be wonderful to hear.
Thank you

---
Last edited by CastleQueen35; 05-03-2015 at

08:57 AM

. Reason: put in weird emoticon thing in totally the wrong place - sorry!
The Following 11 Users Say Thank You to CastleQueen35 For This Useful Post:

CodeJob

(05-03-2015),

desertgirl

(05-03-2015),

firebolt

(05-04-2015),

guava

(05-04-2015),

honeypig

(05-04-2015),

KateD

(05-04-2015),

ladyscribbler

(05-03-2015),

Mags1

(05-03-2015),

PHIZ007

(05-03-2015),

Seren

(05-04-2015),

SeriousKarma

(05-03-2015)
You aren't responsible for their relationship. Your ex clearly had no problem drinking and driving with her in the car, which shows how little regard he has for your daughter and her safety.
Something that has been hard for me to let go of was the hope that my ex would do right by our son. He is not entitled to have a relationship with our son if it means exposing a young child to dangerous drunken behavior.
I am the daughter of an alcoholic. My mom stopped forcing me to go over for visits when I was about 14, but a lot of damage had already been done. I haven't spoken to him in almost 20 years. I thought about reaching out when my oldest son was born, but my dad had moved and didn't leave any forwarding address or way to get in contact.
Ditto what ls and CJ said.

If at some point in the future she wants to renew their relationship she can do that. But for now she's made her wishes clear, she's old enough to know her own mind, and I'd just tell him that she doesn't want to see him, period. I think the more you try to discuss it or explain it to him, the more likely it is that he will later accuse you of being behind the refusal. If he goes to court over it, your daughter can tell the judge why she doesn't want to see him right now.
Guest
Join Date: Jan 2015
Posts: 588
I've never understood why we seem so adamant about forcing children to spend time with people no right minded adult would. There is no relationship to preserve when it comes to active addicts. Their relationship is with their DOC. If he gets sober and wants to have a relationship with her, the onus will be on him to make amends and demonstrate his sincerity through his actions.

She is old enough to see that he is nowhere near this. She has set a boundary that many of us adults here still struggle with. Good for her!!! She is a strong child, but still a child and support is the most precious gift you can give. Many prayers for you all!
Member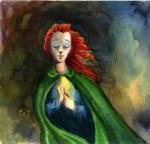 Join Date: Mar 2014
Location: My mind wanders a lot, but I try to stay in the present.
Posts: 1,009
The way I saw it when I was in your
exact situation
was that, since my STBXAH had so wholly disregarded and disrespected my daughter, I would counter that by respecting her desire to completely ignore him. I guided
a little
if she asked. But for the most part I let her be in the drivers seat.
For almost 2 years, from 14 to 16, she could barely stay in the same room as him and could only speak to him in a low guttural moan. Sometime during all this I started taking her to Alanon (she continues to go regularly). She would also occasionally meet with a therapist to talk about her dad. The combination of the two really helped her come to an understanding of their relationship. It was never going to be "normal", and she had every right to chuck it in if she wanted to. Everyone, and I mean
everyone,
would understand if she never spoke to him again. It was entirely her choice.
She chose to keep him in her life. She just turned 18. Now she sees him every few weeks for small amounts of time and enjoys it when she does, but she's learned to have no expectations of him. It's better that way. She's had to call him down a few times when he's done stupid things, and she's still learning how to communicate her boundaries to him as an adult, but it is what it is, and she's learning to take it one day at a time.
By the way, welcome to the forum CQ35. You and I have a few things in common other than a teenage girl who doesn't speak to her dad. I also was married for quite a while (23 years), and my husband was diagnosed with PTSD (as well as a TBI).
I'm glad you found us

| | |
| --- | --- |
| The Following 3 Users Say Thank You to SeriousKarma For This Useful Post: | |
Member

Join Date: Jul 2004
Location: Starting over all over again
Posts: 4,427
Hello CastleQueen35, and pleased to "meet" you

Newbies are welcome to post at any time, there are no "membership requirements".
I don't have anything to add to what has already been posted, just stopping by to make sure you are not concerned about any protocol on this website. SoberRecovery is about healing from the horrors of addiction and getting our lives back. Protocol issues are rarely brought up. If needed they are handled, nicely and with kindness, by the volunteer Moderators in PM ( Private Messaage ).
Mike

Moderator, SoberRecovery
The chances are that she still loves him, but feels betrayed. By giving her a bit of space, she may work through her feelings and get to a time where she wants to see him. Your role can be to listen, and not put him down too much. He's doing that job himself.
| | |
| --- | --- |
| The Following 2 Users Say Thank You to FeelingGreat For This Useful Post: | |
Currently Active Users Viewing this Thread: 1
(0 members and 1 guests)

Posting Rules
You may not post new threads
You may not post replies
You may not post attachments
You may not edit your posts
---
HTML code is Off
---