I am a fixer of the broken
I am a fixer of the broken
---
I've been slowly coming to this realization lately.

I love to fix run-down and broken things. This house is my 4th fixer-upper. I have spent the last three weekends lovingly restoring fire-burned antiques. My favorite places to look for furniture are garage sales and estate sales. I have successfully turned a pig's ear into a silk purse. Ok, well, I lined it with silk, at least!

All of my life I have been drawn to the "throw-aways", and it is dawning on me I do it with animals too. I had a horse in middle/high school. My parents offered me whatever I wanted (within their budget) and I chose a broken down, beat up and tremendously freaked out bronc from the rodeo. I think the owner gave him to us for free if we would take him on the spot. After a summer of training, walking the horse like one walks a dog, and lots of nutritious food, he let me ride him. From them on he was an amazing horse and we were the best of friends.

My dogs have all been rescues or dogs that wandered up to the porch and got fed and stayed. My newest little puppy I got handed in the parking lot of the pound. I have never paid money for a dog...well...to own the dog. I've paid LOTS to the vet to care for the dog!

I am essentially a "connector" and a "strategist" at my workplace. I see the needs and find the methods in which to meet those needs.

I realize now that this propensity has carried through to the people in my life, specifically intimate relationships. I have chosen men with issues, and spent a lot of time trying to "fix them with the love of a good woman". Friends that have come and gone over the years have also been pretty needy and codependent. This need to be needed (?) revered (?) depended upon (?) whatever the actual need is has got to stop.

I've had great luck with my fixer-upper projects. Made profits on the homes, sold a few pieces of restored furniture on craigslist, had some great pets over the years, am successful in the workplace, but now I realize my fixin up time has come to an end. Well, at least when it comes to people. ; )

And you know what is strangest of all? I am not this way AT ALL with my teenagers. As a matter of fact, I expect them to be independent at this point. I was raised to be independent. But here I am, fixing broken things.

The thing I am worried about the most is losing that part of me that makes me who I am, while making sure to choose wisely next time...someone who is far more healthy and relationship-worthy than the RAH stb ex. Finding that balance is challenging. Going against the grain of instant attraction to the broken and beat down to find the ones who don't need anything from me but companionship and respect. Yeesh - seems I need to tattoo something on my arm to remember these painful lessons learned. Will I recognize a healthy person next time? Or will I always be drawn to the broken?

Thanks for letting me share!
~T
The Following 11 Users Say Thank You to Tuffgirl For This Useful Post:

Cyranoak

(10-06-2011),

grateful101010

(10-05-2011),

LifeRecovery

(10-05-2011),

lillamy

(10-07-2011),

Live

(10-06-2011),

m1k3

(10-06-2011),

marie1960

(10-05-2011),

nodaybut2day

(10-07-2011),

seek

(10-05-2011),

StarCat

(10-05-2011),

wellnowwhat

(10-06-2011)
This was a major theme for me in therapy. I can relate to everything you wrote. What I discovered is that I have to learn discernment in picking my "projects." I get a strange sort of thrill in accomplishing things that others consider impossible. This can be dangerous. Especially when it comes to people and relationships.
You don't have to lose the part of you that likes to fix things. You just have to be careful what you attempt to fix. Home improvement is great. Fixing people is not an option.

L
| | |
| --- | --- |
| The Following 3 Users Say Thank You to LaTeeDa For This Useful Post: | |
Member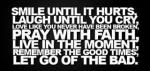 Join Date: Feb 2011
Location: Columbia MO
Posts: 1,127
I don't know, I had always been a "fixer" the Lucy Van Pelt, Doctor is in pop psychologist in high school and college, I just switched my fixing from those who should be able to take care of themselves to those who could not.

I volunteered at a really bad inner city school, mainly children of drug addicted and gang involved, I loved those kids so much, I gave them a very different perspective.

I was sitting with a boy one day who was 6 years old, we were coloring picture and he asked me if I had ever been in jail, I replied that no I had not, he did not believe me, every man he knew had bee in county jail or prison, he was shocked that most men did not go to jail.

You know what these kids wanted most, they wanted my attention, they wanted me to listen to what they were doing in school, they wanted to do things with someone who was sober, and they were fierce huggers, I would pick three or four up at a time and hug them like a giant.

I know I made a difference in the three years I worked with them, it broke my heart when work took me away from them, but I learned I could help "fix" without becoming codependent.

If you feel the need to fix folks, try volunteering instead of dating fixer-uppers.
Yeah - I actually volunteer a lot already. And I don't feel a "need" to fix folks...its that I have finally noticed I naturally gravitate toward those folks, unbeknownst to me at the time. And that is awareness, which in turn generates an action on my part to change my initial tendencies.

Just pondering, not looking for solutions, thanks!
Holy heck, woman! You just summarized my job duties into one concise line. Around the workplace, we call it a program developer. In my personal life, it's a codependent. Difference is...I get paid to do one of them and the other I'm trying to recover from. No wonder this is so hard. LOL!!!
TG - I just wanted to say that I know you are going through a difficult and confusing time right now. Divorce is a crazy ride on a grown-up teeter-totter at best. I admire you taking the time to reflect and redirect your energy right now. Hang in there!
| | |
| --- | --- |
| The Following User Says Thank You to Willybluedog For This Useful Post: | |
Member
Join Date: Nov 2010
Posts: 2,047
Awesome post TG. Another trait you and I share(d). I say shared only because I'm over it, and like with many things I may have overcorrected. Nowadays if things aren't perfect to begin with I don't even start. Another "correction" is probably in order.

I hope things are great Up North, and that the girls are well.

Cyranoak
| | |
| --- | --- |
| The Following User Says Thank You to Cyranoak For This Useful Post: | |
Member
Join Date: Feb 2011
Posts: 696
One mans junk is another mans treasures - I agree

But I think you have learned the "red flags" about people.
Pat yourself on the back, then go get that tattoo!

The chinese symbol of "Serenity" or "Strength"

Trust me, you will see the "broken" more clearly now.
It will amaze you, how much you will see. I see more now
than I ever have. I am nice about it and have fun,
but I never leave the house
without my inner (running shoes on)....


My girlfriend told me, You might want to really look for
a widowed man...That way you know, why he is single...
I was like, WTH??...Am I suppose to start hanging out at the morg now?
*Sorry, had to throw that in there...Her statement just cracked me up!!!
| | |
| --- | --- |
| The Following User Says Thank You to BobbyJ For This Useful Post: | |
Nah willy - I really just need a stiff drink, a good nights sleep, and a fresh start tomorrow. It's been a real sucky day.
Tomorrow I am going to get a tattoo and start hanging around funeral homes and maybe the senior center. Except there I'd have to fight all those crazy old ladies for the few men left alive.
| | |
| --- | --- |
| The Following User Says Thank You to Tuffgirl For This Useful Post: | |
| | |
| --- | --- |
| The Following User Says Thank You to TakingCharge999 For This Useful Post: | |
| | |
| --- | --- |
| The Following User Says Thank You to lillamy For This Useful Post: | |
| | |
| --- | --- |
| The Following User Says Thank You to painterman For This Useful Post: | |
Tuffgirl...we're cut from the same cloth. I'm the fixer, the carer, the beautifyer...dunno why, but it's always been that way. Now that I'm free from my toxic relationship with my EXAH, I'm trying something new: I'm trying to find good healthy FRIENDS before I try to look for a healthy partner. I figure it's easier and safer for me, emotionally speaking, to try my hand at friendships than it is at relationships. Even though it feels weird to me, I do my best to examine my motivations whenever I seek out someone, and I look closely at what kind of person they are...are they some kind of emotional vampire, ready to gobble me whole, or are they someone who can contribute to my life as much as I can contribute to theirs? Going through this process has helped me eliminate unhealthy people in my life or at the very least, limit their influence on me...

It's a work in progress.

Thanks for the post TG. I really needed to read it today.
Some really good advice here...noday - I love the idea of really examining the motivations in ourselves when we seek relationships, no matter what kind. Of course, hindsight is always much clearer but I wonder with my marriage if I was too quick to trust completely and too hasty with my judgement of who I thought he was. And why was that? I mean...what was I after?

I know that today, after finally making the decision and acting on it yesterday, feel free now to move forward...something I know I wanted initially when I moved out last January...but in trying to honor my commitment hung in there for another 9 months. It makes me wonder if I have been ignoring my intuition again...another bad habit needing work...and tried to make excuses again because I believed in him.

I always believe the best in people, even in the face of hard evidence. Gotta work on that!

P.S. TC you need to clean out your SR inbox...tried to PM you and it won't allow it! ; )
| | |
| --- | --- |
| The Following User Says Thank You to OnMyWay11 For This Useful Post: | |
Currently Active Users Viewing this Thread: 1
(0 members and 1 guests)

Posting Rules
You may not post new threads
You may not post replies
You may not post attachments
You may not edit your posts
---
HTML code is Off
---