detaching, again....another layer of the onion peel
I AM CANADIAN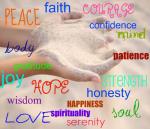 Join Date: Jun 2010
Location: Niagara Region, Canada
Posts: 2,578
@Buffalo....its called PRACTICE, PRACTICE, PRACTICE...

do you know it takes 21 times to make an old habit dissappear as we PRACTICE the new good habit...yep 21 times......u keep doing the GOOD and it wipes out the BAD....

i did something too this weekend...my dad wanted to engage into a fight over HIS neighbour and ME not on speaking terms with her because my dad says so....i came right up to him and said " you know what dad, i am not going to engage into your issue and do not make it MINE..." he pouted! my dad pouted! wow! a 65 year old man has temper tantrums too....i see it clearly now...but i practiced alot before getting to that point where i could say something....

and so feeling GOOD about it....
Originally Posted by
LaPinturaBella

The paranoia, the thinking that EVERYTHING is about them...that's the craziest part for me to get a handle on. However, I think (and these stories all helped me see it) that they are the young, insecure, self-conscious little kid who is desperately trying to fit in. But they try so hard, it comes off all wrong and they get totally defensive and end up being on the offensive 99% of the time. Which becomes obnoxious and hurtful and the dance continues.

Until we stop! When I realized my ExABF was truly behaving and speaking to me like a 15 year old brat, I just stopped talking to him. It was pointless and it kept me from feeling crazy. It made me sad, but I really SAW that he is trapped in a mind set and an addiction that thoroughly prevent him from being a MAN who is able to participate equally in an adult relationship. THAT is what helped me to finally begin to detach.
Exactly
.
My AH is critical of everything and everyone. The world is against him. Bad things only happen to him. The world is completely black and white...no gray.
I listen to his rants; don't respond and then walk away.
It's very lonely, as I've isolated myself from everyone. I just never feel like talking and just don't want to
deal
.
| | |
| --- | --- |
| The Following User Says Thank You to Missymum For This Useful Post: | |
Currently Active Users Viewing this Thread: 1
(0 members and 1 guests)

Posting Rules
You may not post new threads
You may not post replies
You may not post attachments
You may not edit your posts
---
HTML code is Off
---