Havent been here in a year
Member
Join Date: Nov 2009
Posts: 48
Havent been here in a year
---
and nothing much has changed...

My estranged husband continues to go down hill. I didn't even know he could go down hill any further then he already had. He's living back at home with me for a few weeks until I throw his butt out again. He's up all night drinking until he blacks out. He sleeps all day and literally stays in bed all day. He does nothing but drink. He hasn't worked in nearly a year. He gets by doing odd jobs to pay for his narcotic addiction. He house hops and lives in shelters. He's in poor health and his liver is taking a toll now. I know there's no way I can help him. Is there ever a rock bottom?
| | |
| --- | --- |
| The Following User Says Thank You to Pelican For This Useful Post: | |
Member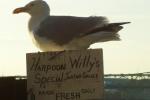 Join Date: Nov 2009
Location: carolina girl
Posts: 578

Hi nightmare, hope you keep coming back here, there's alot of support here if you need it.
As far as him hitting his bottom, he won't hit it if people keep helping him. You say that you know you can't help him, but you are... by giving him a place to drink, do drugs, and pass out every night. The longer he can depend on/use others to take care of him, nothing needs to change in his eyes. Only when they experience the true consequences for their decisions do they hit bottom.
Just my opinion. How is this affecting you? Have you hit Your bottom?
Currently Active Users Viewing this Thread: 1
(0 members and 1 guests)

Posting Rules
You may not post new threads
You may not post replies
You may not post attachments
You may not edit your posts
---
HTML code is Off
---