trying to decide if this is me butting in...
Member
Join Date: Feb 2011
Posts: 338
trying to decide if this is me butting in...
---
I have had more contact with my AH in the last month than in the last year. He has shared some things with me that make me think he has had some self awareness and that he is seeing his problems more clearly. But I think he is a long way off from doing anything about it.
My SIL is a RA and the family has been going through a rough time because of the recent death of their dad.
When we have the memorial service she wants to talk to my husband and tell him what she sees as a person who has "been there, done that"
I don't think he will listen. He will see her as the bossy older sister trying to tell him what to do, not the caring sister who has been through most of what he is going through.
I suggested that maybe she could get another person, preferably male, from AA to talk to him. Maybe my AH will be more open to listening to a more objective opinion.
I would love to talk to him more about where I am at this stage of the game but I don't think he would be listening with an open heart, it would be selfish of me as this is my need to be heard, and I don't think it would make a difference-do I want it to make a difference? Is this just me manipulating him?
I figure that whatever my SIL wants to do is out of my hands. She will do what she thinks she should.
I should just keep my mouth shut.
Right?

Questions:
Has anyone had another RA talk to their A? Is that something that is done?
Not an intervention per se but someone who can be brutally honest. Especially when the A is admitting that they know they have a problem but perhaps is too scared to make the next step.

Is it unfair for me to want to talk to him? We have always had great conversations about many hard core topics but I have not spoken to him very much about his drinking. If I did, would this come under the trying to control it category and contributing to his problem?
He shares things with me when he is ready. I cannot ask questions.
Should I wait for our next conversation and bring it up? Or see if he asks questions of me and simply respond to them?

Or should I just not answer the phone?

I know it sounds like I am asking for someone to tell me what to do.
But I also know many folks here have some wonderful insights and their wisdom has helped me work things our in my head.

I know I have spent too much time this lovely day pondering this.

I am going outside for a walk and then to do some yard work.
| | |
| --- | --- |
| The Following User Says Thank You to jamaicamecrazy For This Useful Post: | |
Member
Join Date: Jul 2007
Posts: 1,175
My RAH would not listen to anyone while he was active.
There were a few friends who did not go the AA route who just gave up booze, and he had a few talks with them. As long as there was no angle of trying to convert him, he could be open to a conversation, as long as it stayed casual.

Anytime his brothers spoke to him, he was able to at least see that what they had to say was valid about his drinking problem, and how it looked , or what level it had gotten to. He would hear me say something 10 times, then his brother/s would say it once, and bingo. He would hear it, not that that would change anything in itself, but I am a firm believer in that chipping away idea. layers.

Anything I ever initiated was shot down. Because I was too close.
Anything having to do with a program was shot down.

I will cut and paste something from another post that happened in his sobriety,(which isnt all that different on some key levels), a for instance where someone else saying something actually made all the difference.

My point is, you can mention things to him, but a close sibling, or a family friend...someone outside of his anger/trigger zone..someone he thinks he has fooled into thinking all is well---mentioning something can really shock him to a deeper level, get him closer to being able to hear it from himself. A lot of alcoholics count on their delusional projected idea of the reality of their drinking not being shattered by those around them. He may think his sister doesnt really know, or it may be a cousin, an old buddy. ...MY RAH had this happen recently, and this was not about active drinking, but the behaviors in recovery that he was counting on everyone ignoring/playing along with::




""""
One big for instance:

When A lived with us, he whined and struggled with being entitled and basically everyday teenage behavior. Since he left, he still had been living that way.
When he was here, his boss (cousin) and his brother (coworker) supposedly never found fault with him or his behavior...it was me me me. I was the only one who found him grandiose, entitled, whiny...

This past Friday, his brother and cousin had a sit down with him.
They framed it as "Look, you wouldnt let someone walk around with lettuce in their teeth for six months, would you? So we are going to tell you something you need to know about yourself. "

They proceeded to tell him that he is widely disliked by the crews on the job, and becoming increasingly hated because of his whining about doing a job, after rehab that they have all been doing all along, he expects special treatment, he gets more opportunity, and they are all getting fed up with his sh*t.

My RAH, was able to hear this from THEM. Even though, for 4 months, I said it nicely, calmly, then increasingly agitatedly. Until I was screaming, "You have lettuce in your teeth!!", LOL...
My point being, I was serving as an escape hatch. I was the person he was allowing himself to scapegoat. And I was expecting something more, so, I also allowed it for a time. I was the one saying it, so it didnt matter, because, of course I find fault in everything.

He called me on Saturday, to let me know that he had been to a meeting after they confronted him, and he had had an AHA moment.

He put it this way:
"You know how you hear stories about a guy who ran into a burning house to save someone? And the news talks to them about it, and they say, ' Oh, it was nothing, really, its just what anybody would do.' Well, it may not be what anybody would do, but it was the decent thing to do. And I feel like I have been a different kind of guy, one who says to the news, 'yeah, I saved the person. I am a hero. Do you want to give me money? Can I get a TV show for it? Im glad you see how great I am..'. .."

If my RAH stayed here, he would never get to that little understanding that we all take for granted from non addicts.
He would have continued to have an escape hatch that was provided by our respective resentful and vengeful dynamics.

""""

This experience has also helped me realize that that whole "let go, let god" thing they say in alanon really means that I cant do it all. If I let go a little, my RAH life takes him places he needs to go, also. I am not the only one, and really , he was unable to hear any of that stuff from me, drinking or otherwise, because he was hurting me so much, that I was lashing out at him....
As long as he is an active alcoholic you're really talking to a bottle. Certainly better that a recovering alcoholic discuss things with him (I'm saying this as a recovering alcoholic). Addicts understand each other and he may hear something, a message of hope, that will cause him to stop drinking. If he admits he's an alcoholic, that's a HUGE step in the right direction.

Getting sober is a huge step for any alcoholic and only he/she can decide, one day, "I'm not going to drink today." At that time you'll be able to get through.
| | |
| --- | --- |
| The Following 2 Users Say Thank You to NYCDoglvr For This Useful Post: | |
same planet...different world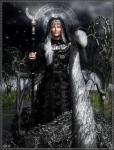 Join Date: Sep 2006
Location: Butte, America
Posts: 10,946
I agree. He hasn't asked, is the thing.

I doubt it'll be received well.

Anyone who's done a few 12th type steps knows this first hand.
Maybe she just hasn't done that many.

I know we got asked more by family members
than by actual alcoholics in trouble for help.

But to answer your question
yes, there's a whole section in the Big Book
that talks about working with others and all that.

But it doesn't describe something like what
you've described.

The simple fact that she wants to do this
at a memorial service
tells me that
SHE would benefit
from a few visits to Alanon.

I know as a recovering alcoholic myself
that my own recovery came to that place
where it was time to find deeper sources within
if I was going to heal 'all the way through'.

And finally-
Speaking as a southerner...
the whole idea gave me kinda
a 'culture shudder' feeling.

there's a time and a place
it's just not the time or place
for something like that.

Just another opinion.
Member
Join Date: Jul 2007
Posts: 1,175
I reread my post, which was super rambling, and Im sorry...

I think my point that was lost was, I have had better results getting resolution for my needs about what I think he "needs" to hear by keeping my mouth shut.

Life is handing him what he needs to hear.
Sorry about that convoluted post, LOL...
| | |
| --- | --- |
| The Following User Says Thank You to Buffalo66 For This Useful Post: | |
Member
Join Date: Feb 2011
Posts: 338
Thank you for your responses. Yes I am going to Al Anon and it has helped tremendously. But there are still times I have difficulty putting their ideals into the real life situations which I am confronted with.
The memorial service is in May and will be the first time all the siblings and grandchildren will be together in a very long time. We will be together for 2 days. I know everyone's emotions will be raw and it will be very interesting to see the family dynamics. I'm thinking this is not a good time emotionally but geographically we will be in the same place so it will be convenient.
I'm not sure how well my SIL has worked her recovery but she has been in a good place for a while now-something we are all happy to see. I think she is losing patience with him because he has been so "hard to reach" and she could use his support to make some decisions about the estate. She usually has a "live and let live" attitude and has been amazingly calm about the death and the estate and the memorial service. I was surprised when she brought it up. Maybe she thinks she would have done better if she had been confronted sooner about her drinking.
This sentence made me think. His father said a few things to him the last few times he saw him. My husband was angry. He has spoken to his sister very openly about his drinking. But he always said he has it "under control".
Now he has pushed away everyone who is likely to come between himself and his beer. He has very limited contact with friends and family. He has admitted to me that he has a problem. He just doesn't want to stop. So he has eliminated all the people who might frown upon it. He claims his blood pressure is back down to normal. Of course it is. He goes to work, comes home and has a few, does what he needs to do (laundry, groceries) and then goes to the bar for a few. Stress free.
Currently Active Users Viewing this Thread: 1
(0 members and 1 guests)

Posting Rules
You may not post new threads
You may not post replies
You may not post attachments
You may not edit your posts
---
HTML code is Off
---