Over-Indulged My AV Earlier This Week
Hears The Voice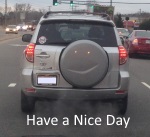 Join Date: Jan 2013
Location: Unshackled
Posts: 7,753
Over-Indulged My AV Earlier This Week
---
My wife is going out of town next week, departing Monday morning and returning Thursday around dinner time. My AV, naturally, took advantage of this situation to tell me that it might be a good opportunity to sneak a little drinky-drunk time. My daughter will still be around, but she works a lot and has a new bf, so she is rarely home.
I indulged this AV input for a while on Tuesday while I was at work; making a mental list of all the ways I might get caught.
Wife might call and I would sound drunk on the phone
Daughter might come home early from work
I might spill something and not get the smell out
We started mapping out the available hours for drinking at home (only a 2 hour window - that'll never do), which day would be best (need to check the daughter's work schedule), maybe I could drink out at a bar (but then I'd have to drive, and I'd look pathetic popping down a bunch of drinks at a neighborhood bar, might see someone I know, like the neighbor who had to help me home last time - maybe I should go across town - but then I'd have to drive farther...) What will I drink? I prefer bourbon, but vodka is less smelly if the daughter shows up (better chance to hide it if surprised)...
And suddenly, I realized how much
anxiety
I was feeling. Anxiety I had not felt since I had made my BP and set myself free. It was back, trying to make me a slave again - all because I let that AV ramble on and on and on...
I shut IT down and the anxiety vanished. Poof. Like magic, only better because it's real
and I did it.
Most of you knew I had made a mistake before you even opened this thread - just from the title. Well, many of you also know I am hard headed, so it's a lesson I was going to have to learn on my own.

Glad I did it, gladder it's behind me.
Now, what the heck will I do with my 3 free evenings next week? Hmmmm.....
Yeah, I don't taunt, engage or try and understand my AV. I got really stuck on something a couple/few weeks ago. Oddly, I didn't want to drink but IT started making some compelling arguments and questions. IT totally took me by surprise (sneak attack) and I was in a very bad place in my head. It took two other members here to help me beat the POS back down.

Scared the beejeezus out of me but it absolutely helped me come to a greater understanding of NEVER.
Good for you. It's amazing to me how much thought and energy we've all wasted scheming ways to feel like s**t later.

My AV also sometimes fixates on the ability to get away with it, as if drinking can't hurt me if I don't get caught doing it. My beast would like me to remember that I would sometimes manage to drink without horrible external consequences. However, it would like me to forget that drinking made me feel depressed, lazy and guilty, and that it was rapidly ruining my health.
Member
Join Date: Apr 2012
Location: London
Posts: 299
Thank you for this. My AV was happily telling me this week that I didn't used to drink that much, not like a "real" alcoholic so I could easily going back to having a few drinks, as surely, my mental health must be okay by now (and I'm about to get some therapy for something, so in reality, I should not be pouring alcohol on top of it all).

You gave me a great reminder of what it's all about, thank you, very much, glad I looked at this thread.
so I could easily going back to having a few drinks, as surely, my mental health must be okay by now
hahaHA

if mental health is REALLY a-okay as far as THIS is concerned, you'd not think a few drinks would be okay for you.
just sayin'......circular traps, these things.
| | |
| --- | --- |
| The Following User Says Thank You to jkb For This Useful Post: | |
Member
Join Date: Sep 2012
Location: Essex, UK
Posts: 7
Your posts are a real inspiration to me - you had me going for a minute there!

I came across the idea of AVRT last week reading this forum and it's what I've been looking for. A revelation. For months I've been saying to my counsellor, AA people, anyone - I'm alright, but what do I say to the voices when they start up? What arguments can I make against them? I'm not crazy, I don't hear voices but THAT voice, the one that gives me a hundred reasons to make me drink till I'm smashed every day regardless of what's going on in my life.

Now I understand. I practised the technique and was drink free for 4 days, the longest for a long time. I recognise the beast in my thoughts, it's almost all the time but over the last 4 days it's gone really quiet. Until tonight.

I'm looking forward to learning more, this is definitely the approach I've been looking for all my life.
| | |
| --- | --- |
| The Following 2 Users Say Thank You to Received For This Useful Post: | |
Member
Join Date: Sep 2012
Location: Essex, UK
Posts: 7
Hi Received,
Yes, I took the crash course on the RR website and it was what gave me the alcohol freedom for the last 4 days. The freedom and happiness was so intense it was unbelievable (I lie, a couple of days withdrawal wasn't so great).

I've faultered, but the book arrived from the US today so I'll read it tomorrow and get back to beating the beast.
Currently Active Users Viewing this Thread: 1
(0 members and 1 guests)

Posting Rules
You may not post new threads
You may not post replies
You may not post attachments
You may not edit your posts
---
HTML code is Off
---