New to RR/AVRT
Hears The Voice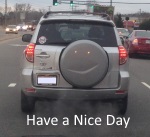 Join Date: Jan 2013
Location: Unshackled
Posts: 7,716
New to RR/AVRT
---
I am about 40 pages into the RR book, and I have read about it here and on the R.org website. It makes so much more sense to me than treating a 'disease' by outing my (numerous) character flaws and 'spiritual defects'.

When I first had AV explained to me I was mad at it. It felt great to be mad at it. Previoulsy I only knew to be mad at me. When I learned that I am sharing a body with a Beast Brain that craves alcohol it was the biggest palm-plant-to-the-forehead of my life. So obvious, why couldn't I see it? Then I was angry at Him. He had stolen so much from me for so long...

The anger is subsiding. Now My Beast Brain (and his voice) seems more like an animal that doesn't know enough to stop eating before it makes itself sick. Like a 2-year-old child who discovered candy, and doesn't understand why it can't have any more. My AV caused me decades of pain, but it didn't know any better. It just kept doing the only thing it knows how to do: ask me for alcohol.

I have to hear my AV, but I don't have to listen to it. It is not me talking. When I didn't know any better that voice scared me; tormented me; sickened me; bullied me; tricked me; deceived me. No more.

No more.
| | |
| --- | --- |
| The Following 2 Users Say Thank You to snowvelvet For This Useful Post: | |
| | |
| --- | --- |
| The Following 2 Users Say Thank You to soberlicious For This Useful Post: | |
So far, I've only read what's on the Rational Recovery website, and many of the erudite posts here, of course. I, too, am finding it a HUGE relief now that I know I don't actually want to drink, it is just my senseless pleausure-seeking amygdala with no ability to grasp the concept of "consequence". This has freed me from the endless, frustrating, depressing cycle of self-analysis and self-hatred that I have been mired in for YEARS. Searching for purportedly-causative flaws presupposes that you have several, several severe flaws. The only real conclusion I reached was that, on balance, I was a rather despicable person, and a drunk to boot. Now that I'm not sitting around thinking my drinking problem is due to me being an inherently "bad" person, I feel a weight has been lifted.
Currently Active Users Viewing this Thread: 1
(0 members and 1 guests)

Posting Rules
You may not post new threads
You may not post replies
You may not post attachments
You may not edit your posts
---
HTML code is Off
---