3 weeks and blah
Member
Join Date: Aug 2018
Posts: 108
3 weeks and blah
---
Well it has been 3 weeks today and although I feel very accomplished and proud of myself I still feel blah. Getting sober this time around has been very different than the other times I have done it. This time the boredom and anxiety is pretty bad but it just makes my resolve that much stronger. I don't want to have to go through this again and possibly even worse if there were a next time. I am however free to be me once again just have to relearn how to do it sober.
Yeah, it takes some time to adjust to being sober. But I'd rather be sober and bored than drunk.
Sounds like your resolve is strong. So good for you.
I had the sobriety was going to be different this time feeling, too.
And it was. That was nine and a half years ago since I've picked up a drink.
Things will get better as you relearn sobriety. Life and the freedom sobriety brings from the anxiety will open up a whole new world.
I wish this for you, so hang in there.
| | |
| --- | --- |
| The Following User Says Thank You to Ghostlight1 For This Useful Post: | |
anhedonia is very common for addicts once they stop the substance intake. the booze, pills, dope took over the neural network and took care of ALL feelings. driving the bus as they say.

so yeah, you are gonna feel kinda blah and eh.....short term. that can actually work to your favor.....not getting to amped up one way or another reduces that desire to grab a drink to FIX it.

take care of yourself. don't try to get 10 years recovery in a week. rest, eat, rest. listen to AA speaker tapes, or good self help messages. survey your home and see if it needs any attention.
Member
Join Date: Aug 2018
Posts: 108
Thanks for all the encouraging thoughts. I have just about spit shined every square inch of our home. The worst part is I severely sprained my wrist about 2 weeks ago and I really can't do my two favorite things to help to ease my soul play guitar and fish. When it does heal I believe it will be a great release from the boredom.
bona fido dog-lover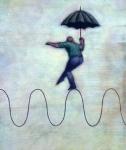 Join Date: Mar 2008
Location: eastern USA
Posts: 83,629
I found it was an emotional roller coaster for a while in early recovery, but it got better.

Just because you feel blah now, doesn't mean you'll always feel that way.

Currently Active Users Viewing this Thread: 1
(0 members and 1 guests)

Posting Rules
You may not post new threads
You may not post replies
You may not post attachments
You may not edit your posts
---
HTML code is Off
---