Anxiety
Member
Join Date: Apr 2013
Posts: 118
Anxiety
---
Ok so I started a thread here a few days ago. Basically I'm a 30 year old binge drinker. In the last six months my drinking has increased the resulting guilt and depression over my drinking has also gotten worse. I won't re hash everything I've initially stated in my first thread but I'm finding the anxiety I'm experiencing at the moment very hard to deal with. I've never been this bad before. I'm getting nervous over having to interact with people, I'm feeling increasingly down and depressed when I think about my drinking. At the moment I'm due to head to a party tonight. Everyone thinks I'm going but I just can't attend. The thoughts of being surrounded by alcohol are making me sick. I'm finding it even hard to keep food down due to these feelings I'm experiencing. I've been to a GP and was not prescribed anything and I don't necessarily want to be prescribed anything. I've gone periods of seven days before without a drink but I've never felt this bad. I have avoided even talking to friends because I'm feeling completely empty. I'm finding ordinary day to day activities impossible. Has anyone experienced this before. Is it down to the fact that I've finally realised I can't drink alcohol any more. I'm completely in limbo here.
bona fido dog-lover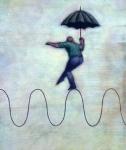 Join Date: Mar 2008
Location: eastern USA
Posts: 85,865
When you saw your doctor did you ask for help in getting thru alcohol withdrawal? That might be a good place to start. Get yourself detoxed first, then find a program or a plan to keep you sober.
And remember, you'll always find lots of support here.

| | |
| --- | --- |
| The Following User Says Thank You to least For This Useful Post: | |
Member
Join Date: Apr 2013
Posts: 118
My doctor gave me a number of options. He was great in fairness and made me feel at ease I've another appointment with him next week. Yesterday when I met him I actually didn't feel this bad. This feeling just came upon me early this morning when I woke up. I'm feeling extremely hopeless and nervous about absolutely nothing. I know this but it's not making me feel any better.
I had horrendous anxiety that was caused by drinking Darkplace. I suspect that if you had been drinking more recently then that might be the cause. How long have you been sober now? I collapsed in a heap when I quit, very lethargic and little motivation. A lot of people looked at me like I was nuts, but I spoke to a really nice doctor who said he wasn't surprised at how I felt and that it was very common to feel that way when getting over such a seemingly insurmountable problem like that. So yeah, maybe the fact you have finally decided you can't drink anymore has had an impact on the way you are feeling. It is not necessarily a bad thing though. Your body and mind just want a rest so they're going into screen saver mode

Don't go to the party and start working on what you need for a happy sober life. The transition can be tough but it's so worth it

x
| | |
| --- | --- |
| The Following User Says Thank You to sugarbear1 For This Useful Post: | |
Member
Join Date: Apr 2013
Posts: 118
Hypochondriac I haven't drank in five days today. I dont know should I consider it four days or five because the first day I obviously drank in the early hours of the morning.. I normally get the itch to go out and drink after this length of time. The actual thought of a drink is making me sick at the moment. I'm not eating that much of late which is unusual for me as I eat relatively well when I'm not on a binge. I won't be going to the party that's organised tonight I'm actually scared out of my wits end of having to be in a group of people. This is completely opposite to how I normally am. I feel wrecked, depressed, on an edge today. I've burst out in tears today for no reason. Today has been the hardest day for me emotions wise in so many years.

Thanks guys for the advise.
My anxiety was through the roof when I stopped drinking. It was so very hard, but I wasn't given any medication for it. Know that you can and will get through it and your anxiety will ease up. I think eating well and getting exercise were two of the most important things for me.
| | |
| --- | --- |
| The Following 2 Users Say Thank You to Anna For This Useful Post: | |
Member
Join Date: Apr 2013
Posts: 118
I normally do eat well during the week. When I'm not drinking I do enjoy training I particularly like going to the gym and running. I find it helps me cope with things. It's just since I've admitted I've a problem openly last week my energy levels are shot. Im really tired constantly. Since I first posted on this site I've experienced a whirlwind of emotions that I'm finding really hard to deal with. I've gone up to a week before without alcohol so why am I such an emotional wreck now. Has anyone else that was in a similar position to me experienced this??
Have you heard of the kindling effect when it comes to alcohol withdrawal, that could explain some of it. Or you could just be mentally exhausted because of what it took to get to this point. Go easy on yourself and don't worry about it too much. It would be a good idea to talk to your doctor to check your vitamin levels and stuff like that x
Member
Join Date: Sep 2012
Location: LoneStar
Posts: 78
DP,

I am a BiNGeDrinker in remission. Been since mid February since I last had a terrible blow out. Let alone a drink at all. You can read some of my initial posts. I was on my knees at the same crossroads you find yourself at now. I crawled down the road less travelled as the current one was getting dangerously bumpy. My anxiety has diminished but took a month. If was frustrating. I am able to confidently interact with people again as normal. Binge drinking was about to destroy me.

Your body has to repair itself. It will but you have to let it.

I had some Very heavy binges in Waterford county 20 years ago... it a tough place to stay sober long. That is a fact.

I'm here for you, hang in there.
Currently Active Users Viewing this Thread: 1
(0 members and 1 guests)

Posting Rules
You may not post new threads
You may not post replies
You may not post attachments
You may not edit your posts
---
HTML code is Off
---