Boundaries with my close friend who also has an AH?
Member
Join Date: Aug 2011
Location: California
Posts: 693
Boundaries with my close friend who also has an AH?
---
A longtime friend and I have alcoholic husbands in common. I am separated from mine; she has stayed married. We are both in Al Anon. She has actually attended Al Anon regularly for 24 years.

We meet for coffee and talk and give each other an open ear. It is a helpful outlet for us both. We have an unspoken rule that we share but we don't offer each other judgment or advice. The challenge I am having is that her AH is a very emotionally and verbally abusive man who runs her down in front of their young children. I am having a hard time staying quiet about that. She is very committed to staying married because she herself is the product of divorce (and is also an ACOA) and is desperate to keep her family 'intact.'

Last night I had enough of hearing about her a-hole husband and how she keeps putting up with his abuse. I was exasperated and told her so. She became very defensive.

I want to maintain this friendship as I care a great deal about her, but I'm finding myself feeling very judgmental about what I see going on, and I don't think I can continue to stay 'neutral' and just be an open ear.

What do I do?
I think you gently let her know just that so the particular topic of her husband's behavior is taken off the table. She will have to find another outlet for those discussions.

ETA: You sound like a really good friend. We all need one of those!
I've gotten too old and crotchety to be able to put up with even lovely, longtime friend emotional vampires. When a person just doesn't want to change, but wants to unload their stress on me due to THEIR choices, it's time for me to move on, I've decided. Life is just too short to stand under the crap dump truck, no matter how nice the driver. If you think about it, in a way, listening to this stuff over and over is basically enabling.

CLMI
The Following 13 Users Say Thank You to catlovermi For This Useful Post:

anvilhead

(03-22-2012),

Carol Star

(03-28-2012),

celticgenes

(03-23-2012),

ColetteTocca

(03-22-2012),

fedup3

(03-28-2012),

Freedom1990

(03-22-2012),

Jeff63

(03-22-2012),

naive

(03-28-2012),

ODAT63

(03-22-2012),

SoaringSpirits

(03-22-2012),

stella27

(03-22-2012),

Verbena

(03-23-2012),

wicked

(03-22-2012)
Well I was your friend for awhile so I'd have a hard time cutting her loose over that. I don't think you need to listen to her complain about her husband, nor do I think it is good for
her
to complain about him, but I wouldn't write her off! She may see the light one day. I did and the moment came when a friend gave me two compassionate caring sentences - and I wasn't complaining at the time

Maybe that is why it hit a nerve!
Member
Join Date: Jun 2011
Location: Right here, right now!
Posts: 3,383
Slightly different situation but I talked with my therapist about this last week. I have an exAH. My good friend is getting involved in a relationship with someone who struggles with a mental illness.

My therapist reminded me that boundaries can be flexible and change with the times. In addition my job is to "say what I mean, mean what I say and not say it mean." She also gave me a new tool when talking about hard things:
Is it kind?
Is it true?
Is it necessary? My feelings can be a reason it is necessary.
Member
Join Date: Aug 2011
Location: California
Posts: 693
Thank you all for your helpful input.

It's funny but I've run through these things you've written in my head. Not to serve as a crap dump truck. Not to enable by just sitting there and listening without reflecting. That if she's staying with him, she should stop bitching about him so much. And also that I love her and maybe by quietly bearing witness that is all I should and can do. And last that boundaries should be adjustable --- and I think I may have to adjust mine.

This woman is a person whom I think so highly of. Part of it just frosts me so --- she's drop dead gorgeous, funny, smart, kind and successful and any man would pretty much die to have her, and she puts up with a narcissistic turd who doesn't even like or respect her.

I am SO glad I gave my AH the boot! So glad!
Gently, tell her what you've told us. My sense of this woman from your description is that she is an emotionally battered woman. She has little sense of self left (if any). I'm sorry but I've heard that thing about keeping a family in tact before. It's often a lie that emotionally butchered and beat-up women tell themselves. She needs more help than Alanon can provide. She's been going for 24 years?

She needs to get in contact with a center for domestic violence. They also deal with emotional abuse.

I volunteer at such a center. And, after listening to the stories of other women there, I feel like I'm whining when I share my issues.
I AM CANADIAN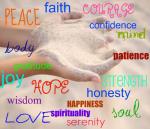 Join Date: Jun 2010
Location: Niagara Region, Canada
Posts: 2,578
and she is in AL ANON for 24 years?...what happened to being HONEST in the program of recovery?.....seems to me she is still running around in denial...


this is what happened to myself and a dear friend...and i will be honest...i grew...she didnt...we are drifting apart(and its all normal)...thats part of life...no?

change starts WITH CHANGE....
Member
Join Date: Feb 2009
Posts: 2,059
in my own recovery, i realized there were many relationships other than xABF where i could feel the energy being sucked from me. emotional vampires. energy vampires. when i was interacting with these people, i could feel it in my solar plexus. it didn't feel healthy.

sometimes, like say someone dies and the person is temporarily distraught, i feel to just sit and listen to give the person an outlet. however, some of my relationships were always me sitting and listening to their problems.

i'm stepping away from those relationships nowadays.
| | |
| --- | --- |
| The Following 3 Users Say Thank You to naive For This Useful Post: | |
Currently Active Users Viewing this Thread: 1
(0 members and 1 guests)

Posting Rules
You may not post new threads
You may not post replies
You may not post attachments
You may not edit your posts
---
HTML code is Off
---