So so proud of stepdaughter!
Member
Join Date: Jan 2011
Location: United Kingdom
Posts: 188
So so proud of stepdaughter!
---
Hi all,
We are so so proud of my stepdaughter this evening!! She had a phone call from her mum (who she hasn't seen now for 5 weeks), and mum was going on at her about how she disapproves of her son, SD's half sibling, being taken to the pub to play with the kids of the owners as his dad is working in there 3 afternoons a week, and SD was defending her half-brother's dad saying 'well at least he's trying to provide a better life for X, and I think X is better off with him', and that started the ball rolling for their first confrontation about mum's drinking! SD let rip, politely, and just came out with it all. Mum was denying she drinks, full stop, and SD was just saying to her 'there's no point in you lying to me, I KNOW you're an alcoholic, I've seen it with my own eyes'. Mum was trying to tell her that we are filling her head with it all, but SD was just saying 'I know what I've seen, you ARE an alcoholic, I KNOW you are, you're ill, you have a disease, you are an alcoholic'. This went on for quite a while, and then SD told mum she's been to Al-Anon, to which mum said she must have been dragged there by us. SD told her it was her own decision to go, that she asked to go and told mum she has to accept that her drinking has, as she put it 'damaged my brain'. She told mum she's having weekly counselling at school, which mum dissed and said she doesn't need!! SD was so brave, she stood her ground and told her mum over and over that she knows she's an alcoholic. She said 'mum, I love you, but you are an alcoholic and I know you won't change for me, but I just want you to admit it'. Mum didn't, told her to stop arguing and then SD hung up. Afterwards she was absolutely buzzing, jumping around saying 'I feel sooooo good!'
Wonderful. This child is so open with others about her mum's alcoholism, but she'd never actually confronted mum about it. Now she has and it must be like a weight off her shoulders. We know, of course, that it won't change anything, but it's made SD feel better, and that's what we care about

The Following 13 Users Say Thank You to NikNox For This Useful Post:

Chino

(03-02-2012),

Impurrfect

(03-02-2012),

jackien41

(03-05-2012),

laurie6781

(03-02-2012),

LucyA

(03-03-2012),

Marytherboo

(03-02-2012),

Pelican

(03-02-2012),

PurpleWilder

(03-02-2012),

SoaringSpirits

(03-03-2012),

StarCat

(03-05-2012),

suki44883

(03-03-2012),

wicked

(03-02-2012),

Willybluedog

(03-02-2012)
Member

Join Date: Nov 2009
Location: Waterford MI
Posts: 4,202
AMAZING!!!!!

She is my hero, really, someone her age holding her ground with her mother, I swear I am getting a little weepy.
It's like one of those "Rocky" movies, I can see SD at the top of those stairs, jumping up and down! Feeling strong now, eh?
Wow, I never got the nerve up to say the word alcoholic to my father, and I am a grown woman.
Please give her props from this American veteran "Always Forward"

Beth

:ghug3
| | |
| --- | --- |
| The Following 2 Users Say Thank You to wicked For This Useful Post: | |
Member
Join Date: Jan 2011
Location: United Kingdom
Posts: 188
Aww, thank you, it is a huge thing isn't it! She's spent most of her life in fear of her mother, treading on eggshells, never daring to be naughty, to answer back or ever question her mothers bizarre and volatile personality, but as soon as she made the biggest decision of her life, to leave, within a couple of weeks she actually saw what she had been seeing all those years. After one of mums rare visits, the one where she saw her mum looking very sick with yellow skin and dangerously thin, she was horrified and asked for support in the form of al-anon, and said she wished she had the guts to confront her mum, but felt she couldn't do it face to face, which is understandable. So, tonight when mum started on about things, she seized the opportunity and went with it, charged and feisty, but not rude. She just wasn't having mums denial, and how she remained calm I don't know, but what I do know is that she's one hell of a kid, and is well on the way to her own recovery.

She deserves the life she has now. Our hope is that one day her mum will see that too and that she can have a decent relationship with her daughter, but we aren't holding our breath!
Member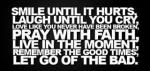 Join Date: Feb 2011
Location: Columbia MO
Posts: 1,127
I am so proud of her, I wish I would have been strong like that, maybe I would not still be dealing with the mess I have created for myself.

Please tell her she handled it like a champ!
| | |
| --- | --- |
| The Following 2 Users Say Thank You to Willybluedog For This Useful Post: | |
Wow, I'm pretty darned proud of her, myself, and she's not even related to me!! I've seen the disease of alcoholism/addiction go from generation to generation..my 18-year-old niece is something like 4th-5th generation.

It sounds like your stepdaughter is ready to stop that progression, and that's really awesome!

Hugs and prayers,

Amy
It's changed a million things in your SD's head, that's why she feels better!
She's found the courage from somewhere to confront her mother, that's a big change!
I know you mean it won't change her mum, but only her mum can change her, your SD is changing her 'self', and it sounds like she's doing it for the better.
| | |
| --- | --- |
| The Following User Says Thank You to LucyA For This Useful Post: | |
Currently Active Users Viewing this Thread: 1
(0 members and 1 guests)

Posting Rules
You may not post new threads
You may not post replies
You may not post attachments
You may not edit your posts
---
HTML code is Off
---