I need a hug!
Member
Join Date: Sep 2011
Location: UK
Posts: 52

I need a hug!
---
So my Mum is an alcoholic. She went from everyday passing out drunk from between 1992/3 to 2002 and then after a couple of bouts of rehab she stayed sober until 2006 then she has a couple of weeks being drunk, and then a couple of months sober.
I have got the point where I had gotten used to the fortnightly absences. My sister and I have realised if anyone interrupts the cycle then the drinking goes on for longer. So we don't speak to her for all the time she is drinking, then when Mum is back on track she sends us a text and is apologetic and sheepish, we forgive her, then its back to having our mum back, which is great.
This time, Mum has been drinking since the 28th January, last time I spoke to her was the 8th January (when she is well I speak to her twice a day, my Mum and I are close) I really miss her. We have heard from my Grandad who pops in on her everyday so we know she is alive, but I really miss her and I'm scared it's going to go back to the everyday drinking.
Has anyone been though a simlar situation? how was it resolved?
I text her today and said I miss you mum, and I love you very much, so she knows no one is angry with her, but no reply, which is actually a good sign - the worst thing is when she is pretending to be sober.
I appreciate any advise you can give me, or any words of support.
Also I should mention I can't go to Al-anon sessions as they have stopped doing them in my area and the nearest one is over an hour away and I can't get to that one because the time clashes with work.

Member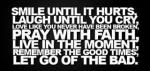 Join Date: Feb 2011
Location: Columbia MO
Posts: 1,127
Chimmy, I am so sorry, I guess it's easier in some ways for me, my mom has been drinking hard for over 40 years, no breaks, just a steady increase from 1 bottle of wine a night in the 1960's to 6 bottles all day and night now. Total denial. Also, we were never really close, so it just is not the same for me, it's easier for me to be mad at her because of all the damage she has caused.

I don't have any advice, but I do have a big hug for you, close your eyes and feel me wrapping you up and giving you the big squeeze, just soak up some comfort, anytime you need a hug just let me know, I will have one for you.

Bill
| | |
| --- | --- |
| The Following 3 Users Say Thank You to Willybluedog For This Useful Post: | |
Thank you for posting Chimmy.
The alcoholic in my life, my father, never gave up drinking. He lived in another state and I would go up to visit him every year or so. I remember there were some visits where he was actually sober, funny, and pleasant to be around. It would get my hopes up that maybe he could/would turn his life around, but it never happened.
When thinking about my father, I get a lot of strength from the "3 C's"
I didn't cause it.
I can't control it.
I can't cure it.
The serenity prayer also helps me a lot.
I'm sorry about your mom. It must be so hard to have her in/out of your life like that.

Keep reading and posting.
Fondly,
db
I'm also sorry that I don't have any experience to share with you in this area, but like others, I can offer virtual hugs!
I am so sorry for what you're going through right now and how you're feeling.
I have watched my best friend of 31 years do the same thing to her kids (they all five live with her parents, who are in their '70s), and I always find myself feeling the conflict of the caring, sisterly urge to forgive and accept her for who and how she is, and the feeling that I want to take her by the shoulders and say "what the
[email protected]
! is wrong with you??!!"
Big hugs to you, I hope everything works itself out soon.
| | |
| --- | --- |
| The Following 2 Users Say Thank You to neferkamichael For This Useful Post: | |
Currently Active Users Viewing this Thread: 1
(0 members and 1 guests)

Posting Rules
You may not post new threads
You may not post replies
You may not post attachments
You may not edit your posts
---
HTML code is Off
---