Difficulty detaching
Member
Join Date: Oct 2017
Posts: 1
Difficulty detaching
---
Hello, I'm new to this site but have been reading posts for comfort, as I am having a very difficult time dealing with my sons Heroin addiction. I'm feeling so many emotions and having such emotional anguish and pain right now I might have some trouble putting into words what I would like to say but am hoping someone may be able to help. My life feels like a nightmare. My son causes so much stress in the house some days I don't want to come out of my room just because I dread another day of dealing with him. He bothers me for money. Yells, complains, leaves dishes all over, cooks, makes a mess, and mostly blames everything and everyone for the problems he has. He has needles hidden in his room and sometimes I find them in weird places around the house. There has been times he has got my banking info and stole money from me. He has brought people in my house I don't want around. He is constantly using then detoxing when he has no money. He is irrational and I fear he will never get it. Everything that comes out of his mouth is an excuse and I believe he believes his own excuses. I have had to perform CPR on him 3 times for OD and the fear I felt was near unbearable. He has been in rehab more than 10 times and I doubt if he really wanted to be there. There is so much more to this hell I am living with him but for whatever reason I can't seem to put him out. I have done it in the past but I end up letting him come back home after all types of promises. But he never stays clean. I worry about him and love him so much but I am not really living. I'm existing and not in a good way. Living with him and his addiction is terrifying at times and so depressing and sad. I just pray for the day when I can't take it anymore and I say enough is enough, but unfortunately I never get to that point, even though I want to. Within the last 8 months he started injecting rock cocaine along with the heroin. This makes him frantically pick at his face and body even though there are no blemishes. 5 days ago he picked himself bloody and it was sooo horrible to see I wanted to scream. I end up calling the police and an ambulance and had him committed to a psych hospital but they only kept him 5 days. Now he is home and all I can do is stress about what is to come? I just can't take it anymore. I want my life and happiness back but I feel I will never get it. I need to detach but it is so terribly hard.
bona fido dog-lover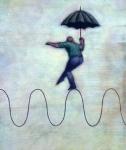 Join Date: Mar 2008
Location: eastern USA
Posts: 84,738
It's hard to detach, but you must do it, for your sake and his. Put him out for good and don't take him back in for any reason. By taking him back, you are condoning and enabling his using and bad behavior.
I hope you can get him out of your house so you can live a normal peaceful life.

| | |
| --- | --- |
| The Following User Says Thank You to least For This Useful Post: | |
Hi, somuchsorrow. Welcome.
Okay. Difficult as it is, he needs to leave.
Protect your finances. Talk to your bank.
And get law enforcement involved if you need to.
Please get him out of your house, for your sake.
| | |
| --- | --- |
| The Following 2 Users Say Thank You to Maudcat For This Useful Post: | |
Administrator
Join Date: Apr 2007
Location: Australia
Posts: 187,684
I'm really sorry for what brings you here but this is a place of great comfort and support. You are not alone

Please do also check out our Family and Friends forums as well somuchsorrow.
D
Currently Active Users Viewing this Thread: 1
(0 members and 1 guests)

Posting Rules
You may not post new threads
You may not post replies
You may not post attachments
You may not edit your posts
---
HTML code is Off
---