Update
Member
Join Date: Aug 2011
Location: WI
Posts: 39
Update
---
So, I didn't make it through last night... After all you suppport yesterday, I brought that drink after work, cried after I drink it... So it didn't lead to another and another, I called someone and told them about my issue and they came and sat with me for most of the night... I so want to change, TODAY will be day one.... I already have someone ready to hang out with me right after work today, so there won't be a repeat of yesterday.... Thanks for all your guys support yesterday, even though I caved you are guys are the reason I called someone for help.. Feel like I let you done, and know I let myself down.. Trying to think of today as a new day and a new start on life... Thanks again... I will be on here a lot, you are amazing..
| | |
| --- | --- |
| The Following 3 Users Say Thank You to Missinglife For This Useful Post: | |
Member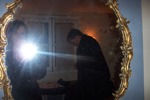 Join Date: Apr 2011
Location: Portland
Posts: 1,628
I'm glad you have a plan! I see that you joined SR a long time ago, so you have been working on this for some time. I'm in the same boat. Hang in there this evening. Every day gets easier.
Member
Join Date: Jun 2010
Location: UK
Posts: 2,844
I think you are doing well to identify your triggers and manage them.

If after work is a danger time, then its a great idea to have someone with you after work.

Another tip someone gave me was trying to think about what it was that I was anxious about. What was going to happen? What would be the worse thing that could happen?

A lot of the time I could get my anxiety or anger at not being able to drink out of the way by keeping super busy.
Exercise was/is a great way to deal with anger.
I did not need to be a member of a fancy gym, just going for a long walk outside helped.

Sometimes I couldn't wait to get home to feel safe......and then start drinking.
I think that locking myself away tactic never did me any good. I was not safe from self and that what us who I needed to be safe from with regards to the drinking.

Keep being here, you will get it and you can do it.
| | |
| --- | --- |
| The Following User Says Thank You to Sasha4 For This Useful Post: | |
Currently Active Users Viewing this Thread: 1
(0 members and 1 guests)

Posting Rules
You may not post new threads
You may not post replies
You may not post attachments
You may not edit your posts
---
HTML code is Off
---