Do u ever think you inagined the whole thing
| | |
| --- | --- |
| The Following User Says Thank You to killerinstinct For This Useful Post: | |
even if you were, it still shows a very toxic unhealthy setting.

question is, why are you still stewing over this? why can't you just accept and embrace the new NOW instead of ruminating over what cannot be changed? you posed the exact same question one month ago.
| | |
| --- | --- |
| The Following User Says Thank You to AnvilheadII For This Useful Post: | |
oh my yes!! I feel like that too. I wonder if I imagined all of it, did he ever really love me? was any of it real, what was real, what was his drunk reality... I asked him once if any of it was real, his answer was I dont know. Now,, when my head goes there, I direct it in a new direction. I cannot go back to that head space.
| | |
| --- | --- |
| The Following User Says Thank You to redatlanta For This Useful Post: | |
Yes, even after moving out and divorcing my A, I will panic and wonder if I did the right thing. Had a night mare the other night where I was living with A and wondering why I was so stuck. Then I realized (in my dream) that I have my own home and didn't need to be there. Finally, I realized that I was also divorced, and woke up from the dream. It was kind of surreal.
Member
Join Date: Feb 2015
Location: Vancouver, BC
Posts: 333
I get that feeling sometimes, and then I remind myself that my ex wife told her mother to book an expensive concert in her hometown in Thailand and that they would split the bill for the concert. Then my ex wife spent all her money on alcohol, clubbing, clothes, a new expensive cell phone, and gambling at the casino, and asked to borrow money from her mother so that we could afford the plane tickets to Thailand. After her mother had to already foot the entire concert bill after being told that she'd only have to pay for half. And somehow I still think, sometimes, that I was wrong for telling her to be more responsible with her promises.
| | |
| --- | --- |
| The Following 3 Users Say Thank You to Thomas45 For This Useful Post: | |
Member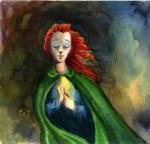 Join Date: Mar 2014
Location: My mind wanders a lot, but I try to stay in the present.
Posts: 1,009
I think that feeling is normal enough, KI. The farther away I get from my marriage the harder it is to remember what brought me to this point. My husband is a nice guy. Whenever I see him now he's sober, and on point. I could easily think I imagined it all.

The problem with that kind of thinking is that it can easily lead to negative thoughts. Thinking that it was all our fault. That we are somehow to blame for things falling apart.

Like Thomas45, when this happens I remind myself of the things I've seen. The things he's done. I have certain events that I go to when I need a "reminder". Things that no sober person would do. I don't dwell on them. I just use them as a gentle reminder of how difficult things use to be. That I had to do what I had to do. I really wasn't given any options.

What are you doing to handle these thoughts, KI?
It's called denial. There are so many things I can't "remember" from my childhood, from my marriage. It's the human brain's way of dealing with trauma. Some things are just too painful to deal with and so our psyche shuts them out. I have dreams every now and then where things that actually happened play out and I wake up and go "oh yeah, I remember that now."
I am grateful I journaled. Just like childbirth, our survival brains are designed to gloss over the bad parts...I have many written words that slice right through any potential denial that might arise.

One learning from my marriage that I'm grateful for is that I write down the bizarre and frustrating experiences in my life so I can see them clearly when my eyes are fresh or my brain has morphed. Words on paper never change.
Yes, and that is probably why I stayed around him for such a long time. Only when things got so bad that they were happening every single day was I able to snap out of it, because there was not enough time between the episodes to question anything.
Member
Join Date: May 2015
Location: New York
Posts: 165
It all does seem a bit surreal at times. I just re read my old threads not long ago. I re read the one where I had just found out about new girl and was flipping out. I read it almost like I was reading the words of another person. I was sad for her, but not sad. If that makes any sense. It did give me a nice marker for how far I've come.

The last text that I got from the ex said that I should know that I was dealing with a "spiritually unhealthy person" . Frankly, he probably still is, but that's his path to walk. I know that what I felt was real. I know that on some level that when he said that he loved me he meant it. But the whole relationship was built of dreams of who we wanted to be , rather than who we were. We wanted to be the happiest couple in the world, but we were two hurting people. One needy and the other wanting to be needed. He blocked his pain with drugs and booze, I blocked mine with him.

Now that I've woken up from the Aboriginal addict dreamtime. I will be able make clear conscious choices in relationships. It doesn't matter what I imagined yesterday, as long as I keep it real today.
Currently Active Users Viewing this Thread: 1
(0 members and 1 guests)

Posting Rules
You may not post new threads
You may not post replies
You may not post attachments
You may not edit your posts
---
HTML code is Off
---