I Guess This Is It - Divorce Time?
I Guess This Is It - Divorce Time?
---
Hi Everyone--

I am chuckling to myself right now because my last thread (dated August 24, 2012) was entitled "Yikes AW Has Gotten Sober-And I Like Her". I was in a codie tailspin because she was being SO nice! My detachment was going out the window and I was getting really confused.

All of that changed a day or two later when she went back to the bottle.

My 17 year marriage is probably ending soon. I have been legally separated over 11 months, and in my state, after 12 months I can convert to a divorce without AW's signature.

When we first got a legal separation last November, I thought it would be a wake up call for AW. We still lived together. I thought she would finally take responsibility for herself, hit bottom, maybe get a job, start paying bills, get her act together, etc. I thought if she had her own money, perhaps she would take care of herself.

That didn't happen. She just cried a lot and drank a lot, harboring the illusion that I would snap out of it.

And when I moved out this past May, I thought it would be a wake up call for AW. I thought she would rather go to rehab than sit alone in our big house. I thought she would realize that she really has lost everything and that now would be a good time to get sober.

That didn't happen. She did get sober in August for all of 3 days after a short detox, but it didn't stick. She is still crying and drinking and wishing that I would come back. She is still carrying on relationships with various losers and hangers-on. She still talks about going to rehab, but never actually going.

She never got it together, doesn't read the mail, doesn't pay or try to understand banking and billing, and for the most part just survives and makes it up as she goes through one day at a time.

It's all very sad and pathetic.

Now I am trying to warn her, "hey AW, I am not going to remain in this status quo, this 50/50 ownership of a house where I do not live is not going to work long term, and BTW if you were EVER going to get sober to try to save your marriage, now is the time". She just isn't getting it. I think the alcohol has given her brain damage.

So it is entirely possible that she will be getting a Final Decree of Divorce in her stocking for Christmas this year. It's simply the result of doing nothing positive for herself or our relationship. I feel like the past year has been a test, and she hasn't even tried to pass it, so she fails. (Yet I know she will be stunned to find out that she has failed.) Nothing I say is sticking to her vodka brain.

I'm glad that I've taken my time with this process. The past year hasn't been bad. I went on a mission trip, travelled and hung out with friends a lot, and just ran a 50K Ultramarathon last weekend. Life isn't all that bad.

One observation in my case: MAYBE if a codependent stops enabling, the A will stop drinking. Or maybe the A will just keep drinking and drinking and drinking...

Thanks for all the support, I'll keep you posted of any major changes.
The Following 28 Users Say Thank You to djayr For This Useful Post:

battlescars

(10-23-2012),

BunnyNest

(10-19-2012),

CentralOhioDad

(10-22-2012),

Chrisy

(10-19-2012),

Confetti

(10-20-2012),

desertgirl

(10-20-2012),

Dividedintwo

(10-23-2012),

dollydo

(10-19-2012),

EnglishGarden

(10-23-2012),

Florence

(10-23-2012),

HopefulmomtoD

(10-19-2012),

Impurrfect

(10-19-2012),

Katiekate

(10-20-2012),

keepingmyjoy1

(10-20-2012),

Learn2Live

(10-20-2012),

LifeRecovery

(10-19-2012),

Muunray

(10-19-2012),

OhBoy

(10-23-2012),

PeacefulMe

(10-19-2012),

ricmcc

(10-19-2012),

ShootingStar1

(10-19-2012),

SparkleKitty

(10-19-2012),

TeM

(10-23-2012),

Titanic

(10-21-2012),

tjp613

(10-23-2012),

Tuffgirl

(10-19-2012),

wantabe

(10-19-2012),

WishingWell

(10-20-2012)
I am sorry, as I know it has not been easy for you... It sounds like you have tried everything in your power to save your wife and your marriage. Maybe you divorcing her will be the rock bottom? She has to want to be sober and get well...

Good luck.
Member

Join Date: Jan 2011
Location: Anchorage, Alaska
Posts: 4,719
Sometimes, they just can't seem to get and stay sober, even when their life depends on it. No matter how much they lose.
I am very sorry, djayr. For a moment there, it sounded so hopeful!
Hugs and prayers,
~T
Member
Join Date: Jul 2012
Location: SAN FRANCISCO
Posts: 1,176
Hi there,
I'm so sorry to hear that. Yes, it seems like some of them will just continue to go on drinking no matter what. I am sure my ex is drinking still and I'm thankful I never married him or even moved in with him. He is more of a functional type alcoholic and actually seems to pride himself on his boozehound personality.

He doesn't have me to enable him but he has plenty of friends who do that anyway. Even when I told the friends that he was headed into a downward spiral they kept getting him drunk. Misery loves company, I guess. Whatever, it doesn't matter anymore. Sometimes you just get so sick of dealing with the nonsense.
Member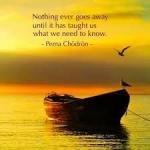 Join Date: Mar 2012
Posts: 1,754
So sorry to hear that things continue to fall apart.
On the other hand, I have to say, you sound clear and firm in what it is you need to be happy. Sounds like you are doing a lot for yourself and moving forward. It's so nice to see.
Please keep us posted going forward, nothing changes if nothing changes

You take good care, Katie
| | |
| --- | --- |
| The Following User Says Thank You to Katiekate For This Useful Post: | |
I agree with taking your time with this process. I think it is important to every step possible so you can walk away know you tried everything YOU could. She had a choice to try to get better, she had a choice to try ANYTHING and didn't. In the end the only person we can help is ourselves and sounds like you are attending to that. Sorry you have to go through this, it is so hard to see someone slip further & further into the disease knowing there is nothing you can do about it. Like the old saying goes, let go or be dragged.
Thanks for sharing your story. I see my own future there; AW goes through periods of sobriety, sometimes for months, only to drink again. She just can't leave it alone.

Some day, I may have your courage and finally leave.

Good luck in your future journey.
I see my own future there; AW goes through periods of sobriety, sometimes for months, only to drink again.
My AH does the same. He can get a few months under his belt, then he starts getting morose and bored and starts BUDding and drinking on the sly until he's caught again, at which point the whole recovery charade starts over. I used to feel really hopeful whenever he recommitted himself to the program, but now I recognize the pattern.
He just keeps getting better at hiding it, which is... scary. For him and everyone else in his life.
We are separated now. I feel relieved.
Currently Active Users Viewing this Thread: 1
(0 members and 1 guests)

Posting Rules
You may not post new threads
You may not post replies
You may not post attachments
You may not edit your posts
---
HTML code is Off
---