recovery in action this week
recovery in action this week
---
I am holding strong I feel like but it feels as though I am being tested and I'm nearly at the end of my strength.

I have put the friend nonsense to rest and quite a lot of good has come out of my speaking up. More on that later.

I open my email this afternoon (a new email I did not even know my ex mil had) and there's an email from her.

Without thinking I read it. It's a "you said this to me (a year + ago about her enabling her son) and it hurt and I need to let you know that" and then accusations about how I keep my girls from her bc she calls and doesn't get calls back. She does call, and she leaves them long messages and I let them listen to them. If they ask (which they haven't) to talk to her, I'd call for them. They don't ask and I don't feel I have to offer. When they are with their father he can take them to see his parents or call all he likes. He evidently does neither so in her mind it's my job.

I replied and said that I was not a mind reader and if she wanted them to call her, to be direct. I also said that I had just recently seen her with the girls around xmas and if she'd had something to say it would have been a good opportunity to have a mature conversation face to face. And I told her that I have no interest in continuing to communicate about past issues and would prefer she not contact me using my email (that presumably AH gave her). I said that I hope the girls continue to have a r/s with her and wish her well. And then I hit send and blocked her email.

I suppose I ought not have replied but I had a mini relapse I guess?

I don't want to have to keep deflecting crap from crazy people in my life and I feel shaky a bit right now like I don;t know what to expect to be blindsided with next from someone. This is how I felt with AH ALL THE TIME and I haven't felt it in a while until the friend nonsense and now MIL.

I have to run and get DD6 and DD3 but wanted to vent/post and maybe someone can direct me to a good quote/reading/ something that can get me centered again. I already went for a 7 mile run today and wish now I had waited to work out til evening bc I could use the stress relief!
Member
Join Date: Jun 2011
Location: Right here, right now!
Posts: 3,383
The Language of Letting Go by Melody Beattie Sorry this is long but it made me sit up straight a few mornings ago.

Jan 23rd New Energy Coming

Fun becomes fun, love becomes love, life becomes worth living. And we become grateful. Beyond Codependency.

There is a new energy, a new feeling coming into our life. We cannot base our expectations about how we will feel tomorrow, or even a few hours from now, on how we feel at this moment.

There are no two moments in time alike. We are recovering. We are changing. Our life is changing. At times, things haven't worked out the way we wanted. We had lessons to learn. The future shall not be like the past.

The truly difficult times are almost over. The confusion, the most challenging learning experiences, the difficult feelings are about to pass.

Do not limit the future by the past!

Reflect on the beginning of your recovery. Haven't there been many changes that have brought you to where you are now? Reflect on on year ago. Haven't you and your circumstances changed since then?

Sometimes problems and feelings linger for a while. These times are temporary. Times of confusion, uncertainty, times of living with a particular unsolved problem do not last forever.

We make these times doubly hard by comparing them to our past. Each situation and circumstances has had its particular influence in shaping who we are. We do not have to scare ourselves by comparing our present and future to a painful past, especially our past before we began recovery or before we learned through a particular experience.

Know that the discomfort will not be permanent. Do not try to figure out how you shall feel or when you shall feel differently. Instead, trust. Accept today, but do not be limited by it.

A new energy is coming. A new feeling is on the way. We cannot predict how it will be by looking at how it was or how it is, because it shall be entirely different. We have not worked and struggled in vain. It has been for and toward something.

Times are changing for the better. Continue on the path of trust and obedience. Be open to the new.

Today, God, help me not judge or limit my future by my past. Help me be open to all exciting possibilities for change, both within and around me.
Member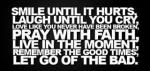 Join Date: Feb 2011
Location: Columbia MO
Posts: 1,127
Sorry this has got you wound up, the crazies in our life tend to do that to us.

I don't get along with my MIL, so we generally do not speak other than the most basic pleasantries, but one thing than has helped for us is that she calls every Sunday at 6:30 PM to talk to the kids.

This is a time we decided together would be the best for all of us, the kids know that is when Grandma is going to call, so they set that time aside, the older they get the shorter the call is, but they still make the time.

If Grandma misses her call time, then that's it for the week, we don't jumble the schedule to make time for her, she waits until the following Sunday.

It has worked extremely well for us, there is no conflict because the rules have been set for everyone in advance.

I know it is not your job to make sure the kids talk to grandma, but if you all could come up with a system that works for both of you it might make your life easier.


---------------------------------------------------------------------------------------------------------

He who would be serene and pure needs but one thing, detachment...Meister Eckhart

Serenity is not freedom from the storm, but peace amid the storm...Anonymous
| | |
| --- | --- |
| The Following User Says Thank You to Willybluedog For This Useful Post: | |
Member

Join Date: Jan 2011
Location: Anchorage, Alaska
Posts: 4,719
My RAH said something recently that he picked up from AA, and I think its brilliant, albeit a little cheesy!

Don't react because reactors melt down!

Sometimes, when we are triggered, the best response is no response. Or wait 24 hours. Then respond.
It's very hard, I know, and no one should expect perfection from themselves. It's "progress not perfection". I agree ... make a rule that you'll wait 24 hours before thinking of responding.

I had an abusive aunt who was a drug addict (ex-nurse). One day my brother came over and I took out the nasty, cutting birthday card she sent. He said, "so why are you hanging on to it?" Bingo ... that hit the mark. I had to cut all ties with her because what she said was harmful. (She was so abusive she was kicked out of a nursing home.) This was after years of hoping and wishing she would change.

All this is to say that it's a process.
| | |
| --- | --- |
| The Following User Says Thank You to NYCDoglvr For This Useful Post: | |
Thanks everyone. I realized thinking this over that I have been more than a little naive. I assumed that when I stopped reacting to AH's family and stopped initiating contact (which I did for years in hopes of demonstrating I was kind, cared about them and good enough for their son and hoped they'd stop being so mean if I could just prove my worth to them enough) that they'd have no further reason to contact me.
It's so apparant that without me around as scapegoat, the contact would come sooner or later bc I imagine they must be ready to self implode without me around to serve as deflector for all their issues (and I certainly played right into that for years).
I like the idea of suggesting a set time once a week for a call. AH does have the girls for periods of time each weekend so he certainly could connect with him family then with the girls. It does feel to me that this is far more about testing to see if I will cater to my MIL's whining than it is about her actual affection for my D's but I think in order to avoid further ridiculousness from her, I'll tell AH to have her pick a time, call then and the girls will be available.
It is interesting that for all the years AH and I were together, the interest on his mother's part in seeing or talking to our girls was minimal at best. And her current interest isn't much greater. My take is that she sees using the grandparent card as a way to play "poor me" so the easiest way to defuse that is to just go along with it.
Thanks for the set time idea as well as the perspective you all offered. Anvil, I love your analogy! I will think of my MIL as the crack dealer calling

Tuffgirl- great quote-- another to add to my collection (I have a word document I cut and paste pearls of wisdom from here on to for me to read!). LifeRecovery- thank you so much for the post- that too went into my word doc. Great daily reading. And NYCdoglvr- thank you as well for the needed perspective on why I hang on to or even bother to read MIL's emails. They cause me distress so why continue to do it. Excellent point!
Currently Active Users Viewing this Thread: 1
(0 members and 1 guests)

Posting Rules
You may not post new threads
You may not post replies
You may not post attachments
You may not edit your posts
---
HTML code is Off
---