My moment of weakness
Member
Join Date: Jul 2010
Location: Texas
Posts: 17
My moment of weakness
---
I just wanna go find an empty room where I can ball my fists up and scream at the top of lungs how unfair it is that my husband has a monster inside of him that he cannot control.
I just wanna hold my breath and press my face into my pillow until I pass out in hopes I can edit my memory of all the hurt and pain and just remember the man I know he can be.
I wanna punch the walls until I bleed to numb the sickening pain inside of me.
I wanna destroy everything material around me to cease the realization that I am powerless against his addiction.
I wanna cry till I fall asleep from the guilt of what I have let my children go through.
I wanna fall to the ground in defeat cause I know I am not winning
But I cant do any of it, I WONT DO ANY OF IT.
I just needed to have my moment of weakness because only when you admit your weakness can your strength renew!
I AM CANADIAN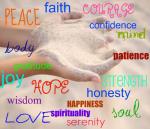 Join Date: Jun 2010
Location: Niagara Region, Canada
Posts: 2,578
I know that feeling...but I do get my frustrations out....in the cemetry...LOL, I know you think its funny but my late husband is out there, and that is where I am safe...how about cleaning or KICK boxing? something to get it out...but I agree...its overwhelming....
Currently Active Users Viewing this Thread: 1
(0 members and 1 guests)

Posting Rules
You may not post new threads
You may not post replies
You may not post attachments
You may not edit your posts
---
HTML code is Off
---