Bad habits
Bad habits
---
I've inherited this problem that my mom has had for as long as I can remember: I'm always late. For everything. I don't know if it comes from a lack of respect for people (I don't think so, but maybe). During childhood, it was my AM's (that means alcoholic mother, right?) job to get us to school. I was late so often that the guidance counselor met with my brother and me once a week to discuss why we were always late. We'd have to list ways to help us get to school on time, and we got prizes at school when weren't late. Of course, it wasn't our fault. In fifth grade my teacher counted my tardy slips in front of the class, I guess thinking that it would humiliate me enough to want to come to school on time. It definitely humiliated me.

I can't even put my finger on what stops me from getting places on time. I do dishes, I wait until the last minute, I do whatever; I can't stop. I'm not as bad as my mother was---I arrive 5 or 10 minutes late---not two hours like she did. And it stresses me out and makes me feel guilty every time, while it never seemed to bother her. Sometimes I lie about the reason I'm late, by replacing the real reason with an understandable one. Recently I've been catching myself and telling the truth, and I feel great about it. But I hate being late.

What are some of your inherited habits? How did you overcome them? Which ones are you still working on?
Member

Join Date: Sep 2011
Posts: 1,438
Hi Talltrees welcome. We've talked about lying when we don't have to. That is one of my inherited traits. Mainly because truth or lies, it got the same response, never knew what the answer was supposed to be with my AF. (Yes AM is alcoholic Mom) But I am conciously working on it, it's not easy. Another one is Post traumatic stress, whenever I hear my husband drop something or get angry in another room my heart races and I have to talk myself down, as nothing has ever happened but I always expect it.

I've taken to being late, I always leave a half hour early and get there early, but that's just me. I like to collect myself before I have to be there and rest. Sounds like you were late because of your mother, I'm sorry. I hope you can find a way to overcome it.
Member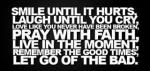 Join Date: Feb 2011
Location: Columbia MO
Posts: 1,127
My big problem is my hot temper, it definitely runs in the family, both my mom and dad were "time-bombs".

My therapist has given me a list of positive affirmations to recite 7 times a day, I also have a pos-it I carry around that has the following written on it.

1) Breathe

2) Stop & think

3) Walk away for a minute

4) Use your inside voice

It really helps me to stop and look at these before I jump on my kids for something they have done that frustrates the hell out of me, but certainly is not the end of the world.
Member
Join Date: Nov 2007
Posts: 1,384
I'm always late, too. I think it is because I have difficulty with time. I'll either end up late or really early. I don't seem to know how long things will take me. I'll plan on being somewhere on time, but then stuff will take longer than I expect. Otherwise, I will end up 45 minutes early and sitting in the parking lot trying to amuse myself. I don't think my addict mom was usually late. She just often didn't do things and just laid in bed. Or, she was hungover from the night before or just not home (out partying). Most likely some of my bad habits are from having to raise myself and just not having good role models on how to complete some tasks.
back when my father was an alcoholic he used to have horrible fights with my mom, i for some reason would always run to her defense and calm things down, so even to this day I do not like confrontations and yelling im always the one to not let things get blown up, for some odd reason i think it will be the end of the world everyone should always be calm silly me, im workng on fixing that part of me
| | |
| --- | --- |
| The Following User Says Thank You to lonelystar For This Useful Post: | |
Do you have difficulty with the comprehension of time, or are you aware that you're going to be late but have difficulty making yourself be on time?

The reason I ask is because there's a less drastic version of fetal alcohol syndrome, one of the symptoms is an inability to comprehend the passage of time or to wrap one's mind around how long something is going to take and plan accordingly.

I highly doubt that my mom was utterly sober then entire 9 months she was pregnant with me, and I wouldn't be surprised to hear that I had issues related to that.

That being said, I don't have time issues in terms of being late. I tend to be ridiculously early - but then I sort of plan it that way on purpose because sitting in my car waiting is often the only time of the day/week that I get to be utterly alone and be inside my own head. So I sort of work in "me" time by showing up early to things.

For things like parties, I'm usually right on time. But then I'm one of those "overly responsible" ACoA's listed in the 13 common characteristics list.
Member
Join Date: Feb 2011
Location: Irish
Posts: 552
My Character Traits involved been Late.........I have changed that now for quite some time.I always give myself enough time now if I have to go any where........Work..Trips..Shopping....etc.My only Problem now is waiting for someone,why dont the Hurry up,what could be keeping them.Ohhh
I have to allow.....and have Patience........theres no big deal...So what if we are a bit late.They will eventually get organised and be in time like I am,I presume through my good example.......It does work.
My only problem as far as time is concerned is not been able to Stop and rest.
This happens when Im doing certain jobs...like Painting.I will keep on painting for hours trying to get it finished.........not really enjoying the experience.
The last few jobs I've been doing I stopped ,had a rest......or have even left it for awhile.......sometimes,even days.........So it can be done.
Piles of Dishes left on the Sink dont bother me anymore either.
It will all get done in its own time.
I'll post this Story that has helped me many times....Patience is a vertue.
Its hard to be organised all the Time...........Progress not Perfection.

Law of the Garbage Truck.

One day I hopped in a taxi and we took off for the airport.
We were driving in the right lane when suddenly a black car jumped out of a parking space right in front of us.
My taxi driver slammed on his brakes, skidded, and missed the other car by just inches! The driver of the other car whipped his head around and started yelling at us.
My taxi driver just smiled and waved at the guy.
And I mean, he was really friendly.
So I asked, 'Why did you just do that? This guy almost ruined your car and sent us to the hospital!'

This is when my taxi driver taught me what I now call,
'The Law of the Garbage Truck.'

He explained that many people are like garbage trucks.
They run around full of garbage, full of frustration, full of anger, and full of disappointment.
As their garbage piles up, they need a place to dump it and sometimes they'll dump it on you.
Don't take it personally.
Just smile, wave, wish them well, and move on.
Don't take their garbage and spread it to other people at work, at home, or on the streets.

The bottom line is that successful people do not let garbage trucks take over their day.
Life's too short to wake up in the morning with regrets, so ... Love the people who treat you right..


Pray for the ones who don't.


Life is ten percent what you make it and ninety percent how you take it!

Have a blessed, garbage-free day......and Year.

Happy new year.MC
Always being late especially if it is the first thing in the morning, I have never been all that punctual and have suffered for it before. Another big one that weirds people out is talking to myself aloud. My AM would talk to herself all the time when you were around her sometimes it was difficult to determine if she was talking to you or not. I do that now as well and get some weird looks from people when you are obviously by yourself and not on the phone but talking aloud and practically having a conversation with people that aren't there. I know that everyone does it to one degree or another but I guess that most people restrict it to talking to themselves in thier head. I don't. One thing that a got from my upbringing is to much patience. I know that dosen't make sense but even when I should be angry or times when I have every reason to expect something to be done on time or a certain way and it isn't it dosen't bother me. I am to laid back I suppose is a good way of putting it and can therefore be taken advantage of by people that know this about me and exploit it. Mostly this is only a disadvantage in my work because I have people that work for me and there are times when I should be all over them but don't because I just don't care as much as I (or the people that are in charge of me think) I should.

INH
Lots of little, unhelpful habits that hold me back, especially in the self-care department.
The easiest way for me to understand is it just that I didn't have good role-modeling for some adult behaviors. I "guess at what normal is"--sometimes I overshoot, sometimes I undershoot, sometimes I am way off the mark, sometimes just right but don't recognize it.
I missed out on some basic self-care habits like how to care for one's nails. My AM compulsively picked and bit her fingernails badly, so I too always bit my nails. An outgrowth of my Anxiety Recovery is that my nails have grown out. I was using nailbiting for mal-adaptive self-soothing.
I got a few manicures, and this week bought emery boards for the first time. (I'm 43.) I'm experimenting with how to file my nails and what length I like best.

| | |
| --- | --- |
| The Following 3 Users Say Thank You to frances2011 For This Useful Post: | |
Currently Active Users Viewing this Thread: 1
(0 members and 1 guests)

Posting Rules
You may not post new threads
You may not post replies
You may not post attachments
You may not edit your posts
---
HTML code is Off
---