My AV has a name!!!
voices ca**y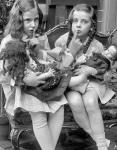 My AV has a name!!!
---
There was another thread where I posted a clip from
An officer and a gentleman
. It was the one about "I got nowhere else to go". Then youtube started playing this clip. OMG my AV sounds just like Sargent Foley. Anyone else see the crap talk in this one?
"You don't have any friends...you don't have what it takes...deep down inside you know everyone else is better than you...you got dealt a ****** hand..."
https://www.youtube.com/watch?v=nXJx...otation_192249
| | |
| --- | --- |
| The Following 2 Users Say Thank You to silentrun For This Useful Post: | |
I think the 'eyeballing' thing is bang on. That is the weakness of the AV - recognizing it and eyeballing the heck out of it, and exposing it for its true nature. This strips it of any power to influence our actions.
.
Give that AV the ole Stink Eye!
- Stink Eye Pictures -
.
.
Currently Active Users Viewing this Thread: 1
(0 members and 1 guests)

Posting Rules
You may not post new threads
You may not post replies
You may not post attachments
You may not edit your posts
---
HTML code is Off
---