Strange Dreams about drinking this week...
Member
Join Date: Feb 2010
Posts: 48
Strange Dreams about drinking this week...
---
I have had two dreams about drinking this week. The first one all I could remember was I was super wasted, probably the drunkest I have ever been - but I could not open my eyes in the dream. It was a struggle. And very much felt out of control....
Then last night I had a dream of being drunk and with my friends and them getting mad at me because I was too drunk and acting a fool, when in fact in my dream i had only had two drinks and stopped but then they brought stories of the past....which is ironic because in the dream and real life they drink the same amounts if not more and more often than I was.
These dreams are not that fun to wake up from.
bona fido dog-lover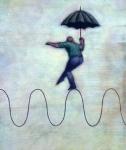 Join Date: Mar 2008
Location: SF Bay area, CA
Posts: 96,215
Thank goodness they're only dreams. I am not responsible for what my dreaming mind comes up with. Dreams are a way of working out things in real life, sometimes, so it's just night-time problem solving. But no, they're no fun to wake up from.

In early sobriety I found those dreams quite disturbing and they seemed to come quite often.

With time they cam less often and were no where near as disturbing, I even had one where I actually realized that it was a dream and the dream stopped.

It has been about half a year since my last one and it was so ridiculous it was more laughable then it was scary.

Hang in there, for most people they do start to come less often. Just a warning though, I know some folks who have them still after over 20 years sober, but really rarely.
| | |
| --- | --- |
| The Following User Says Thank You to Tazman53 For This Useful Post: | |
Member
Join Date: Feb 2010
Posts: 48
I am hoping this won't last too long, I was a binge drinker on the weekends - not an everyday drinker. And in the last three months or so, it wasn't every weekend....
but thank you everyone for your responses.
Resident
Join Date: Jan 2009
Location: Toronto, Ontario
Posts: 4,150
At first I had those types of dreams but now they are gone.
I am dreaming about a job I had 25 years ago lately and waking up after that ain't pleasant either. Don't know what that is all about.
I am sure they will go away after a while.
Member
Join Date: Mar 2008
Location: UK
Posts: 4,682
I stayed dry for 5 months and had a shed load of these sort of dreams and they are not fun to wake up from at all!!!! Since working the steps of AA i haven't had one, but then again i don't think about drinking at all so that might have something to do with it!? Just my experience?!

Disclaimer - i am not trying to push AA, how else do i tell the story though lol
Using (or drinking) dreams are normal,......I had them. I knew I was on the right track when I started to feel guilty in my dreams for picking up. They fade away in time,......try not to read into it too much. I would thank my higher power each time that they were only dreams.
Member
Join Date: Feb 2010
Posts: 28
I had them about getting high, on pot. A few drunk ones, too. My sponsor just said to use them as examples of how powerful our minds are -- and how set in their ways.

I did, however, feel frightened and guilty upon awakening -- a feeling I savored, since I didn't have to drink to realize, in a very real way, how I'd feel if I did.

It's been awhile since I've had one...a few months, at least. I've had a few "temptation" dreams where a bottle's been presented, but after a short internal struggle I moved on. Really motivates me to continue my program of recovery.
| | |
| --- | --- |
| The Following User Says Thank You to Astronomy For This Useful Post: | |
Member
Join Date: Feb 2010
Posts: 48
I didn't have a drinking/drunk dream last night. But I did have a dream that I caught my 17 yr old brother sneaking out his girlfriend from our house. (I live at home as a temp/transition thing til I move to my new place in a couple of months). and it was that I caught them having sex and was pissed!! I am laughing about it now....
We are brother and sister but because we are almost 15 yrs apart it's some times more like he is my child than brother....
I had to laugh about this dream when I woke up and at least it wasn't one of those drinking dreams LOL
Currently Active Users Viewing this Thread: 1
(0 members and 1 guests)

Posting Rules
You may not post new threads
You may not post replies
You may not post attachments
You may not edit your posts
---
HTML code is Off
---