The start of my journey
The start of my journey
---
Do I accept that I cannot control another person's drinking? Another person's behavior?
I have to. The basis of our marriaage was to never have control issues; that is, I would never be like those in her past and "tell her what to do."
I struggle with this when it involves her safety. I mean, if she is killing herself, isn't the loving husband suppose to tell her that isn't a good idea? It just doesn't seem right to simply let another person die without trying to help them even if they don't want that help.
I remember another thread where a loving brother seems to be in regret and pain for not doing anything to save his sister who just died because of alcohol. I told him not to beat himself up about it and keep the memories of the good times alive in his heart.
I am trying so desperately to follow my own advice. I may be on step 1 for a while but today, right this moment, I accept that I cannot control her drinking. Please dear God, I hope this is right.

So it goes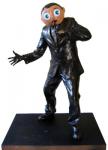 Join Date: Jan 2012
Location: Manchester UK
Posts: 1,621
Unfortunately it is only the drinker who can make that decision. The nature of the disease is until they accept they have a problem, they wont stop.
If they think they are being cornered into not drinking, they wont give up. That was the way for me.
I wish it was not so.
For me, I had to get mugged and beaten up before I realised that I was letting drink destroy me, and even then it was a long journey to sobriety, you can support and encourage, perhaps plant the idea in her head to go to AA.

I wish you well, I wish I had a better answer, I hope someone can give you a better one, from their experience
| | |
| --- | --- |
| The Following 3 Users Say Thank You to Spes For This Useful Post: | |
How do I recognize that the alcoholic is an individual with habits, characteristics and ways of reacting to daily happenings that are different from mine?

She is her own person with her own hopes and dreams. The alcohol changes her thinking but they are her thoughts nontheless and I don't have the right to make her see my way of thinking regardless of how benevolent I think I am.

Do I accept that alcoholism is a disease? How does that change how I deal with a drinker?

I'm having a hard time with this one. If it's a disease, don't I have an obligation to help her? This is my struggle. I need to work on this part of step 1 for a while. I notice there is a rather long thread here on this point. I'll just read what the group has to say about this.

How have I tried to change others in my life? What were the consequences?

In my much younger life, I had the need to control. I've gotten older and realize that I don't have the right to control others. I say the Serenity Prayer a lot.

This will hold me over for the evening. This is certainly not easy.
What means have I used to get what I want and need? What might work better to get my needs met?

Not sure about this yet; I'll have to come back to it. I think I don't understand the question; my first reaction is I worked for whatever I wanted or needed. I'll come back to this one.

How do I feel when the alcoholic refuses to be and do what I want? How do I respond?

I feel that she doesn't care enough about me to save her own life. I plead with her to stop the alcohol because I want to spend many years with her and it doesn't make sense to me that she would rather kill herself than spend a lifetime with me. After reading the book "Under the Influence" and reading what others have written, I no longer plead with her. It's not that she doesn't want to be with me; it's just that she wants the bottle more.

What would happen if I stopped trying to change the alcoholic or anyone else?

Well, the first thing I have noticed is that I am less stressed about it. I'm more at peace with myself knowing that I really can't force her to change so I cannot be held responsible for the consequences. She came to me with a big bruise that she doesn't know how she got. For the first time it didn't bother me. Don't get me wrong; I'm concerned but I didn't worry myself sick over it.

I just bought the book "Getting them Sober" based on a post from another member. Reading these books and taking the time to answer these questions help me a lot. They seem to replace the anxiety and despair I had been experiencing.
How can I let go of others' problems instead of trying to solve them?

If I knew that, I wouldn't be here. My wife's problem is that alcohol to a major extent and smoking to a real extent is killing her. I've almost lost her 4 times this past year. I take my marriage vows seriously; don't I have the moral obligation to help her or is my moral obligation to let go of her problems? If I had that answer, I wouldn't be here.

I need to trust that the lierature, the people on this board, and these 12 steps can't be wrong so, if that is true, then I am wrong if I don't let go of her problems. This one is going to be rough. If anyone is reading this, please pray for me. I need it tonight.
Am I looking for a quick fix to my problems? Is there one?

I used to until I realized it asn't my problem. The root problems is alcohol and I don't have the power to fix that. Wow, that pretty much sums up step 1, doesn't it?

In what situations do I feel excessive responsibility for other people?

When I care for them, like my wife and kids.Aren't I suppose to?

In what situations do I feel shame or embarrassment for someone else's behavior?

well, with respect to AW, thankfully she keeps it at home.

What brought me to Al-Anon? What did I hope to gain at that time? How have my expectations changed?

Desperation. Peace. My expectations have not changed and I am beginning to get that peace. She just went through another bottle last night and, for the first time in a very long time, I did not get upset about it.

Who has expressed concern about my behavior? My health? My children? Give examples.

No one. My behaviour is fine. My emotional state is another thing but I'm working on that.

How do I know when my life is unmanageable?

When I spend a lot of time worrying how I can change my AW drinking so she stops killing herself.


How have I sought approval and affirmation from others?

I haven't

Do I say "yes" when I want to say "no"? What happens to my ability to manage my life when I do this?

Yes.....so how has that worked for me lately?

Do I take care of others easily, but find it difficult to care for myself?

Yes

How do I feel when life is going smoothly? Do I continually anticipate problems? Do I feel more alive in the midst of a crisis?

Content. Yes. Heavens NO

How well do I take care of myself?

Not as well as I should. I spend 24/7 taking care of AW

How do I feel when I am alone?

In those rare times.....very peaceful

What is the difference between pity and love?

I know the difference. I hope I'm not with her out of pity. I'm not ready to talk about this question yet.

Am I attracted to alcoholics and other people who seem to need me to fix them? How have I tried to fix them?

Not necessarily alcoholics but I think my whole life is about fixing others. It's a control issue that I'd like to think I got past.

Do I trust my own feelings? Do I know what they are?

I'd like to think so. Not yet.

Well, there...I've written them down. It'll take me a few days to re-read them and think about them till I'm ready to move to step 2. It does help me to write them down rather than store them in my head.
Thank you Magic; I appreciate your post. I have been reading everything I can get my hands on. I wish I had done this years ago. Maybe it's a guy thing....like asking for directions while driving.

It was hard for me to come to terms with the idea of "letting go" and my desire to help the woman I want to be with for the rest of my life. I think I finally got it when our daughter told me that she knows I love her and she appreciates that I have let her go to live her life as she sees fit.

I'm working on it and I'll be ok. Thank you again.
| | |
| --- | --- |
| The Following 3 Users Say Thank You to Spes For This Useful Post: | |
Member
Join Date: Jun 2012
Location: The First State
Posts: 2
Hi Spes,
I am in a similar position as you with my AH. And I am struggling with many of the same questions.

I met my husband in high school - we were both brainiac nerds, and had no experience with drinking - so alcoholism hadn't found us yet. We married 8 yrs later in our mid20s and had a great first 10 years.

Our problems began in the second decade of our marriage. It was very slow - and easy to ignore in the early years. What began as social drinking became nightly cocktails. In the past few years, we were easily having half a dozen martinis a night and getting blotto.
That was when things changed for him - his esteem plummetted as he realized he *needed* to drink in order to cope. He drank to mask his feelings of shame. He drank because he felt like a failure. He drank because he hated what his life had become.

His friends knew him as a big drinker, and found his antics entertaining. So they encouraged his drinking, and he obliged them eagerly. He desperately needed people to like him since he had such a low opinion of himself. He began doing foolish-stupid things and then dangerous-stupid things. Losing things, driving drunk, damaging cars, getting mugged. His health declined - weight gain, hypertension, depression - only giving him more reason to drink.

And me.... Well, I was a participant in excessive drinking for a good bit of that time. It helped me ignore that I was watching my spouse completely unravel. Later I tried leading by example, and limited my cocktails to weekends or social gatherings, and stopping after one. When that didn't work I tried persuading him to stick to just beer, and give up the harder stuff. When that didn't work I tried marital counseling, begging, crying, yelling, threatening, policing - anything and everything I could up with. Naturally nothing worked.

What finally helped me was a book my therapist suggested called "Codependant No More". Until then I had only a fuzzy notion of what that term meant, and resisted the idea that all my attempts to help were actually counter-productive. Reading it was like reading my life story. I had done every single thing the book described with exactly the effects predicted. It was eye opening and liberating. I made giant strides in detaching very quickly once I understood the dance we'd been trapped in for years.

In our situation, when I detached - the sh!t hit the fan. He upped his game, maybe because I'd rocked the boat? It felt like he was trying to draw me back into my role as guardian of his behavior, fixer of his messes, and coconspirator in hiding his problem. And I realized just how much I resented him for it. I didn't want our marriage to fail - he had been my best friend for 27 years! - but I decided all I would be losing at this point was a charade. Our happy marriage had been lost a long time ago.

Two weeks later he enrolled in intensive outpatient rehab - without me lifting a finger. He's one month in now - so we're still very new at the process. I waver between relief, optimism, and fear on a daily basis.

My biggest issues are:
1. Concerning detachment - if I take the total hands-off approach, and he does something criminal, like get arrested for DUI, or worse - what liability do I face as his spouse knowing he had this problem, but failed to take action? Is it right to let go of the worry that he might injure or kill someone? I have no reason to think thats about to happen, other than his program has indicated relapse is a common part of recovery - and he has been behind the wheel of a car drunk in the past. I'm struggling with how to balance codependency with being socially responsible.

2. From time to time I am plagued with the feeling that I've traded a drunk absentee husband for a sober absentee one. The rational part of me knows he needs this time away from the old routine to heal, educate himself, learn new ways to cope. My assumption - maybe incorrect - was that that recovery was a process, not a lifestyle. Will recovery become his new alcohol? The tool he uses to absolve him of responsibility? And as a poster-child of codependency, how do I recognize the difference between being supportive and being manipulated?
Hi 5BadDogs,

Thank you for bringing me back to my first step; it shows me I have come a long way in the past 3 months of my journey.

Like you, reading the book: "Codependent No More" and many more books like that helped me to understand what I was up against and also understand my role in our life together.

Also, like your husband, my wife is my best friend and I simply will not let my best friend die alone. I truly understand going between relief, optimism, and fear.

You asked about liability. You are not likely to be criminally responsible for any action he committs, drunk or sober, but we are generally financially responsible. I would have a lot more money if I was paying for the consequences of my spouse's actions.

I don't know the answer to your question about the difference between being supportive or being manipulated. I try to remember how I would behave when living with my best friend if alcohol wasn't involved but sometimes the cold hard reality of what I "should" do conflicts with my personality. When my wife falls down drunk in public, some might suggest leaving her to learn the consequences of her actions. I can't do that; it's not my personality. So I pick her up and take her home and put her to bed.

With respect to social responsibility; again, I think we all have to make our own choices depending on the family dynamics. She has passed out and crashed several times. Fortuanely, she hasn't hurt anyone. So, now I drive her to her alcohol. Is that enabling? Probably. But I drive without saying a word because I do not want an innocent citizen being killed. If she killed someone, I may not be criminally liable but I would be financially liable and morally devastated.

What helped me the most was reading several thousand posts by others to learn their experiences. I've read a lot of books to help me learn what I am up against. I have been fortunate to have the help of a couple people on this board. I have, and continue, to work the steps. But most of all I have learned to take care of me.

I have made peace with my decision to stay with my alcoholic wife. She is not physically abusive and the children are adults and live their own lives. I have made peace with my decision not to allow her to die alone. It is my decision and probably doesn't work for most others.

I thank you for sharing your story on my thread and I hope you find peace in your life. Your thoughts and feelings here have made a difference in my life.

Take care, my friend.
| | |
| --- | --- |
| The Following 2 Users Say Thank You to Spes For This Useful Post: | |
Member
Join Date: Aug 2012
Location: beverly,nj
Posts: 6
My path starts today...
---
I went to my first Al-Anon meeting last night and my eyes started to open. I am in love with a recovering alcoholic who is going on five years this november. We would of been dating two years in October but she decided to end it last tuesday. I thought everything was going great with no reason to think differently.
She did seem off but i thought it was due to stress from work, money issues, and her daughter who I love just as much.
I took her on a trip to St Thomas to help her relax and regain her focus which she said she needed. The trip went well but she seemed very distant still and three days after we returned she said she was confused and lost. Said she needed to end it so she can focus on herself.
I wish I could explain how much that hurt me and confusion that i felt and still do. I accept she needs help and I can't provide it to her but it doesnt take away the hurt.
I feel like I could of did more to help or be there for her. I have been reading entries and responses for the last hour which I realize I am not the only one going through this. Any help in how I can start my path on the right foot would be appreciated? Thank you and look forward to finding out about myself.
Member
Join Date: Jun 2012
Posts: 1,452
s19m73, you might want to start a new post on the Families and Friends Forum on this Sober Recovery site. On the upper left on the page, you'll see a list - just click Forums and you'll find the link to Families and Friends.

I think most people come to the STEPS forum when they actually want to focus on one of the Alanon steps. The Families and Friends is for open, more general topics, and lots of people will read and respond each day.

So sorry for the grief that you are going through.

BothSidesNow
| | |
| --- | --- |
| The Following User Says Thank You to ShootingStar1 For This Useful Post: | |
Currently Active Users Viewing this Thread: 1
(0 members and 1 guests)

Posting Rules
You may not post new threads
You may not post replies
You may not post attachments
You may not edit your posts
---
HTML code is Off
---