Somewhere Over the Rainbow............
Member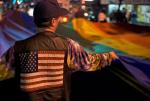 Join Date: Jan 2005
Location: Concord, CA
Posts: 1,910
I was a bit rash, and I'll still be going to the village as well as coming here. The post in question was about a family of poorly sighted gophers who happen upon an unattended pot of vegatable stew with a sleeping predator...refered to as a "giant fuzzy turnip"...in it that they inadvertently devour. One of the child gophers complains about all of the rocks in his turnip...by which I was refering to the predators bones...to which the father gopher responds that the child should suck them off and spit them out. The moderator assumed that I was talking about oral sex and removed the post. How you go from a family of gophers sharing a pot of stew to oral sex is beyond me, but apparently it makes sense to some people. Anyways, I'm over it now, and I appologize to the mods here for bringing up sucked and spit out rocks.
Its_me_jen

Join Date: May 2004
Location: Salina, Ks
Posts: 8,547
I've got my good days and my bad days.
I don't miss the drink at all.........I just wish my brain could be a little more organized. Ya know?! Sleeps a problem, either not enough or too much.....and the holiday's. I'm not a big fan any more.
But really - hour to hour, I'm great.
Glad things are well with you indie.

doll
Member
Join Date: Dec 2006
Location: London, UK
Posts: 49
Some of these posts really made me laugh (mostly at myself)! Giving up drink has really made me feel pretty bored (I'll take boredom to the alternative, by the way) and I just feel a void when thinking about maybe looking for a relationship. So I thought "Ah! Maybe I've suddenly become a lesbian!" completely forgetting the lack of any sexual attraction to women. Doh!
Member
Join Date: Feb 2008
Location: Hamilton, MT.
Posts: 7
Hi, I've just joined and would like to find someone to have an email correspondence with. I live in Hamilton,MT. which is a very gay unfriendly town. I don't own a car and there is no regular bus service to Missoula which does have a gay community. I'm also new to computers and not very good at using them.
---
Last edited by best; 02-11-2008 at

07:14 PM

.
Member
Join Date: Oct 2006
Location: .
Posts: 299
Hi David/Etienne,
welcome on board SR. It might be best to edit your post to take out the email address - it runs at least the risk of getting hit by spammers. You can be PM'ed through the site, which is maybe the best way,
good luck,
NL.
Currently Active Users Viewing this Thread: 1
(0 members and 1 guests)

Posting Rules
You may not post new threads
You may not post replies
You may not post attachments
You may not edit your posts
---
HTML code is Off
---