Antidepressants
Antidepressants
---
I was off antidepressants for a while but have started again.
I did something that's not recommended and yet typical of me - I made a decision one day to just stop.
I was doing fine and getting through the weird brain fog and dizziness but then got sick last week (unrelated to my stopping anti ds - every second person in Dublin is sick at the minute).
Anyway, this flu or whatever it is took away my bullishness about getting through the withdrawal from the pills and I've also had bouts of horrible, inexplicable anxiety over the last couple of days. Which is no big deal really but I'm not set up to deal with it at the minute.
So I went to my doctor today who gave me some grief over making a unilateral decision to stop abruptly. I feel kind of disappointed in myself for starting back on the pills but part of me thinks that's really stupid - it's just a pill each day which luckily doesn't burden me with the side effects some other people get.
Anyway, that's it.
Member
Join Date: Dec 2017
Posts: 1,100
I've experienced that mental dialogue more times than I'd care to admit. I've also stopped abruptly only once (it was paxil) and that's all it took. The alternative to not taking the antideps wasn't really appealing so I continued them up until about three years ago. There is a light at the end of the tunnel and I guarantee it's not an oncoming train

T.
| | |
| --- | --- |
| The Following User Says Thank You to TheToddman For This Useful Post: | |
Paxil is generally thought to be the WORST AD to stop cold turkey.

Don't mistake dependency for addiction. People rarely or ever seek out antidepressants for a high.

There is nothing wrong with using psych meds as a tool to get sober and get through life. Going off meds has always led me back to addiction. Therapy helps me.
bona fido dog-lover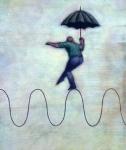 Join Date: Mar 2008
Location: eastern USA
Posts: 89,546
I've been on sertraline for a long time and will continue to take it as it keeps the depression at bay. A couple times I've run out and didn't take it for a few weeks. The difference in my mood was very noticeable.

Optimist
Join Date: Mar 2018
Posts: 3
What everyone above has said - antidepressants are not to be stopped abruptly. Weaning yourself off them is fine, so long as you've discussed this with a doctor, but going cold turkey will give you all sorts of Unpleasant side effects with a capital U. If you feel you're in a good place and want to stop taking them dial down the dose or frequency over a couple of weeks and pay attention to your mood and general sense of wellness.

I hope you feel better soon.
| | |
| --- | --- |
| The Following User Says Thank You to Hattedcat For This Useful Post: | |
| | |
| --- | --- |
| The Following User Says Thank You to andyh For This Useful Post: | |
Currently Active Users Viewing this Thread: 1
(0 members and 1 guests)

Posting Rules
You may not post new threads
You may not post replies
You may not post attachments
You may not edit your posts
---
HTML code is Off
---