Willful Blindness
voices ca**y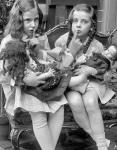 Join Date: Mar 2013
Location: St. Paul Minnesota
Posts: 3,825
Willful Blindness
---
Passing this along. I thought it was great and would be interested to see what others thought of it. This quote helped me to understand my dad's reaction to my mother's crazy all these years:

The most harrowing example of this blindness, Heffernan points out, is in families damaged by child abuse. Some 700,000 cases of child abuse are reported each year — and this is one of the most underreported forms of violence in society for a variety of reasons — which makes it impossible to imagine how so many families can be blind to the tragedy within. And yet, Heffernan notes, imagining and acknowledging such a devastating idea requires of non-perpetrating parents and guardians to question their own reality to such a degree that many find unconscious escape in their "willful blindness."

There is a way to make sure I don't make the same mistakes.

The most crucial learning that has emerged from this science is the recognition that we continue to change right up to the moment we die. Every experience and encounter, each piece of new learning, each relationship or reassessment alters how our minds work. And no two experiences are the same. In his work on the human genome, the Nobel laureate Sydney Brenner reminds us that even identical twins will have different experiences in different environments and that that makes them fundamentally different beings. Identical twins develop different immune systems. Mental practice alone can change how our brains operate. The plasticity and responsiveness of our minds is what makes each of us most remarkable… We aren't automata serving the master computer in our heads, and our capacity for change can never be underestimated.

[…]

We make ourselves powerless when we choose not to know. But we give ourselves hope when we insist on looking. The very fact that willful blindness is willed, that it is a product of a rich mix of experience, knowledge, thinking, neurons, and neuroses, is what gives us the capacity to change it. Like Lear, we can learn to see better, not just because our brain changes but because we do. As all wisdom does, seeing starts with simple questions: What could I know, should I know, that I don't know? Just what am I missing here?

Currently Active Users Viewing this Thread: 1
(0 members and 1 guests)

Posting Rules
You may not post new threads
You may not post replies
You may not post attachments
You may not edit your posts
---
HTML code is Off
---