We are the lucky ones!
Member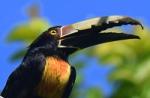 Join Date: Nov 2012
Location: Central America
Posts: 4,063
We are the lucky ones!
---
"We are going to die, and that makes us the lucky ones. Most people are never going to die because they are never going to be born. The potential people who could have been here in my place but who will in fact never see the light of day outnumber the sand grains of Sahara." - Richard Dawkins

Too true! So why ruin my short time on this beautiful world with alcohol and poison? Feeling a warm breeze, looking up in awe at the stars, watching a bee pollinate a flower - we are so lucky to be here to witness such miracles. And I also feel lucky to be able to see the world for what it IS - not for what I want it to be. In fact I've found the world and universe to be an even more amazing place the more I learn!

Leading an alcohol-free existence means my experience on this world will be a better one. That's all the motivation I need. Quotes like the one above certainly make me feel good, I hope it helps you too.
Currently Active Users Viewing this Thread: 1
(0 members and 1 guests)

Posting Rules
You may not post new threads
You may not post replies
You may not post attachments
You may not edit your posts
---
HTML code is Off
---