Dear Pádraic...
Cause no harm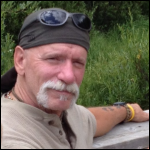 Join Date: May 2007
Location: Missouri
Posts: 596
Dear Pádraic...
---
Wouldn't it be wonderful to sit and have a glass of wine with your spouse/partner and not have to "knock a hole in the bottom" of the wine bottle? And what a joy to go to the ball game, toss down a couple of beers while watching the home team take the lead, and not stand during 90% of the game by the vendor. What about having the greatest Mexican dinner, followed by a Margarita and not having the waiter know you by your first name because you ordered so many pitchers of the drink. What if...

I have spent most of my adult life wanting to have this control. And, on an extremely low number of occurrences, succeeded. But the vast majority of times I only end up feeding the obsession to drink and all desire to moderate vanishes like shadows on the ground in an approaching storm. It is an old story shared by most of us on this site. It just never happens. Never. Instead, it fosters the lie inside of us and gives us a false sense of reality, obscuring the fact that because of our propensity to the addiction, we are not able to moderate effectively. Sooner or later we ignore our "just one drink" code and respond to the primal overindulgent behavior of sloshing down as much booze as possible.

I am fully aware I am not expounding on anything remotely new; I am simply reminding myself of a fallacy I fell back upon nearly a year ago and found myself deeper in addiction. No longer was I really feeling the "buzz". I was not able to get that warm glow and sought more volume to bring it back. I turned to the hard spirits in quantities that would shock my family if they were aware. Nearly every morning around 3 a.m. I would awake with the same disgust of my addiction and make the same commitment to cease the action this very day. By 4 or 5 p.m. the determination had disappeared and the cycle repeated. There wasn't any thought of moderation.

I sit here now at my computer, empty of the words I wanted to say to myself. Sometimes I grow weary of repeating the same thing over and over, year after year, waiting to see a sign of it finally sinking inward. Will that ever happen? I honestly don't know. But at least I have been listening to my sober self for the last few days—I know I have to.

—Pádraic
The Following 12 Users Say Thank You to Creekryder For This Useful Post:

applecake

(02-05-2013),

bemyself

(02-05-2013),

BillyWeaver

(02-05-2013),

Cleopatra1

(02-12-2013),

Garen

(02-12-2013),

Hollyanne

(02-12-2013),

Murray4x5

(02-11-2013),

MyTimeNow

(02-06-2013),

raja12

(02-06-2013),

soberlicious

(02-05-2013),

topspin

(02-11-2013),

tutivillus89

(02-11-2013)
Member
Join Date: Jun 2012
Location: UK
Posts: 1,359
It will happen. It will happen when you decide to make it happen.
After years of wanting it to, reading, procrastinating, making excuses I've decided and chosen to make it happen. If I can, then you can too Padraic

Member
Join Date: Feb 2013
Posts: 8
'No longer was I really feeling the "buzz". I was not able to get that warm glow and sought more volume to bring it back.'

That really struck a chord with me, thank you. Your whole post did, in fact. Part of my problem is that I still look back on those 'good times' with such fondness. The way alcohol used to make music sound so good and the uninhibited confidence it allowed me. For some reason I neglect to to reflect upon the not so good times which transpired in recent years.

I, too, relentlessly chase that buzz which no longer exists for me. I know in my saner moments that there's no going back to that 'high', yet in my darker days I can't help but try.

I hope that it all makes sense for you one day.
| | |
| --- | --- |
| The Following 3 Users Say Thank You to tutivillus89 For This Useful Post: | |
Member
Join Date: Oct 2012
Location: uk
Posts: 725
great post creek,,i too tried so hard to chase the buzz,,its awful to know the amount i consumed was rising and rising each month,thats when i started hiding the bottles i guess,,silly hubby, he wont know heehee ,,
,or so i thought,,

i think he'd had enough after another drinken argument,all one sided of course,,and he had to sleep in the kitchen cos the kids were having a sleepover in the spare room.

wake up call for me,,,after 10 yrs of it "thats it love,,stop , or your out",,"or im out".and boy this time he really meant it x

so,,i stopped,,i really wanted to ,, i couldnt stand the distruction i was causing to the people i love so dearly,,geeze even my lil dog was starting to hate me!! lol

and i too,,dreamt of the day that i could sip a margarita,,on holiday,,watching the sunset on the beach,,holding his hand,,but alas,,i know i cannot do that,,and i wont.

i think sometimes,,"its just not fair",,self pittying thoughts,,,"why did i have to be an alcholic",,ect ect,,,but i learnt that,,"hey , its just life i guess,,sometimes life aint fair,,"

when i see on tv,,couples having a romantic drink together,, i know hes thinking it too,, "why did my wife have to be a darn alkie",, but we both love me as i am now,,and as i will be forever ,,
cant i have a "mocktail i say?? or have a coke with all the fancy gubbings in it as the cocktails do??
the works,,fancy staws, pretty flowers,,just like dell boy does,,(google only fools and horses for those not in uk,,lol),, and why not indeed,,just no alcohoholholhol hell
????
so,,that is what i do,,only on those occasions when i feel i want to join him,,,he doesnt need me to and its not cos i need to too,,oh no,,cos i dont .

oh dear , ive rambled,,sorry,,but happy tuesday everyone anyhoo,,
big hugs cleo xxxxxxxxxxxxxxxxxxxxxxxxxxxxx
Merely tossing a couple bottles of beer at a game would not satisfy me, it would only be a teaser. There is no desire at all to moderate - it's an all or nothing deal. I choose nothing. Being able to remember the game, and walking out of the game when it's over with some dignity trumps only being able to remember fuzzy bits n' pieces and then stumbling out drunk.

At first I was confused between the two choices. I began to study addiction, read a few books (including RR), and it began to make more sense; I realized I didn't really ever want to drink. So I just started getting honest with people around me. Went to my doctor and had an honest conversation... she wanted me to check straight in to a 30-day rehab thing and live there 30 days. Well, I told her that really wasn't necessary. Then she made me to go AA which was totally not for me. But the honest conversation I had with her really helped to solidify my commitment to breaking this habit. Thinking about where I'd be today if I never started drinking is a great motivator to stay sober. Maybe I'd have a wife, kids, a better education, a better job, a better credit score....

There is still plenty of time.
Currently Active Users Viewing this Thread: 1
(0 members and 1 guests)

Posting Rules
You may not post new threads
You may not post replies
You may not post attachments
You may not edit your posts
---
HTML code is Off
---