Can't sleep Pt. II
bona fido dog-lover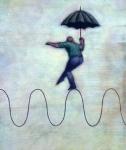 Join Date: Mar 2008
Location: eastern USA
Posts: 91,670
I get the same way. My thoughts seem to be racing and my brain will not 'shut down'. Sometimes I take benadryl to relax a bit. Sometimes it helps, sometimes not so much. I wish I had a switch in my head to turn off my thoughts so I could sleep...
Once again...

The insomnia seems to come and go. I've done well for a couple months and now here I am again. I slept a little bit earlier but I can't stay asleep. Running on about 3 or 4 hours a night now. Blah.
Thanks, Alera. I slept alright last night, fell asleep early even, until about 3:00, so at least I got a few more hours than usual, and even managed to sleep a little more this morning. Going to try changing my routine a little bit, maybe that will help.
| | |
| --- | --- |
| The Following User Says Thank You to gneiss For This Useful Post: | |
Here I am again. Took me three hours to even think about being able to sleep. Was literally on the verge of crossing over to dreamland when my roomie was in the entertainment center getting a DVD. For some reason that woke up wide up. Finally I decided to get something to eat as I'm hungry and then go back to bed.
Here I am, hoping some tylenol will kick in sometime soon... starting to lose hope, it's been a while. Wisdom tooth coming in, but causing swollen jaw and gums, earache, headache (really basically a migraine)... the list goes on. Ugh. I'm calling the dentist in the morning, but until then I'm pretty miserable.
Currently Active Users Viewing this Thread: 1
(0 members and 1 guests)

Posting Rules
You may not post new threads
You may not post replies
You may not post attachments
You may not edit your posts
---
HTML code is Off
---