Campral...anyone know about this?
Member
Join Date: Jan 2009
Posts: 1,141
Campral...anyone know about this?
---
My p-doc gave me some samples and I am starting to take them today. I read the brochure and it looks pretty promising and I was THRILLED that they listed SMART, WFS and SOS as support groups to attend - this alone is enough to tell me this is the drug for me.

Anyway, it's not like Antabuse (doesn't make you sick if you drink on it) nor is it like Naltrexone (blocking a high). It is thought to balance out neurotransmitters that become unbalanced due to alcohol over time.

Does anyone have any input or know of anyone who has taken this and experiences? Thx.
bona fido dog-lover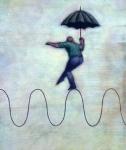 Join Date: Mar 2008
Location: eastern USA
Posts: 89,471
I was on it for about two months last year. It helped with cravings and it's supposed to restore the brain's natural chemistry. I was given samples too, don't know what it really costs.
Currently Active Users Viewing this Thread: 1
(0 members and 1 guests)

Posting Rules
You may not post new threads
You may not post replies
You may not post attachments
You may not edit your posts
---
HTML code is Off
---