10 months sober—AA Sponsor issues
10 months sober—AA Sponsor issues
---
Hello there everyone. I have taken time away, but I am still sober!

Long story short—found a sponsor at 2 months sober, worked the steps for 4 months. At 6 months sober, my Step Dad passed of cancer and my Dad fell ill and moved in with us. I stopped corresponding with sponsor due to being overwhelmed with life, and we stopped at Step 4 (didn't complete). At 10 months sober, I've settled into life with my Dad, kids, etc. I reached back out to sponsor to see if we could begin Step 4 as I was ready and she said her "plate was full and I should find another sponsor"….she knew all the circumstances surrounding my Dad, etc.

How can I start Step 4 with a new person? I am confused and a little bit not understanding. Any help appreciated.


Administrator
Join Date: Apr 2007
Location: Australia
Posts: 201,790
Hi Suzieq
Its good to see you tho I'm sorry for your loss and all you have had going on.
I'm not in AA but if someone says their plate is too full, I'd probably accept that at face value and find someone else who can help me

D
bona fido dog-lover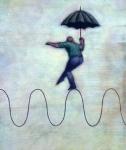 Join Date: Mar 2008
Location: SF Bay area, CA
Posts: 94,828
It might not be personal, might just be that, her 'plate is full'. Maybe something came up in her life.
I don't know about continuing the fourth step with someone new as I'm not in AA nor have I ever had a sponsor or worked the steps. Maybe when you find a new sponsor, you can start over with step one, two, and three, and just kind of breeze thru them since you've already done them. Kind of a refresher course for the first three steps before you start the fourth step with a new sponsor. By then you'd have gotten to know her and she wouldn't be so new, maybe you'd feel comfortable enough to do your fourth step.
I hope you have good fortune finding another sponsor.

Yeah, as frustrating as it might be, I think it would be best to just shrug it off and find someone who is open and willing to help you resume the steps. I wouldn't jump to the conclusion that maybe your sponsor was bothered by the disruption due to your life circumstances. That would likely only create another resentment, but then again, since you're on your 4th step anyway...😉

Great job on staying sober through it all, though!
Think of it this way, your life got unexpectedly busy, so maybe it happened to her too. I'm very sorry for your loss.

Im also going to congratulate you on tens months and getting through trying times sober. I hope you find a new sponsor to resume your step work with soon. I don't have AA experiences with step work so I don't have an experience to share.

Well, it appears you will need to get a new sponsor. Start talking with some potential sponsors. You can always start the steps again with a new sponsor to ensure you mesh well together before getting started with your 4th step, since you need to make sure you're comfortable and that it feels like a good fit. Sometimes getting additional perspectives covering the same steps with a different sponsor can be a neat thing.
| | |
| --- | --- |
| The Following 3 Users Say Thank You to BarbieKen For This Useful Post: | |
I did eventually get a sponsor, and we became friends, but I never worked steps with him. I did learn the steps, and I understood their purpose. Some of them were of little use to me, but I modified them to make them more meaningful. I never formally worked them in order, but I was aware of situations in my life when a step would come in handy. Some members told me they should be worked in order, but I outright rejected that. For example, If I needed to make an amends to someone, I wasn't going to put it off just because I wasn't at step 8 yet. If there was anything useful about a step, I believed it should be used when it was needed. If a step was never needed, I wasn't going to go through some mock effort to work it. And I don't believe one ever finishes the steps. They are recipes to live by, not something to do so they can be completed. Instead, they should be internalized, so they become second nature, and you can use them when necessary.

So to get to the point, you don't need a sponsor to do the steps. If you need help with a step, you can do it with a sponsor, but you can also do it at meetings. Many AA groups have Step Meetings devoted to specifically that, where steps are dissected, clarified, and discussed in depth. There were times when I used my sponsor as a friend and discussed personal things, but that was because he became a trusted friend. Most AA members in my group, while helpful, would never have gained that kind of status with me. And the only reason I had a sponsor was because some guy got all over my case one time, and said, "Get a sponsor," without even explaining why. So I got a sponsor to make him happy.

Any help I ever needed with a problem, I could get from meetings from more than just one person, so the opportunity to find solutions was increased dramatically with a larger variety of ideas, and occasionally, one of those ideas would be a perfect fit. That's one way I used AA. Others might say, "No, no. Do it this way." I'm just telling you how I used AA to make a successful program for myself.

| | |
| --- | --- |
| The Following User Says Thank You to DriGuy For This Useful Post: | |
I'm sorry for your loss. But, be proud of yourself for reaching 10 months of recovery. I'm not an AA person, but I do hope that you will find the right person to be your sponsor.
Currently Active Users Viewing this Thread: 1
(0 members and 1 guests)

Posting Rules
You may not post new threads
You may not post replies
You may not post attachments
You may not edit your posts
---
HTML code is Off
---