The relapse cycle.
Member
Join Date: Feb 2018
Posts: 16
The relapse cycle.
---
Relapsed in July from the stress of getting our rental ready to sell
Sold it now out of debt. Good. I attend smart recovery and now in relapse prevention, but now sitting by a lake sucking down my favorite white wine. This has been a tough week. We took my brothers ashes up into the mountains to release on Wednesday. He committed suicide last year. This followed the suicide of my sister and niece. When we got back to my sisters house her and her husband sat and enjoyed a cold beer and then my sister and my husband smoked some pot. I am sitting there watching this struggling with relapse and do when I got home I did. Sipped wine all afternoon. Next morning my husband ran me over the coals because I drank. Nobody put the glass to my lips but me. I took the first drink. Is there really any hope?
| | |
| --- | --- |
| The Following 3 Users Say Thank You to Krews For This Useful Post: | |
bona fido dog-lover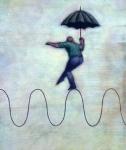 Join Date: Mar 2008
Location: eastern USA
Posts: 84,740
Yes, there really is hope, even for us chronic relapsers. I relapsed over and over and felt hopeless. But I never gave up, and I strengthened my recovery by practicing gratitude every day.

And I'll have nine years sober in December.

So yes, it's possible.

Practicing gratitude can make you happier.

https://www.nytimes.com/2015/11/22/o...pier.html?_r=0
| | |
| --- | --- |
| The Following User Says Thank You to least For This Useful Post: | |
| | |
| --- | --- |
| The Following 2 Users Say Thank You to Krews For This Useful Post: | |
Administrator
Join Date: Apr 2007
Location: Australia
Posts: 187,684
I'm sorry for your loss and the rough time, Krews.
The point was, for me, I knew I deserved a better life, and I knew I could do better with the life I'd been given.
I'm glad I got sober and stayed that way - it was hard in the beginning but really no harder than trying to juggle my alcoholic drinking.
The secret I think is having support - and using it when you need it - and maybe changing as much as you can in your life those feelings, situations or triggers that make you feel like giving in.
I believe you can do this Krews

D
Currently Active Users Viewing this Thread: 1
(0 members and 1 guests)

Posting Rules
You may not post new threads
You may not post replies
You may not post attachments
You may not edit your posts
---
HTML code is Off
---