Nervous, seeking advice please
Member
Join Date: Jun 2017
Posts: 74
Nervous, seeking advice please
---
Hi everyone. I'm on day 4 of my first real attempt to acknowledge that I'm an alcoholic and get sober. I woke up this morning with a surge of euphoria as I started realizing that I've been making myself miserable by drinking to stop feeling miserable.

I'm wary though; is this something common and should I be preparing for a crash back down from this infant place of self reflection and gratitude? I've read enough here to know that I need a plan. Can anyone with more sober experience give me some advice?

Thanks so much!
bona fido dog-lover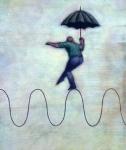 Join Date: Mar 2008
Location: SF Bay area, CA
Posts: 95,337
It's common in early recovery to experience a 'pink cloud' effect, where you feel almost euphoric. But it fades eventually and you go back to normal.
But if you stay sober, you will feel better and better with each passing day.

| | |
| --- | --- |
| The Following 3 Users Say Thank You to Maudcat For This Useful Post: | |
Canine Welfare Advocate

Join Date: Sep 2010
Location: Norfolk, VA
Posts: 10,965
Glad you are feeling positive about your decision to quit drinking.
However, sobriety can't be contingent on "feeling" like it's a good idea. You commit to being sober throughout the roller coaster of emotions--the highs and the lows--and you put together a plan to see you through those moments of doubt and indecision about sobriety that are sure to plague you.
Once you have acquired enough sober days, it won't be an issue. Sobriety begets more sobriety if it has been built on a solid foundation of recovery.
Welcome and good job on Day 4.

I think it's good to try to remain positive but to remember that life is full of ups and downs and those will happen in recovery as well. You will be able to learn new ways of coping with emotions.
| | |
| --- | --- |
| The Following 2 Users Say Thank You to Anna For This Useful Post: | |
Beedebea, congratulations on your progress so far! I know what you are describing.. I've felt it too. I think it comes from finally realizing we are on the right track. It's an epiphany!

I understand the advice to be wary and don't get complacent or let your guard down -- there will be low points and temptation-- but I think it's also a really great sign! It means that instead of feeling sad and sorry for yourself or feeling deprived, you are excited about embracing sobriety, and that's a huge step.

Keep reading and posting and keep up the good work. I'm right along with you!
| | |
| --- | --- |
| The Following User Says Thank You to tealily For This Useful Post: | |
Member
Join Date: Jun 2017
Posts: 74
I'm am soaking all your advice and encouragement in. I think that a lot of what I'm feeling is what came with the revelation that for years I've been in denial about my drinking. I feel like my eyes have been opened to my behaviors and understand that I've been kidding myself that I was the one in control.

Not being in control doesn't excuse my behavior, but today that understanding helps me realize that this is real, I can't hide from it any more and it's time to take serious action instead of procrastinating. It feels like a relief. I don't know how I'll feel tomorrow but I will take it (along with the notes of caution), for today. Thank you all! 💖
| | |
| --- | --- |
| The Following 3 Users Say Thank You to Beedebea For This Useful Post: | |
| | |
| --- | --- |
| The Following User Says Thank You to Beedebea For This Useful Post: | |
Administrator
Join Date: Apr 2007
Location: Australia
Posts: 202,389
This is a great link for plans
http://www.soberrecovery.com/forums/...ery-plans.html
I think you're doing great - you can't be both complacent and wary

D
Member
Join Date: Jun 2017
Posts: 74
Originally Posted by
Dee74

This is a great link for plans
http://www.soberrecovery.com/forums/...ery-plans.html
I think you're doing great - you can't be both complacent and wary

D
Thanks Dee! It's great to have So much support. When I get to day 10 I want that plan in place. 💖
Currently Active Users Viewing this Thread: 1
(0 members and 1 guests)

Posting Rules
You may not post new threads
You may not post replies
You may not post attachments
You may not edit your posts
---
HTML code is Off
---