My Ongoing Struggle
Member
Join Date: Apr 2016
Posts: 1
My Ongoing Struggle
---
Hi. I happened to randomly stumble upon these forums at a time where I've found alcohol controlling my emotions which I'm sure is controlling my life at large.

I am 21 years old, managing my time between school, work, and intoxicating myself. I want to quit drinking so bad and I've been having this thought for quite some time.

I never thought of myself as a person prone to be an alcoholic, as I'm sure most of us alcoholics think. However after selling marijuana for a couple years at a street level I began using more addictive substances.

Heroin and meth eventually became the only thing I really wanted, more than school grades that satisfied me (before I began using I upheld the highest possible standard of education) . It wasn't obvious when it was happening, but after a while I abandoned all of the standards I had set for myself.

It's probably important to mention I did not use heroin or meth until I was in college, living in an apartment, which was paid for by my parents who were only aware of me smoking marijuana at that point in time. The drug use kept getting worse as I'm sure it does with everyone who uses for a long period of time, and I couldn't continue getting acceptable grades in my engineering courses.

When it became obvious to my parents that I was not taking school seriously as they were paying for my shenanigans, they immediately wanted me to move across the country to come live with them and basically try to help me get my **** together. I was and still am am very grateful for having a family willing to support me through this.

But the problem is I have been indulging in alcohol even after moving across the country in an attempt to better myself. Even after attending rehab programs with professionals. I know it is not good for me but like anyone who enjoys a change in the state of mind I like how it affects me temporarily.

What really scares me is while this has been happening, I've met several people going to AA meetings who have basically done the same thing as I have - use hard drugs as a young person and then switch to alcohol, and then have the alcohol problem continue for 30-40 years. I am very scared of that happening to me.

Thank you for reading and your time. If you have any advice to offer I would appreciate it greatly.
if you can get hold of this while you're young you can save so much heartache for yourself and your family. i didn't sober up until i was 41, and by then my life was in shreds. alcohol will kill you as happily as heroin or meth. it's a long, long painful death though, and it happens by degrees.

please, at least educate yourself now. the more i learned about alcoholism, the less i 'enjoyed' my drinking.

so, yeah. don't be me. make a plan and resolve to be well. your future self will thank you.
bona fido dog-lover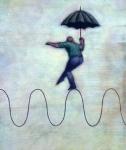 Join Date: Mar 2008
Location: eastern USA
Posts: 84,131
Welcome to the family.

The best advice I've ever had was given by our mod, CarolD, may she rest in peace. She said that in order to stay sober you must want to be sober
more
than you want to drink.
I hope the support and good ideas here can help you get sober for good. It takes some effort and changes, but is so worth it.

I was a druggie turned alcoholic. I identify myself as an alcoholic addict and I am one of those who eventually gave up drugs and became exclusively an alcoholic.

For me a drug is a drug is a drug. I can't take any mind altering substances.

At 53 my mind, body, spirit, and relationships were all dying. I had had enough. I went to AA, got a sponsor and worked the steps.

You can get off the elevator anytime but it only goes down and unfortunately many quit drinking by dying or killing themselves but it doesn't have to end badly
You need to really want to be sober because recovery is hard work and you need to let go of thinking to change your state of mind using alcohol. That is a ploy by the disease to keep you active. There are other ways you can change your state of mind in a healthy way - music, books, exercise, whatever works for you.
Administrator
Join Date: Apr 2007
Location: Australia
Posts: 186,672
Some great advice here already Dostility.
If you can, quit drinking - if you can't? find some help to help you quit...be it AA or some other group, or addiction counselling, your Dr, or a site like SR - maybe even a mix of approaches?

D
| | |
| --- | --- |
| The Following User Says Thank You to Dee74 For This Useful Post: | |
Hi dostility. I'm so glad you joined us to talk things over.

When I was 21 it never occurred to me that I needed to quit - even though I knew I didn't drink normally, & was far too dependent on it. So I kept going - and I ended up being one of those who continued for 30 yrs. You never have to suffer the pain many of us have - you can halt the progression of alcoholism. Please stay with us & let us know how you're doing. We care.
Currently Active Users Viewing this Thread: 1
(0 members and 1 guests)

Posting Rules
You may not post new threads
You may not post replies
You may not post attachments
You may not edit your posts
---
HTML code is Off
---