Checking in - not so great
Member
Join Date: Jun 2014
Posts: 1,869
Checking in - not so great
---
As the title says, just checking in. Not feeling so well, just angry and annoyed at everyone. It's so hard to let it go. A colleague's husband was found dead and the funeral will be 3.5 hrs away and my husband is giving me grief for going. I'm going anyway and in the mean time my AV is coming up with all sorts of ideas and ways to "punish" him for being insensitive. All AV, I know better.

Really didn't think about drinking much until I found this out and now it's back with a vengeance. I have control over this and I will not succumb.

I am feeling so calloused and ugly inside, like my soul is dead. Sick of people's excuses. I have mentioned before that I work in a courthouse so I see drunks and drug addicts everyday and I'm starting to compare. I know that this is pointless and I know I'm an alchy and that I can't drink but I find myself thinking that I was never that bad. But I WAS bad, terrible!

I said b fore that I was going to post more so that's what I'm doing... Working my plan I guess...

Sorry about the pointless post...
Thanks for coming and posting NIT,

Certainly sounds like quite a bit of stuff to deal with ,

Sorry about your colleagues husband.

I went through a phase in recovery where i was angry at the still active alcoholics "getting away with it" when they relapsed , whilst i had bear the misery of being sober , things changed though and i worked on myself and my sober life , sometimes it's just my own grouchiness .

Things change when we are sober , i was always stuck in a rut when drinking .

I hope tomorrow or next week is better for you and things change .

Take care , m
I'm glad you posted and I'm sorry about the death of your colleague's husband. Have faith that you can get through this, that you must get through this. That's how it worked for me - getting through those moments when I was sure I couldn't. Then, the next time, I had a little more confidence and it was a little easier.

You're right to not compare yourself to other people. You know what is right for you.
Letting it out and sharing is a very critical process in dealing with those kinds of feelings. The fact that you came here to do it suggests that you have learned healthier ways of coping...that's a big positive in my book. As you say, keep working your plan...you'll get through these tough times just fine.
Member
Join Date: Oct 2015
Posts: 2,393
I agree...it was a very good post...good work for working that plan. We do feel sick...soul sick...angry and cold.
It. Will. Pass
Member
Join Date: Jan 2016
Location: Midwest US
Posts: 45
Definitely not a pointless post. I can relate. I have felt crabby and angry past couple of days. Work is getting on my nerves bigger than ever and I struggled a little bit yesterday afternoon with my AV.
Glad it was sunny and somewhat warm - I sat outside for a few minutes to just ground myself but it was the closest I have come to getting in my car to buy wine.
This stuff is freaking hard.
I thank you for posting!

You can have reasons, or you can have results, but you can't have both.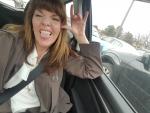 Join Date: Dec 2015
Location: Syracuse, NY
Posts: 1,232
Here's my contrarian point of view: Maybe you're seeing certain things more clearly now, rather than through the distortion/numbness of addiction? One of the things I loved about alcohol was that it made me an infinitely tolerant person. I found little fault in anything or anybody.

Definitely one of the things I noticed...AM noticing...sober is the low standards I've allowed to perpetuate in my world. There were people around that had no business in my life. They snuck in while I was drunk and now that I'm sober they just don't cut it. Also, I see traits in loved ones that didn't bother me before, but I now see as unethical. Even the organization and running of my household was substandard and I no longer find it tolerable. I'm not victimized by these feelings but they do spur me to action. There's a definite "housecleaning" going on.

So, of course, don't get too bent over this minor thing with your spouse. But allow yourself to have higher standards than before. I say, go ahead and feel disgusted with things and people that are disgusting. While not sweating the small stuff! ;-)
Good for you for coming here and letting it all out. That's exactly what I should have done before my last relapse. There is absolutely nothing pointless about coming here and sharing how you feel. It sets a great example for others who may be feeling the same way.

I do very much hope things get easier for you soon. Hang in there and keep shutting that nasty AV down and put it in its place!
Not a pointless post at all.

I'm so sorry for your loss.

Here's my go-to prayer / meditation for when I feel my reason slipping or my temper flaring, or when I'm rattled because I've velcroed myself onto a problem and can't let go. First I have to ask myself honestly, 'do I honestly want serenity right now?' (Sometimes the answer is 'No, I ****ing don't', and then I have to laugh at myself before I proceed. A lot of the time I seem to transfer from one negative emotion - fear; anxiety; sadness - to the one that had been my default for so many years. Anger. Or Rage. Or resentment. It's almost like an invisible comfort blanket, and gives me pretty much the same amount of protection from life.) Anyway - once I've got to a place where I honestly want serenity, I need to remind myself that acceptance ISN'T saying that whatever is okay, or fair, or deserved, but simply accepting that's the way it is, and that I have no control of it. It is making the decision to not let it control me. Then I'm ready to say / meditate on the following...

Grant me the serenity to accept the things I cannot change; the courage to change the things I can; and the wisdom to know the difference.
Throughout the day, sharpen my awareness so that I can start my day again any time I choose. Keep me mindful, ready to forgive, and let me be wary of taking offence, and remain free from the shackles of my fears and ego.

Help me to accept that people may be unreasonable and self-centred. Let me forgive them anyway.
Help me to accept that if I'm kind, people may accuse me of ulterior motives. Let me be kind anyway.
Help me to accept that if I find happiness, people may be jealous. Let me be happy anyway.
Help me to accept that the good I do today may be forgotten tomorrow. Let me do good anyway.
Help me to accept that I may give the world my best, and it may never be good enough. Let me give my best anyway.
God, help me to remember that it is between you and me. It was never between me and them anyway.

God, I have a resentment towards my husband that I want to be free of.
So I am asking you to give him everything I want for myself.
Help me feel compassion; understanding and love for him.
I pray that he will receive everything he needs.
Thank you for your help and strength with this resentment.


I know that it's not easy to get away from those feelings once the velcro has engaged. It is possible to climb back out of the vortex though. You can do it.

Drive carefully (ie not angry) .
I agree - not pointless at all.
Sounds like you need some support and some recovery grounding atmosphere right now nowisthetime - I'm glad you posted and I hope you'll continue to let us help

I'm sorry for your loss
D
Member
Join Date: Jun 2014
Posts: 1,869
Thanks you all for taking the time for posting. I just put my daughter down to sleep and my hubby is out with a buddy. She had a play date and they were wonderful. Seeing those girl play makes my soul feel a little better. I am feeling better and I really touched by some of the things you guys mentioned to me. I'm glad some of you said it isn't pointless. I know that nobody would say that it is, but hearing someone listening to me and somehow validating my feelings helps. Plus, my last post I said I was going to post more so I am doing it.

I really liked what SIS said about my standards and what Beccy said about anger. It really is my go to emotion but I'm trying to sort things out and feel them. March 16 marks 2 years since I started this journey and in a way I'm feeling sad that I can't say 2 years because I have had drinks a couple of times in this time. But whatever, it is what it is. It has been a month since I had a couple in my vacation one day...

So this is what I am figuring out. It's easy for me to quit but it's hard to stay quit. I am a binger and it is really apparent to me that once I start I just don't want to stop and that months can go by in between.

Now I'm alone. There's leftover aguardiente from when my mom was here and my husband is having booze so he won't be able to tell if I drink. I'm not going to but it's annoying that it pops in my head. The other thing is that my mother has an "inflamed colon" and she doesn't seem to put 2 and 2 together and realize that her colon problems flare up after the weekend parties. I can't say anything to her but it blows to just watch.

I hope my husband isn't too annoying tonight when he gets home...

Im going to enjoy my time alone and eat some yummy food and watch something on tv. Going to bed sober. Thanks everyone for the support.
Currently Active Users Viewing this Thread: 1
(0 members and 1 guests)

Posting Rules
You may not post new threads
You may not post replies
You may not post attachments
You may not edit your posts
---
HTML code is Off
---