Wondering what makes an alcoholic?
Member
Join Date: May 2015
Posts: 1

Wondering what makes an alcoholic?
---
I hope I get some replies to this because I'm not sure if i am. Here's some background. I'm 22 I manage/waitress at a mom and pop restaurant 6 days a week. Easy shifts 730-2pm or 2pm-9pm. But after every shift I come back to my apartment and drink. Usually a bottle of wine, (yes a whole bottle) 4 nips or a beer and 4 nips. I don't weigh much and I'm only 5'5'' but I have a pretty high tolerance. I would say after those drinks I'm like a 7 on a scale of 1-10. Im highly functioning on my days off, I run errands and go on walks and work out. I'm just wondering because I drink everyday am I an alcoholic?
Canine Welfare Advocate

Join Date: Sep 2010
Location: Norfolk, VA
Posts: 10,965

to SR. Coldfusion and Carl beat me to it.
Quit starting right now for 2 or 3 months without any support of any kind (make sure you bookmark us though for future reference). If it is easy, then you are just a heavy drinker (it does not mean that you won't cross the line to alcoholism at some point though. If you find yourself obsessing about alcohol and struggling, you have your answer.
Note: if your belly made a flip at the idea of quitting right this minute and you immediately thought: I'll start tomorrow or made some excuses to keep on drinking then you very probably have a problem.
Welcome to the Forum ejw, I guarantee you'll get replies!!

Alcoholism isn't all about volume, it's also about behaviours, but a bottle of wine a day would still be on the high side in my opinion.
The next thing to think about is how you drink, I used to drink alone every night of the week, I'd sit in front of my TV and simply drink and drink, looking back this was not a healthy relationship with alcohol, other people go out after work for a beer and then home to their families, going home to drink myself into bed wasn't normal.
I was also "functioning", I got up every morning without fail, never lost a job, never lost my driving license, never lost a girlfriend, life went on as normal, but inside I knew I was starting to drink more and more, and eventually on that path cracks would begin to emerge.
It's all about looking at your relationship with alcohol, if you went home and couldn't have that wine, would you feel panic? fear? sadness? is alcohol that entrenched in your life that "wanting" it has turned into "needing" it? Those are the questions to be asking, if going 30 days without it would be a problem, and that sounds like your worst nightmare, then that's a red flag.
For me I had crossed that line, and I already knew it when I joined SR, this is a great place for support, welcome onboard!!

Member

Join Date: Nov 2014
Location: U.S.A.
Posts: 346
I was working as a bartender when I was 22. I didn't usually drink before or after work but had about that much while working. Functioning fine, counting money, laughing, chatty, cleaning up and would usually read before bed. I got plenty done on my days off and had a very full life with a lot of drinking and not drinking hobbies. Was I an alcoholic then? I believe I was. Early stage but still an alcoholic.

Fast forward 6 years...

Physically dependent alcoholic, still functional. The last month of my drinking I had become a morning all day buzz drinker. Still bar tending and while I wanted to be doing something else, I had no real drive to do so. I always thought that when I quit bar tending my drinking would work itself out. Turns out I had to quit drinking to move on with my life.

I don't know if you're an alcoholic. You have to decide that for yourself. I can say that working around alcohol gives you a skewed perspective of what is normal drinking... So does being an alcoholic... Continuing to drink everyday will without a doubt make you physically dependent and quitting at that point is incredibly difficult.

I also think you should take a substantial break from drinking while you figure it out. Maybe read some posts on here and see if/what seems relevant to you.
Glad your here Ejw514, welcome

I learned here and other places that alcohol really was more of the symptom of other problems in my life.
For me masking the "why" I drank and not having to deal with the real issues was much simpler.
Frequency of drinking increased as did greater volume of booze which created a mental obsession/compulsion to drink daily. Once I started drinking I continued to physically crave more until I feel asleep or ran out.........God Forbid.
As Carlotta mentioned, some are just heavy drinkers. Make no mistake, sometimes this may be worse - not seeking treatment for the poison we consume.
Once I read - I'd rather walk around sober thinking I was an alcoholic than staggering around thinking I was not.
If alcohol is a problem in your life, try with out it. Most of us find things are soooooooo much better!
Glad you're here with us!!!
bona fido dog-lover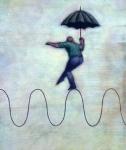 Join Date: Mar 2008
Location: SF Bay area, CA
Posts: 95,248
Welcome to the family.

A bottle of wine a night is a lot of wine. Try going completely sober for three months and see how you do. If you can give it up easily, you probably don't have a problem.
Currently Active Users Viewing this Thread: 1
(0 members and 1 guests)

Posting Rules
You may not post new threads
You may not post replies
You may not post attachments
You may not edit your posts
---
HTML code is Off
---