Strange Encounter; I wonder what you think?
Sober since 10th April 2012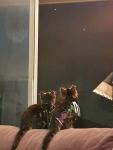 Join Date: Apr 2012
Location: Perth, Western Australia
Posts: 6,052
Strange Encounter; I wonder what you think?
---
I'm sure if this was the right forum, but I think newcomers would have a good take on the situation.

I was at a brunch on the weekend, and they were serving sparkling wine (slightly off topic, but SW is my main weakness but I avoided drinking it without a struggle or even giving it thought). A lady I've met a few times but don't know well came up and started talking to me about her drinking habits, completely out of the blue. She told me she often gets through a bottle of wine in the evening, and then doesn't have dinner with the family. If she eats dinner, she won't drink.

I was surprised she was talking to me so frankly, although she had had a couple of glasses, and I wasn't sure if she even saw it as a problem. I wondered whether it was a random conversation, or if she knew about my period of sobriety, which she could easily have done.

I didn't give her any advice, just said that I'd been like that a few years ago and had to stop drinking completely. If it wasn't random, I hope I gave her something to think about.
Member
Join Date: Feb 2015
Location: MN
Posts: 8,704
I've often thought something similar, and that is I wonder how many people have a real problem with alcohol, yet don't realize it. It completely escapes them that they are not drinking "normally". I know a fair of guys who drink quite a bit, every single night. I couldn't not do it.
I agree with Anna. Everything happens for a reason. You were honest and straightforward and non judgmental. Related your experience and that was it. I think when people are starting to question their own drinking they test the waters, so to speak.
You handled it well.

Maybe she felt comfortable talking to you since you weren't drinking, sensed something about you.
I know when I realized I needed to quit, I started tiptoeing around talking about my drinking habits with people, usually friends. On one hand, I was most likely justifying, on the other hand, I was admitting "Hey I have an issue and I need to get it out there"
Member
Join Date: Apr 2015
Location: Kansas
Posts: 399
When I got sober people began to be very open with me about things. People I didn't really know very well. They knew my story because I live in a small town and I always thought maybe they felt that since I'd had some personal and legal trouble that they wouldn't be judged.

But I also thought that maybe people had always talked that way and that I had just never actually listened to anybody or cared what they were saying in my drinking days. I honestly still don't know which it was.
Currently Active Users Viewing this Thread: 1
(0 members and 1 guests)

Posting Rules
You may not post new threads
You may not post replies
You may not post attachments
You may not edit your posts
---
HTML code is Off
---