Can a person choose to be happy?
I kind of don't mind having all of the emotions. They all seem pretty real to me. I like being happy. But I don't mind being sad. Neither are lasting in my experience so I try to just roll with it. I've actually found it easier to just feel it..whatever it is...and just let it go. Usually it's the story I attach to the feeling that can get me off track if I let it.

Mind you I'm not talking clinical depression or anything. I don't have any experience with that so I only know me.

So I don't know that I choose anything on a conscience level. Like when I'm happy I can't exactly say or predict how long it will last. Same with any of the other feelings. They just are what they are. Plenty of times I've been strolling along happy and then have an experience that is sad. I'm not so sure I want to be happy and then see a bad car accident and make a decision to be happy inspite of that. I think I prefer to let go of the happy. Feel my sadness and then let that go when the time is right for that to go.

I do choose to just feel and not let my mind make a story out of whatever reality is happening around me. It just is what it is.

I may not always be happy but I'm pretty centered most days regardless. I get my fair share of all of the feelings. Im okay with that.

Just me anyway.
In broad terms I think happiness is a choice. There are lots of people that seemingly have everything good you could want- financial security, good health, strong relationships, etc.- that are miserable. And there are dirt poor folks, people with terrible illnesses, etc. that are always pretty happy. A lot if your personality and general disposition but IMO life is about 30% what happens to you and 70% how you deal with it.

That said in the first weeks of sobriety all bets are off! It's a huge adjustment, physically and emotionally, and it doesn't occur overnight. Do a search for PAWS and you'll see it's a process. It takes the body awhile to "right the ship" after years of chemical abuse. But once you begin to recover physically you can begin to work on the rest.

For many/most of us the period of adjustment can be a year or so. In that first year there are lots of good days and few bad ones, but life is a bit more of a "challenge" at first.
| | |
| --- | --- |
| The Following User Says Thank You to MythOfSisyphus For This Useful Post: | |
That bell or bike person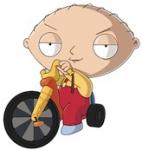 Join Date: Jun 2012
Location: london
Posts: 4,978
Currently Active Users Viewing this Thread: 1
(0 members and 1 guests)

Posting Rules
You may not post new threads
You may not post replies
You may not post attachments
You may not edit your posts
---
HTML code is Off
---