Antidepression Drugs and Alcohol Consumption
Antidepression Drugs and Alcohol Consumption
---
I am not sure if I am having a "light bulb" moment, but, after reading a several threads here on SR there appears to be a common theme - antidepressants increase the cravings for alcohol consumption.

I was prescribed Effexor 2 years ago after a nasty time with panic attacks and anxiety (one attack I landed in the hospital thinking I was having a heart attack - scary, scary, scary). So, I went on the Effexor and I didn't drink for over 3 months. I felt on top of the world and physically, I'd never been in better shape.

Then I raised a glass with my sister to celebrate the birth of her first grandchild and within a month or so I was consuming more alcohol than I'd ever done in the past. I was obsessive about it and that's when I started buying bottles to hide around the house (I'd never done that before). I was averaging about 2 bottles of wine a night and more on weekends when I was drinking socially (having primed myself alone).

I gained 30 pounds and became a soft, reddened blob. I'd read that Effexor is notorious for weight gain, so I decided to quit that drug. I quit it cold turkey. I went through hell for 2 weeks with brain zaps, aching joints, foggy head, just the most awful withdrawal symptoms. It took at least 4 weeks to get through the worst of it. Now, at 7 weeks the symptoms are gone.

I quit alcohol almost 2 weeks ago. I am already noticing that I am not so bloated. I've lost a few pounds. Right now, I am doing well with abstaining and I'm wondering whether quitting the effexor has helped?

Did anyone else notice an increase in alcohol consumption when on an antidepressant?

Thanks,
Genie
When my wife died they put me of several different kinds of AD drugs. It was horrible! They ruined me! I was not myself and felt dead inside. They tried 4 different kinds on me over a few years. I gained 60 pounds, and always felt like I wasn't real! I had terrible withdrawals when getting off them too.



I will NEVER take those drugs again. I think they should be outlawed.
| | |
| --- | --- |
| The Following User Says Thank You to DirtyRiverMan For This Useful Post: | |
Member
Join Date: May 2013
Location: Boaz, AL
Posts: 6
Personally I have had the opposite experience with anti-depressants. Below is taken from a post I made in another thread (I don't have enough posts to put a url).

"Your words ring so true for so many. Although the exact details differ for each the story line is so true for many. Just as you, I have fought with one type of addiction or multiple addictions all through out my life. The one place where my story diverges from yours is the use of pharmaceuticals to help calm the beast.

I once saw a therapist and he asked me why alcohol was so alluring to me. My only way to convey the feeling to him was to compare the feeling of drinking to the Pink Floyd song "Comfortably Numb". Alcohol just seemed to always quiet things in my head so that I didn't have to think for just a few hours. Fast forward now 3 years from that therapist visit and I am now 41. I finally admitted to myself and everyone around me that I had problems with dealing with life on daily basis. I am a white male in the south so this holds a sort of taboo but that was the first step on my road to recovery. I spoke with my doctor about my problems and he started me on a daily dosage of Celexa and things have been all up hill from that point.

The use of this drug has calmed all of my stress/rage/anxiety/depression to the point where I finally see how others around me live a normal life. Now that I have calmed these problems I see where I have always had problems my entire life with some sort of chemical imbalance. My answer to the problem was to use alcohol/drugs as a quick fix to calm my demons. The use of Celexa for 6 months has allowed me to slow down my addictions to the point where I am now 7 days sober and really not having issues with any type of cravings.

I know there are so many that say anti-depressants are the incarnation of Soma from "Brave New World" but I truly believe there are those out there that have hormonal issues that drive the need for the drugs. In years gone by, these same people would have either been in a mental institute, committed suicide and just continued on with addiction to the point of dying at an early age. Anti-depressants aren't the answer for all but they have changed my life so drastically I can't imagine how they are so bad.

Good luck to you in your journey and I hope you find the peace you so desperately seek. My intention of this post was not to offend or stir up a debate but I felt it prudent to share what I have discovered was a major issue of my addiction. Only through sharing my experiences do I truly grow and evolve."
Antidepressants saved my life.

I had dealt with depression since my teens, through to my mid-forties when I finally turned to alcohol to help self-medicate the depression and anxiety. Finally, I was able to get properly treated for the depression and at that point, I was able to stop drinking. Without the antidepressants, I honestly didn't care enough about myself to be motivated to stay sober.

I did have to try a few different antidepressants to find one that worked. I have no side-effects whatsoever, and for me, the medication levels the playing field. It gives me a fighting chance.
I had the same experience as Anna describes above. When I finally went to seek help after years and years of battling it, I was in my mid-thirties (I am 38 now) and the depression had gotten so bad I didn't care a bit about quitting, getting better, changing my life, etc. I drank and it made it worse and better (it could be a depressant and sometimes a motivator---although the wrong kind) but I was too tired and defeated to change my pattern.

I also had to try several different ones, and get a good doctor willing to go through a lot of trial and error with me, until I found the right one. Now that I have? My life is very different without those low "lows." It's a lot easier to stay sober without my mind and emotions diving to the deepest corners of darkness every few weeks.

Anna described it perfectly, "It levels the playing field." Getting treated for depression and quitting drinking have changed my life. But I don't think I would have been very successful in the latter if I hadn't finally addressed the former.
bona fido dog-lover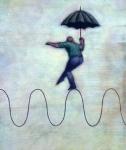 Join Date: Mar 2008
Location: eastern USA
Posts: 85,819
Anti depressants saved my life too, but not til I'd quit drinking. Alcohol is a depressant so it's pointless to take anti depressants while drinking. Once I was sober my meds worked as they should. And now my depression is more manageable.

Still I rise.
Join Date: Mar 2012
Location: Oh Canada!
Posts: 1,120
I have this feeling there was a connection for me b/w first Celexa and then Lexapro and alcohol cravings/increased consumption. It's weird. I never had such fierce cravings nor drank as much as I did until the last few years I was on these drugs. I don't know.

Also, they didn't work very well while I was drinking.

When I stopped drinking 6 months ago, I think they started working as they should and now I am working on lowering my dosage.
| | |
| --- | --- |
| The Following 2 Users Say Thank You to RevivingOphelia For This Useful Post: | |
| | |
| --- | --- |
| The Following User Says Thank You to ClearLight For This Useful Post: | |
I'm one of the minority whose system can't tolerate anti-depressants. They made me extra crazy. We tried different dosages and probably every type you can name. It was REALLY bad- for me personally. I became very OCD and a bit erratic. Mixed with alcohol (obviously a bad idea), I was out of control. Violent. I'm not a violent drunk.

They help a lot of people and can be wonderful! In a few cases they can lead to psychosis. I'm the latter.
Hi Genie,

I experienced problematic issues with antidepressants and increasing my alcohol consumption. My depression initially started out as situational (dealing with toxic family members) and feeling extremely helpless in feeling obligated to quietly continue to take their abuse because they were family. As an adult I secretly drank to ease the pain and stress and mask the depression, and my drinking wasn't what was *normally* considered excess. Instead of relieving the depression, the alcohol obviously only made it worse. After some additional setbacks and continued drinking, my depression and anxiety attacks spiraled completely out of control. My doctor prescribed an antidepressant (Celexa). Initially it was great because I didn't care about anything anymore. I didn't cry, but I also didn't laugh or take part in life. I just slept all day and drank (I worked from home). I didn't care about how much I drank and I didn't care if I spoke to anyone. I became a complete recluse, drinking and sleeping and only leaving the house for groceries. I was alone and even slept through 2 Christmas and Thanksgiving holidays and I didn't care. In that 2 years I gained 20 pounds, became extremely unhealthy, I looked like a different person and felt like I aged 10 years. I also lost all sense of joy and aspirations for anything, ...I was essentially giving up and didn't even care. I decided to quit Celexa. I also decided to cut off all contact with my toxic family members, except for an occasional courteous email. It took me about a month to quit the antidepressants, but I continued to drink very heavily for another 2 years. The depression was still there from the alcohol, but wasn't nearly as bad as it was with the antidepressants and toxic family situation. This past January I finally decided to quit alcohol, and the depression is now basically non-existent.

For me, while on antidepressants, I didn't seem to care enough to stay away from alcohol, and therefore I drank like a fish which made my situation increasingly worse. My depression was in large part caused by allowing toxic situations/people in my life, and of course alcohol. But the depression was at it's worst when I combined antidepressants with alcohol. SSRI's works great for some people,(and I've even tried them in the past with no alcohol) but they just didn't work for me.
Currently Active Users Viewing this Thread: 1
(0 members and 1 guests)

Posting Rules
You may not post new threads
You may not post replies
You may not post attachments
You may not edit your posts
---
HTML code is Off
---